There have always been limitations when income to sharing on iPhones. The major thing in which other manufacturers always won is the sharing capability. This itself was the main weapon of marketing against iPhone products for all other manufacturers. When many people believed this to be a great issue other saw this as a good option to maintain privacy and security. The main reason why Apple always limited sharing on iPhones was also to maintain user security and privacy and this was a great success too. But on the same time, Apple introduced cool ways to securely share files a data among iPhone users. One such thing is the family sharing helps you share things between family members. This article will teach you about how you can enable and use family sharing on iPhone X.
The family sharing option is a cool feature available on the iPhone. It is always common for a family to share pictures and videos about family gathering and other functions in the family. Using a computer or mailing all of it is not a practical way to share. But using the family sharing of iPhone you can easily share it using the cloud support very easily. The iCloud drive is used to make this possible. Read through this article to know more about this.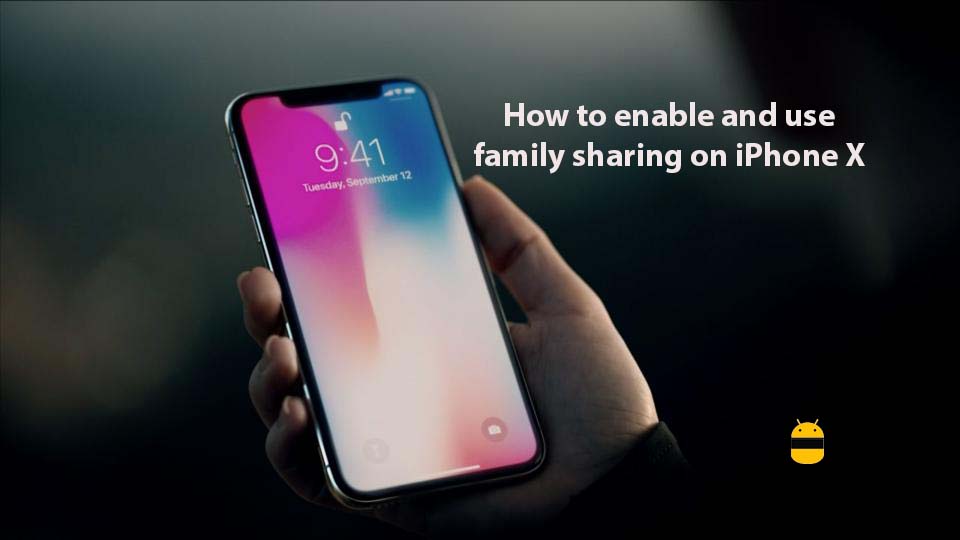 Steps to enable and use family sharing on iPhone X
By using the family sharing option you can add up to six members of the family. Once added every person will get complete access to other peoples downloads and files. This will also help to control your member's downloads.
How to enable family sharing on iPhone X
The steps to enable family sharing on iPhone X are:
Open settings
Tap on your name
Tap on setup family sharing
Tap get started
Tap continue and if you would like to add photos do that too
Share your purchases by tapping continue
Confirm your payment method by tapping continue
You can tap share my location to share it or can also skip this by tapping on not now
Tap on add a family member
Search and add the member
Enter credit card security code
You can now add all other members one by one.
How to accept family sharing invitation on iPhone X
Once an organizer added you will get an invitation you should accept. The steps to accept this invitation are:
Open settings
Tap on your name
Tap on invitations
Tap accept
I hope this guide was useful in understanding how to enable and use family sharing on iPhone X. If you have any queries or feedback, please leave a comment below.