In the 3D printing industry, Creality is fast becoming one of the most popular brands. It's no wonder that people are flocking to 3D Systems for their 3D printing needs since their printers are both affordable and high quality.
With CR-Laser Falcon 2, Creality delivers a 22W solid-state laser that can cut or burn through the wood. This machine can always get perfect designs because it has an engraver built in! Throughout this post, we will examine the Creality CR laser falcon 2 and discuss some of its specification and selling points. So, make sure to read this guide until the end.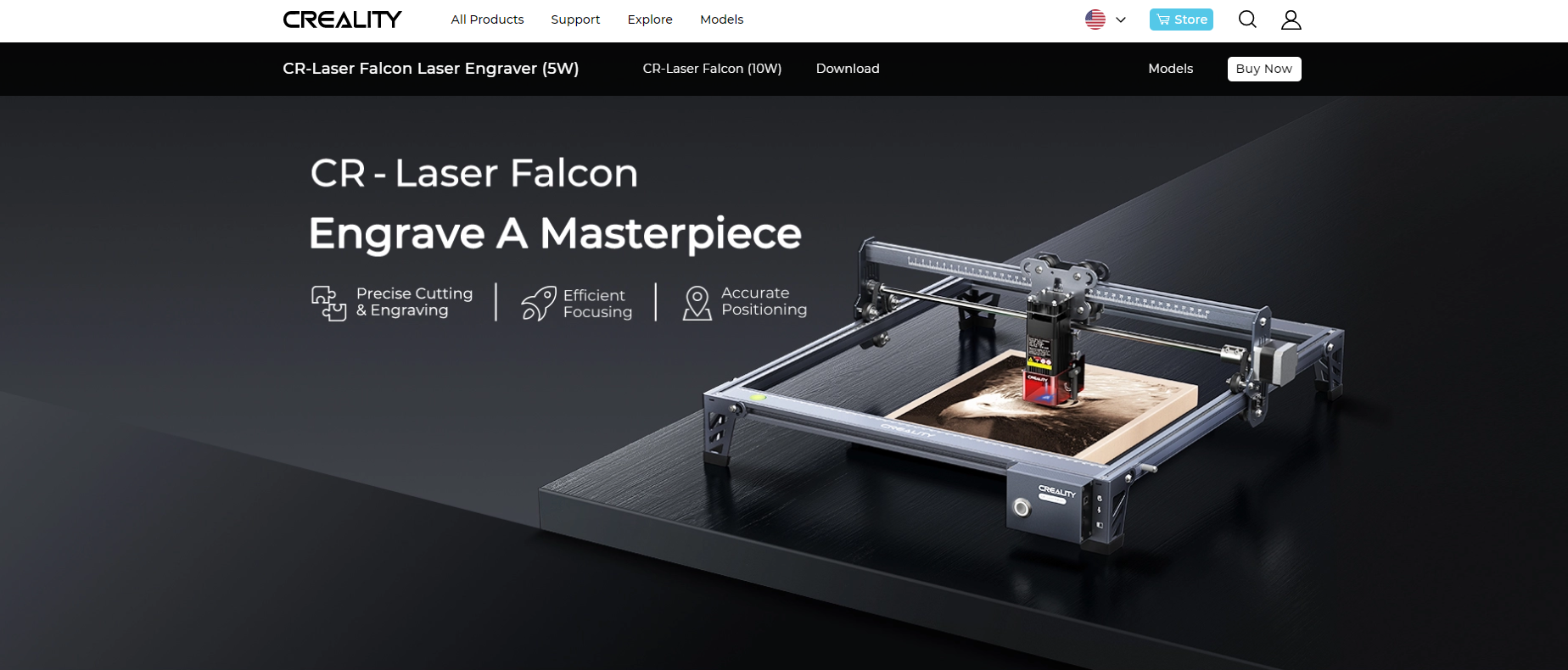 What is Creality?
Creality is a global 3D printer manufacturer with a focus on consumer 3D printers. In the 3D printing market, the company has developed and manufactured its own FDM and Resin printers. Creality developed and launched the first laser engraving machine, the CV-01, as well as the CV-01 Pro, 5W CR-Laser Falcon, and 10W CR-Laser Falcon in 2021.
Creality Falcon2 is a 22w ultra-high-power laser engraving and cutting machine launched in February 2023. Keeping up with users' ongoing needs, they continually upgrade their laser engravers in terms of laser power, engraving size, and structure.
What Are The Features of CR-Laser Falcon 2?
There are various features that will be the key selling points of the CR-Laser Falcon 2 that you need to know before purchasing this printer. So, let's check out some of the key features:
#1. Ultra Fast Engraving Speed
Falcon2 is faster than its predecessors when it comes to engraving speed. With a 25000mm/min engraving speed, the Falcon 2 is two times faster than a 10W laser engraver. It makes work more efficient and profitable for small business owners, who can now create more value in less time.
#2. Higher Cutting Capacity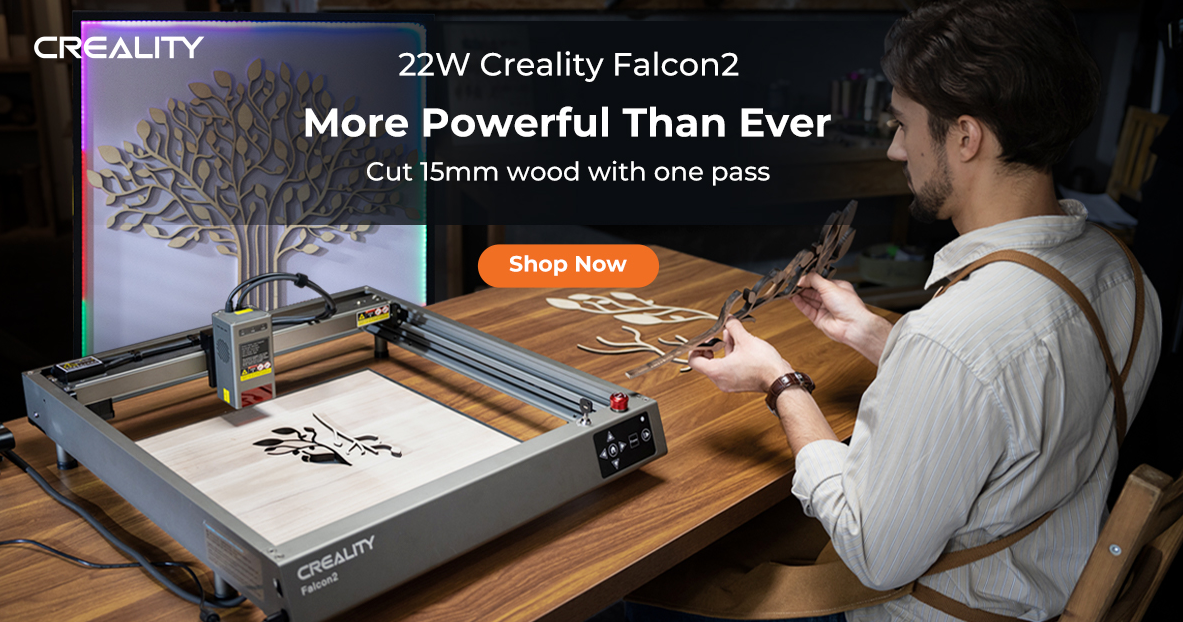 With its powerful 22W laser, the Creality Falcon 2 laser engraver offers exceptional cutting capabilities. Despite its industry-leading power, this laser can cut even thicker materials easily. Falcon2 cuts through 15mm thick wood with just one pass, allowing users to create thicker wood products such as furniture and chandeliers. Moreover, it can also cut steel and acrylic sheets as thick as 10mm and as thin as 0.05mm. It was previously impossible to achieve this with a laser engraver of 10W. But, now no need to worry.
#3. Integrated Air Assist
There is also an integrated air assist on the Falcon 2. There is an accessory on this laser engraver that makes it unique from other laser engravers. LightBurn can be set to automatically adjust airflow volume with the air assist feature, or the user can manually adjust it with the knob on the machine. While engraving or cutting, the air assist is designed to remove smoke from the laser lens as well as protect it. In the end, the product is cleaner.
#4. Five Saftey Protection
With five safety protections, the Falcon 2 laser engraver enhances engraving and cutting performance while ensuring user safety. In order to prevent accidental collisions, the feature includes a bidirectional limit switch and an active stop function.
It is important to protect both the machine and the material being engraved or cut with these two safeguards. Besides the security lock design, emergency stop button, and laser protective cover, there are other safety features. You can work with the machine with peace of mind knowing that these three features provide a better user experience.
#5. Triple Monitoring System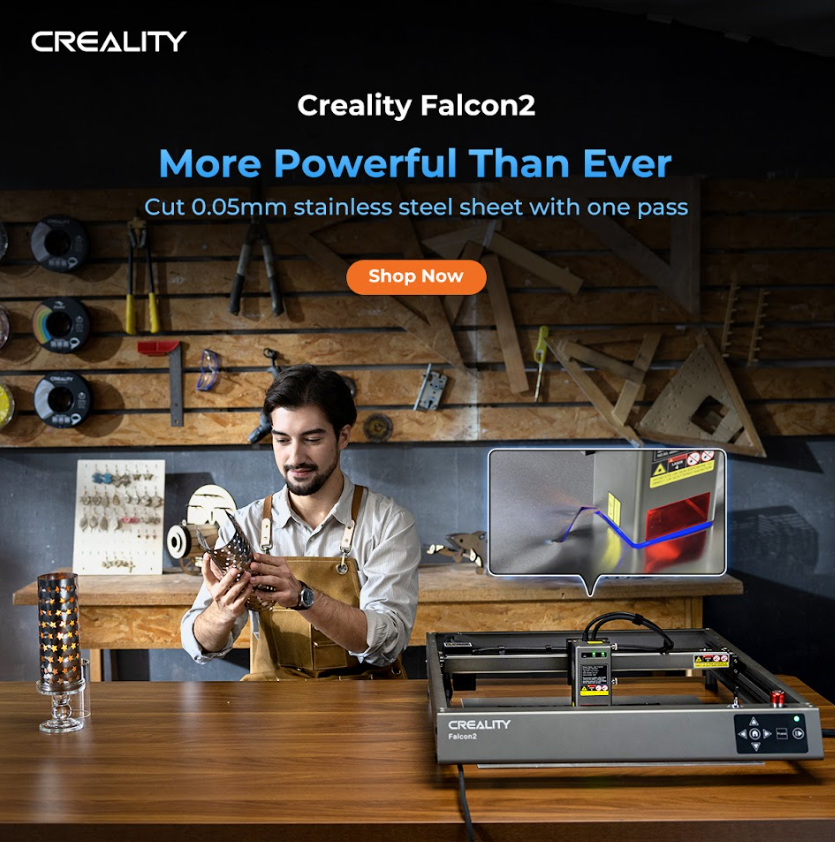 There are three monitoring systems on the Creality Falcon 2 22W laser engraver, including an airflow monitor, a lens monitor, and a flame monitor. These features allow masterpieces to be engraved and cut with greater precision and accuracy. Using the airflow monitoring system, you can adjust the airflow volume according to your engraving needs. By doing this, you can be sure that the engraving and cutting process will run smoothly. When a dirty lens is detected, the monitoring system triggers an alarm. Moreover, an alert is sent if the flame monitoring system detects a flame. To ensure that the machine operates safely and efficiently, this is crucial.
#6. Colourful Engraving
When engraving stainless steel materials with the Creality Falcon2 22W laser engraver, you will experience a unique and magical experience. It generates hundreds of colors on metal surfaces by creating a physical reaction between its laser beam and the metal. Stainless steel cannot be engraved with such colourful engravings using a 10W laser engraver. This creates a spectacular display of colour that allows your creations to take on an extra dimension.
Conclusion
CR-Laser Falcon 2 is a versatile and reliable laser system that is suitable for use in many different environments and applications. You should decide whether it is worth purchasing based on your specific needs and preferences. In order to make an informed decision, you should research and consider all available options carefully, as well as consult with experts in the field. So, that's it from our side. I hope you found this guide helpful. Feel free to comment below if you need more information.
Product link: https://store.creality.com/products/falcon2-22w-laser-engraver-cutter?aid=blogZBUS
Code: ( from 7th Mar. to 31th Mar.)
Falcon50($50 Off)