Are you looking for a platform that will empower you to explore your creative side more freely and unrestrictedly? Character.AI's limitations and filters annoy you? We are here with Crushon.AI. With this platform, user engagement and interaction with characters are revolutionized, which allows users to experience an unparalleled level of immersion. Therefore, if you wish to learn more about this, make sure you read the guide until the end. Therefore, let's begin.
What is Crushon.AI?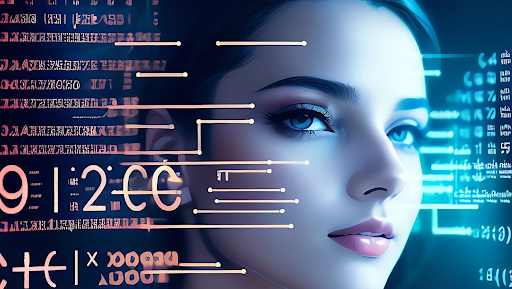 Using Crushon.AI, users can explore extraordinary worlds and create captivating characters. It offers a compelling alternative to Character AI with its customizable characters, emotional interactions, and immersive user interface.
Why is CrushOn.AI a better alternative to Character.AI?
With help from artificial intelligence, Crushon.AI simulates naturalistic and immersive chat conversations between fictional characters. It allows users to express themselves freely and creatively, establishing deep relationships with virtual partners in an engaging and fun way.
By using Crushon.AI's API, users can send messages to cartoons, video games, and celebrity characters unfiltered. In addition, Crushon.AI enables users to engage with AI chatbots in an emotional and NSFW manner, enabling them to interact emotionally and inappropriately. It only takes a few minutes to register and upgrade to a paid subscription to access this remarkable platform.
What Are The Best Crushon AI Features?
#1. Realistic and immersive characters
Crushon AI's chatbots simulate human speech patterns, emotions, and behavior based on previous conversations, adapting to user preferences. Furthermore, the platform offers voice mode that lets users converse with characters.
#2. Extensive Variety of Characters
With Crushon.AI, you'll find a wide selection of characters, including anime, celebrities, and popular figures. It allows users to converse with the characters as if they were real people, providing a more personal impact on the interactions. Using the platform, users can further customize their characters and scenarios, including the ability to customize names, personalities, and backgrounds. In addition, users are able to seamlessly transition between multiple characters, ensuring a seamless and captivating experience.
#3. User-Friendly Interface
CrushOn.AI provides an intuitive interface that lets you dive right into your creative projects without hassle.
#4. Fun and engaging community
Crushon AI's main focus is to provide a meaningful and enjoyable experience for fans who want to interact with their favorite characters. Among the ways that the platform fosters a sense of community is by allowing users to share experiences, and feedback, vote for characters, request new features, and even create virtual friends and boyfriends by chatting with them.
#5. Customized characters
To create a deeply personalized experience, you can create and fully customize your own characters on the platform. You can customize AI interactions to be engaging and unique to your preferences.
#6. Unrestricted content
With Cruschon, users can interact with NSFW content with their favorite characters without any restrictions. With this feature, Crushon AI makes an excellent platform for people looking for an open and unrestricted chat experience. It offers a platform for expressing yourself and exploring various topics without constraints, allowing for lively conversations that reflect your interests and passions.
How to use Crushon AI?
Your interactive experience can be elevated to new levels by utilizing the full potential of Crushon.AI. It offers an intuitive interface that makes navigation a breeze, regardless of whether you opt for a paid subscription or choose to use the free version. Here are the steps you need to follow in order to get started:
To begin, go to the

official website

of

Crushon AI

.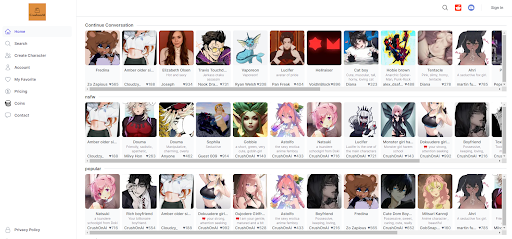 Thereafter, to sign in, click the "

Sign In

" link at the top right of the screen.

Log in with Google, Discord, or e-mail.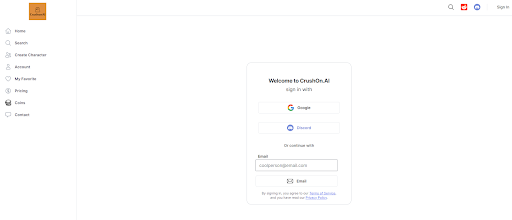 Select a character from the main page.

Once you have entered your message, click on the

send

button.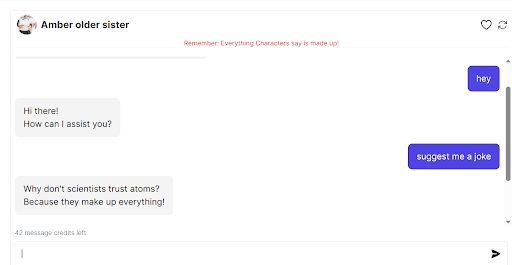 You're done! It's now possible to chat with Crushon characters!
What should I do if my desired character is not available on Crushon.AI?
It may be necessary to explore alternative platforms or exercise patience until new characters are introduced if the character you yearn for isn't yet available on Crushon.AI. You may also wish to consider creating your own character that closely resembles your desired traits, personality, and appearance.
How does Crushon.AI protect the privacy and security of user data?
It is a priority for Crushon.AI to protect the privacy of its users and their data. In order to protect the information of users, the platform uses a variety of measures, such as encryption and encrypted data storage. Even so, it is wise to exercise caution when interacting and refrain from sharing sensitive or personal information.
Conclusion
So, that's all we have for you about Crushon.AI. We hope that this guide has helped you. Moreover, in case you need more info regarding Crushon.AI, comment below and let us know.