It has become essential for us to have a mobile device in our lives. It's almost impossible for us to function without a smartphone, whether it's for social media or email. In addition to the increased use of mobile devices, the risk of data loss has also increased. It can be a nightmare to lose important data, such as photos, videos, contacts, and messages. Wondershare Dr.Fone, a leading mobile device management tool, launched Dr.Fone V13 to handle your phone issues. In this article, we will discuss everything you need to know about Dr.Fone V13, its features, benefits, and how it can help you manage and recover your mobile data.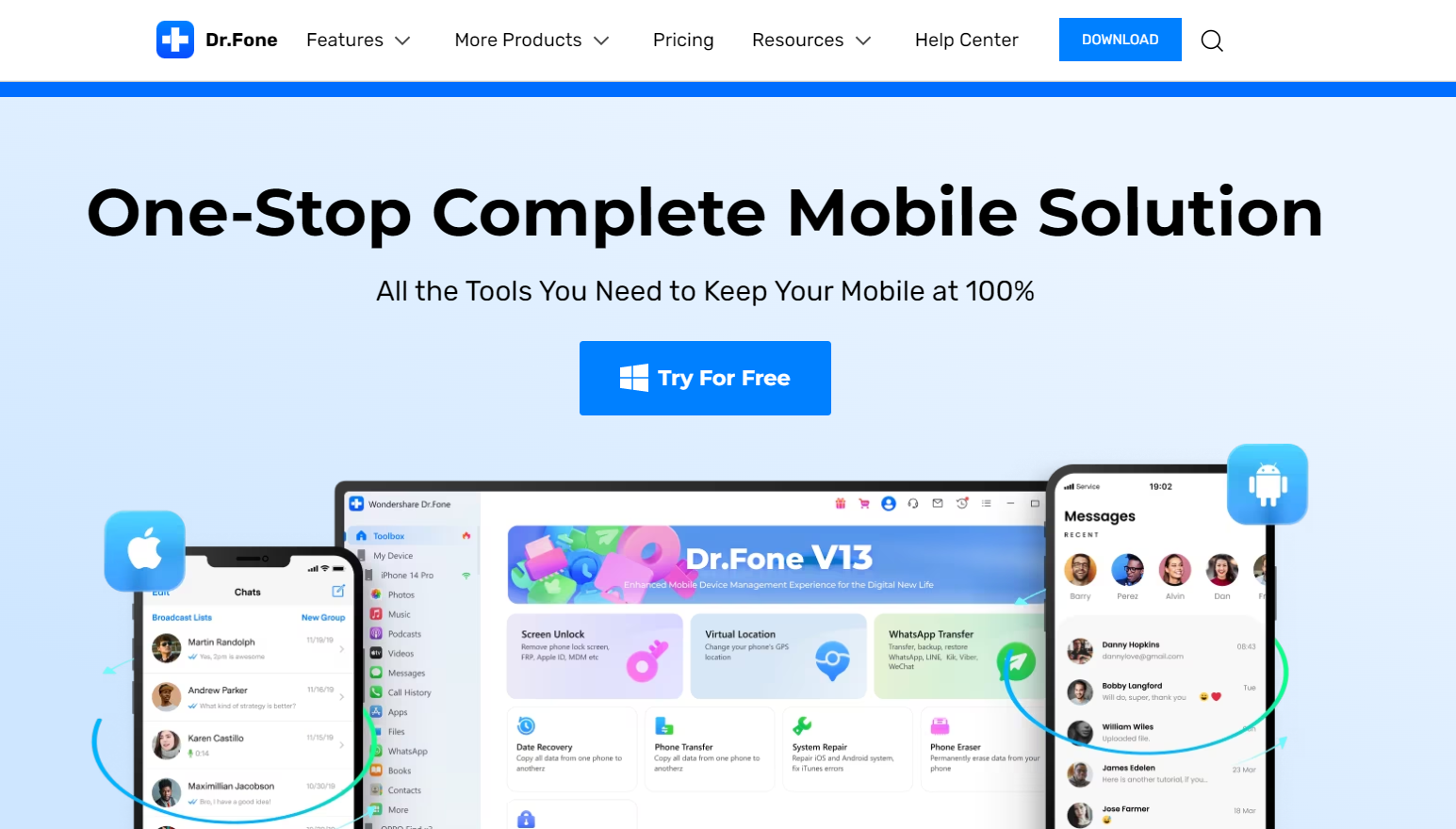 Wondershare is a worldwide leader in developing software and a leading innovator in the area of digital security. With our technology, you will be able to find simple, convenient, and powerful solutions. This is why millions of people trust us in more than 150 countries around the globe. With our help, we can create a world where people can pursue their passions together.
What is Dr.Fone V13?
Wondereshare Dr.Fone developed V13 to manage and recover data from mobile devices. It is an all-in-one tool that can help you recover lost data, back up and restore data, transfer data between devices, and fix various mobile-related issues. The software is compatible with both iOS and Android devices, making it an ideal solution for managing and recovering data across different platforms.
What Are The Advanced Features of Dr. Fone V13?
#1. Quick Wireless Transfer
Fast transfer data between phone and PC without USB.
#2. Screen Mirror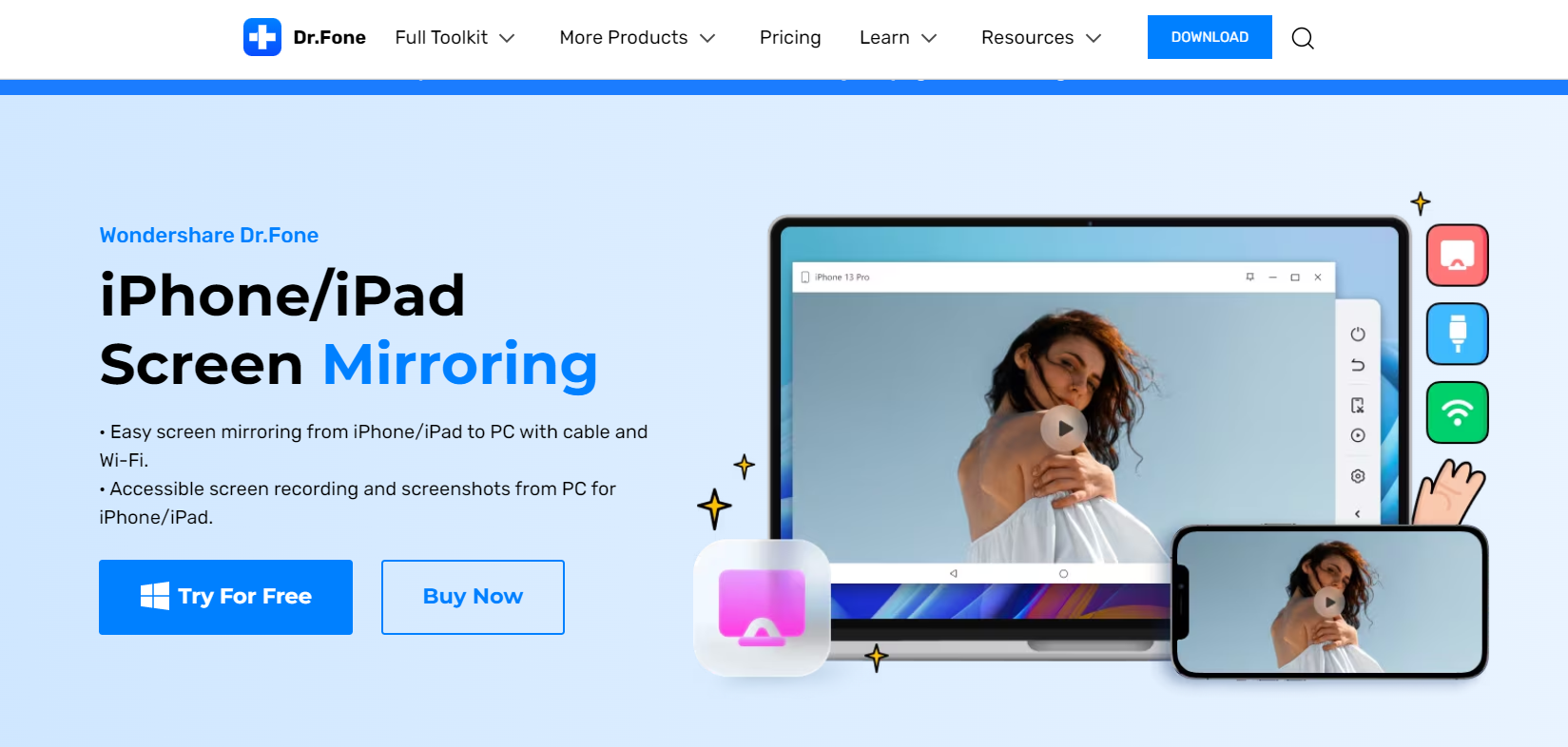 To connect your iPhone/iPad to your PC, you will need a USB cable. We have to stop mirroring screens that are always delayed.

In the same WiFi area, you can project your iPhone/iPad screen on a PC in real-time by scanning the QR code.
#3. Wireless Device Management
iOS:
Dr.Fone removes iTunes restrictions. Music, ringtones, etc., can be easily transferred between iOS and computers without iTunes, and duplicate photos and music can be merged to save space.

Help user to manage phone data, support data preview, import and export from your mobile device.

It allows you to preview, export, and print WhatsApp, LINE, Kik, and Viber chat messages, images, audio, video, and other attachments on your computer using Dr.Fone.
Android:
Helps you manage phone data efficiently, and provides features like phone data preview, import, and export.

In just a few steps, you can view, export, and print your WhatsApp and LINE chat messages, pictures, audio, and video attachments on your computer.
#4. Wirelessly Phone Backup
iOS:
You can safely back up your data with Dr.Fone's automatic, always-on backup, which simplifies the process dramatically. The program automatically backs up the data on your iPhone, iPad, or iPod touch using a lightning cable or the same WiFi connection. You won't lose your old backup file when you create a new one. If you want to back up your data, you can do it whenever you want.
Android:
You can keep your important Android data safe by backing up your data with Dr.Fone's professional solutions. You only need to click a few buttons to start the backup process. You can easily back up your Android phone or tablet data to your local computer at any time, including photos, music, videos, contacts, blacklist, app list, and more, once your device has been detected and connected.
#5. Device Verification
This service ensures that the phone is well examined and is in good working condition by checking its hardware, battery, and other important components, issuing professional verification reports and doing good for the second-hand phone.
Benefits of Dr.Fone V13
There are several reasons why Dr.Fone V13 is the best solution for managing and recovering mobile data. Below are some notable benefits of Dr.Fone V13:
#1. User-friendly Interface
It is very easy to use, even for those who are not tech-savvy. Dr.Fone V13 comes packed with a user-friendly interface that makes it simple to use. In addition to its simple and intuitive user interface, the software has several features that aid users in recovering and managing data.
#2. Compatibility
Data recovery and management across platforms are easy with Dr.Fone V13, thanks to its compatibility with iOS and Android devices. In order to ensure compatibility with the latest devices, the software supports all the latest Android and iOS versions.
#3. Security
Dr.Fone V13's advanced encryption technology protects your data. During data backup and transfer, the software encrypts your data to ensure it's safe and secure.
#4. Technical Support
With Dr.Fone V13, you get excellent technical support. You can get support 24/7 with the software, ensuring you can get assistance whenever you need it. Customer support team members are knowledgeable and responsive, ensuring users receive timely assistance.
#5. Saves Time and Effort
Dr.Fone V13 automates the data recovery and management process, saving time and effort. Within minutes, lost data can be recovered, backups can be made, and data can be restored. Thus, users can focus on other important tasks, saving time and effort.
General Features of Dr.Fone
There are a number of features in Dr.Fone that make it an ideal solution for recovering and managing mobile data. Below are some of the notable features of Dr.Fone: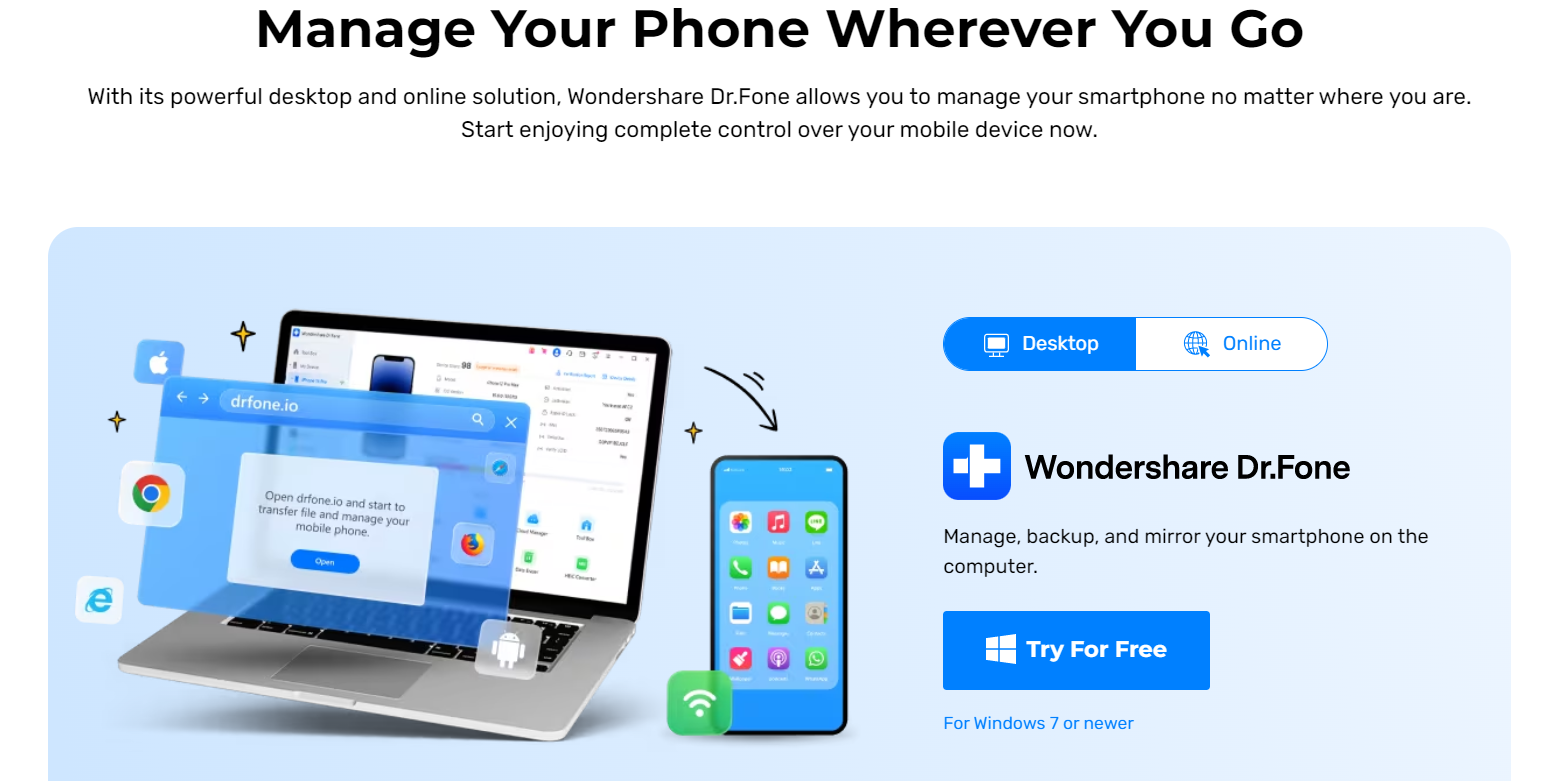 #1. Data Recovery
With Dr.Fone, you can recover lost data from your mobile device with its powerful data recovery feature. You can easily recover your lost data with Dr.Fone, whether your pictures were accidentally deleted or your device was formatted. In addition to photos, videos, contacts, messages, and call history, the software allows you to recover a vast variety of data types.
#2. WhatsApp Transfer
Dr.Fone is a tool that allows you to move any data from WhatsApp you need, between Android and iOS devices if you have more than one device or want to replace an old one with a new one.
#3. Transfer Data between Devices
With Dr.Fone V13, you can also transfer data between devices. No matter if you're switching from iOS to Android or vice versa, Dr.Fone will transfer your data seamlessly. In addition to photos and videos, the software allows you to transfer contacts, messages, and more.
Sometimes mobile devices experience issues such as black screens, stuck Apple logos, and more. In addition to fixing mobile-related issues, Dr.Fone features a repair feature. This software can fix several issues, including iOS system recovery, Android system recovery, and iTunes repair issues.
How to use Dr.Fone V13?
Dr.Fone V13 is easy to use. You can recover lost data with Dr.Fone V13 by following these steps:
Get Dr.Fone V13 and install it on your computer.

Using a USB cable, connect your computer to your mobile device.

Start

Dr.Fone V13

and select the option for data recovery.

In order to retrieve lost data, the software will scan your device.

Upon completing the scan, select the files you wish to recover and click the

recover

option.

It will save the selected data to your computer after recovering it from the hard drive.
Using Dr.Fone V13, backup and restore your mobile data as follows:
Start Dr.Fone V13 and click the backup and restore option.

With the help of a USB cable, you can connect your mobile device to your computer.

When you have selected the data you would like to backup, click the

backup

button.

The software will back up your data to your computer.

Using your computer, connect your device and select the data you want to restore.

Once you select the

restore

option, the software will restore the data to your device.
Conclusion
With Dr.Fone V13, you can easily manage and recover all your mobile data. The application helps you manage and recover your mobile data with ease thanks to its powerful features and benefits. It is a user-friendly application that is compatible with both iOS and Android devices, as well as ensuring data security. Whether you are trying to back up and transfer your data or you have lost your data, Dr.Fone V13 can help. If you want to manage and recover your mobile data like a pro, check out Dr.Fone V13. So, that's all we have for you. We hope that this guide has helped you. Moreover, comment below and let us know if you have any doubts.