When it comes to close to real-life farming or agricultural simulator video game, Farming Simulator 22 is the ultimate one we can consider as of now. Meanwhile, having an access to the multiplayer co-op game mode, this simulator title has reached a new level. However, some players might need more access to improve their gameplay using shortcuts. Well, Farming Simulator 22 Console Commands and Cheat Codes / Engine are the right way for sure.
Apart from money, players can get hundreds of other items, upgradable options, crops, fruits, weather objects, field status, vehicle analyzing, FPS options, plenty of system commands, advanced console commands like HUd visibility, animal animation info, and so on. Now, if you're also eager to get all console commands and cheat codes to easily get everything done without spending too much time in the gameplay then you can follow this full guide.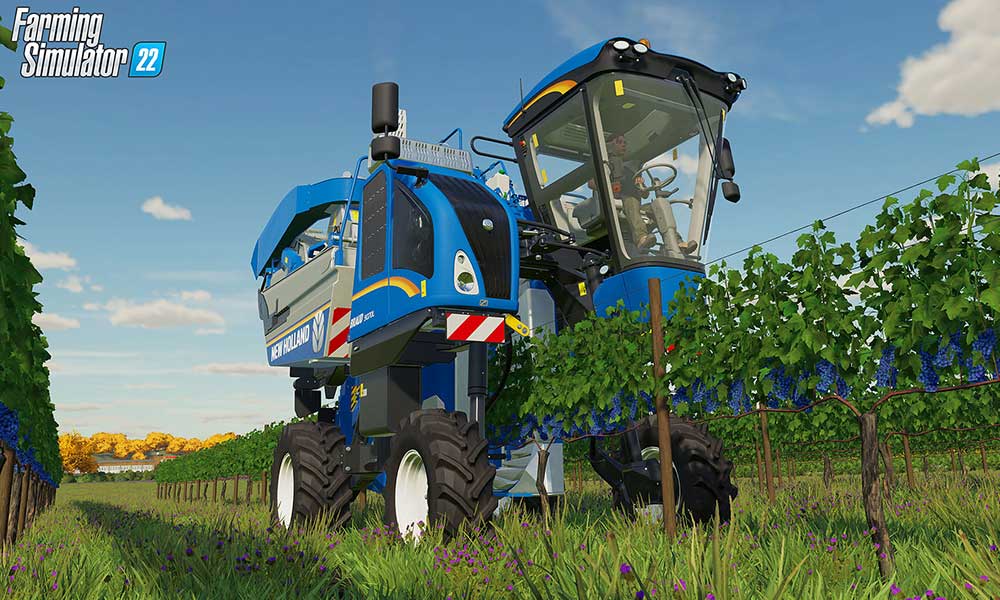 Farming Simulator 22 Console Commands and Cheat Codes / Engine
You can get a full list of commands with descriptions by using the help command. That means to open up the console and search for help then use the PAGE UP / PAGE DOWN option to check whatever you need. Now, without wasting any more time, let's jump into it.
1. Basic Cheat Commands
gsFarmSet – Set farm for the current player or vehicle.
gsFarmlandBuy – Buys farmland with the given id.
gsFarmlandBuyAll – Buys all farmlands.
gsFarmlandSell – Sells farmland with the given id.
gsFarmlandSellAll – Sells all farmlands.
gsFieldSetFruit – Sets a given fruit to the field.
gsFieldSetFruitAll – Sets a given fruit to all fields.
gsFieldSetGround – Sets a given fruit to the field.
gsFieldSetGroundAll – Sets a given fruit to all fields.
gsTreeAdd – Load a tree.
gsWeatherAdd – Adds a weather object by type.
gsWeatherSet – Sets a weather object by type.
gsStoneSystemSetState – Set stone state to field.
gsBaleList – List available bale types.
gsFieldToggleStatus – Shows field status.
gsWeedSystemAddDelta – Add weed delta to the field.
gsWeedSystemSetState – Set weed state to the field.
gsStoneSystemAddDelta – Add stone delta to field.
2. Vehicle-Related Cheat Commands
gsVehicleShowDistance – the distance between vehicle and cam.
gsVehicleTemperatureSet – Sets the vehicle motor temperature.
gsVehicleAddDamage – adds a given amount to the current damage amount.
gsVehicleAddDirt – Adds a given amount to the current dirt amount.
gsVehicleAddWear – Adds a given amount to the current wear amount.
gsAIStart – Starts driving to target.
gsVehicleFuelSet – Sets the vehicle fuel level.
gsVehicleLoadAll – Load all vehicles.
gsVehicleOperatingTimeSet – Sets the vehicle operating time.
gsVehicleAnalyze – Analyze vehicle.
gsVehicleDebug – Toggles the vehicle debug values rendering.
gsVehicleDebugReverb – Toggles the reverb debug rendering.
gsVehicleReload – Reloads currently entered vehicle or vehicles within a range when a second radius parameter is given.
3. Weather-Related Cheat Commands
setFogPlaneMieScaling – Scale fog plane mie scattering coefficient [0.001..1000].
setDLSSQuality – Set DLSS Quality.
gsWeatherAdd – Adds a weather object by type.
gsWeatherSet – Sets a weather object by type.
gsWeatherDebug – Toggles weather debug.
gsWeatherReload – Reloads weather data.
gsWeatherSetClouds – Sets cloud data.
gsWeatherSetDebugWind – Sets wind data.
gsWeatherSetFog – Sets fog height, mieScale, and duration.
gsWeatherToggleRandomWindWaving – Toggles waving of random wind.
setFogPlaneHeight – Set fog plane top height [0..1000].
setCirrusCloudDensityScaling – Sets cirrus cloud coverage scaling factor.
setCirrusCloudVelocity – Sets cirrus cloud velocity.
setCloudBaseShapeScaling – Scales sampling position of base cloud shape texture.
setCloudErosionScaling – Scales sampling position of cloud erode texture.
setCloudNoiseVelocity – Sets Volumetric Noise Scroll-Velocity.
setCloudPrecipitation – Sets cloud precipitation coefficient [0 1].
setCloudScatteringCoeff – Sets cloud scattering coefficient.
setDoFBlendWeight- X-fade distances d0, d1, d2
setDoFBlurArea – DOF Blur Area, top left(x,y) bottom right(x,y), x,y in [0 1]
setDoFFarCoC – Set DoF far CoC radius.
setDoFNearCoC – Set DoF near CoC radius.
setDoFParams – DOF parameters, nearCocR, endNearBlurDist, farCocR, startFarBlurDist, endFarBlurDist.
setHistogramLogLuminanceRange – Histogram Luminance Range [min max]
setMSAA – Set MSAA
setMieScaling – Scale mie scattering coefficient [0.001..1000]
setMinMaxLuminanceAdaption – Luminance Adaption Range [min max]
setMoonSizeScale – Scales Moon disc size.
setSSAORadius – world space radius size.
setSSAOSamples – num samples in SSAO computation [1..12]
setSunBrightnessScale – Scales Sun brightness.
setPostFxAA – Set Post Process Anti Aliasing.
setSSAOIntensity – SSAO intensity.
setTextureStreamingPaused – Set texture streaming pause.
setVolumetricCloudVelocity – Sets Volumetric-Cloud Wind-Direction and -Velocity.
setSunSizeScale – Scales Sun disc size.
setTextureStreamingBehavior – Set texture streaming behavior.
4. Snow Console Commands
gsSnowAdd – Add snow.
gsSnowAddSalt – Salt around player.
gsSnowReset – Reset snow.
gsSnowSet – Set snow.
5. FPS Console Commands
enableCloudFx – toggle cloudfx.
enableDoF – toggle DoF.
enableFramerateLimit – toggle frames per the second limiter.
enableOccluderDebugRendering – toggle occluder debug rendering.
enablePostFx – toggle postfx.
exit – Quits application.
framerateLimitFPS – Frames per second limit attribute.
showFps – Show frames per second.
Read Also: Farming Simulator 22 Save Game Disappeared, How to Fix?
6. Save File Cheat Commands
gsAutoSave – Enables/disables autosave.
gsAutoSaveInterval – Sets the autosave interval.
7. System Cheat Commands
gsAIEnableDebug – Enables AI debugging.
gsEnvironmentFixedVisualsSet – Sets the visual seasons to a fixed period.
gsEnvironmentMaskSystemToggleDebugView – Toggles the environment mask system debug view.
gsAIObstaclesShow – obstacles around the camera.
gsAISplinesShow – Toggle AI system spline visibility.
gsAIStationsShow – Toggle AI system stations ai nodes visibility.
gsCameraFovSet – Sets camera field of view angle.
gsAISetLastTarget – Sets AI Target to last position.
gsAISetTarget – Sets AI Target.
gsCollisionFlagShowAll – Shows all available collision flags.
gsAmbientSoundSystemReload – Reloads the ambient sound system.
gsAmbientSoundSystemToggleDebugView – Toggles the ambient sound system debug view.
gsDebugManagerClearElements – Removes all permanent elements and functions from DebugManager.
gsDensityMapToggleDebug – Toggles debug mode.
gsEnvironmentAreaSystemToggleDebugView – Toggles the environment checker debug view.
gsEnvironmentReload – Reloads environment.
gsInputDebug
gsInputDrawRaw
gsEnvironmentSeasonalShaderDebug – current seasonal shader parameter.
gsEnvironmentSeasonalShaderSet – Sets the seasonal shader to a forced value.
gsInputContextPrint
gsNetworkShowObjects – Toggle network show objects.
gsNetworkShowTraffic – Toggle network traffic visualization.
gsInputContextShow
gsNetworkDebug – Toggle network debugging.
gsPedestrianSystemReload – Reload pedestrian system xml.
gsReverbSystemToggleDebugView – Toggles the reverb debug view.
gsScriptCommandsList – Lists script-based console commands. Use 'help' to get all commands.
gsPedestrianSystemToggle – Toggle pedestrian system.
gsPlacementCollisionsShow – collisions for placement and terraforming.
gsRenderColorAndDepthScreenShot
gsSetHighQuality – Incease draw and LOD distances of foliage, terrain and objects.
gsShopUIToggle – Toggle shop config screen UI visiblity.
gsRenderingDebugMode
gsSetFixedExposureSettings – Sets fixed exposure settings.
gsSoundManagerDebug – Toggle SoundManager global debug mode.
gsStoreItemsReload – Reloads storeItem data.
gsTakeEnvProbes – Takes env. probes from current camera position.
gsTensionBeltDebug – Toggles the debug tension belt rendering of the vehicle.
gsTestForceFeedback
gsI3DPrintActiveLoadings – Print active loadings.
gsI3DShowCache – Show active i3d cache.
gsTipCollisionsShow – collisions for tipping on the ground.
gsI3DCacheClean – Removes all cached i3d files to ensure the latest versions are loaded from disk.
gsI3DLoadingDelaySet – Sets loading delay for i3d files.
8. Player and Production-Related Console Commands
gsPlayerDebug – Enables/disables player debug information.
gsPlayerFsmDebug – Toggle debug mode for player state machine.
gsProductionPointsPrintAutoDeliverMapping – Prints which fillTypes are required by which production points.
gsPlayerFsmStateJumpDebug – Toggle debug mode for Jump.
gsProductionPointSetProductionState
gsPowerConsumerSet – Sets properties of the powerConsumer specialization.
gsProductionPointSetFillLevel
gsProductionPointToggleDebug – Toggle production point debugging.
gsProductionPointSetOutputMode
gsProductionPointSetOwner
gsProductionPointsList – List all production points on map.
9. FS22 Advanced Cheat Commands
gsHudVisibility – Toggle HUd visibility.
gsIndoorMaskToggle – Toggle indoor mask visualization.
gsVineSystemSetGrowthState – Sets vineyard growth state.
gsWildlifeDebug – Toggle shows/hide all wildlife debug information.
gsWildlifeDebugAnimalAdd – Adds an animal to a debug list.
gsWildlifeDebugAnimalRemove – Removes an animal to a debug list.
gsWildlifeDebugAnimation – Toggle shows/hide animal animation information.
gsWildlifeDebugId – Toggle shows/hide all wildlife animal id.
gsWildlifeDebugSteering – Toggle shows/hide animal steering information.
gsWildlifeToggle – Toggle wildlife on the map.
gsWiperStateSet – Sets the given wiper state for all vehicles.
gsWoodCuttingMarkerVisiblity – Enables/disables chainsaw woodcutting marker.
gsXMLGenerateSchemas – Generates xml schemas.
listEntities – Print a detailed entity list.
listResources – Print a detailed resource list.
parallelRenderingAndPhysics – Enable parallel rendering and physics.
q – Quits the application.
quit – Quits the application.
Steps to Use Console Commands or Cheats in Farming Simulator 22
If you're not sure how to use console commands then you can follow the steps below:
Open the Farming Simulator 22 installed path on your computer. [You can also open Steam > Library > Right-click on Farming Simulator 22 > Manage > Browse local files]
Now, make sure to scroll down and look for the game.xml file in the File Explorer window.
Once you're able to find out the game.xml file, just open it in a file editor such as Notepad, etc.
Then you can search for the following lines in the file: [<controls>false</controls> line or 'false' word by pressing Ctrl+F and searching for it]
<development>
<controls>false</controls>
<openDevConsole onWarnings="false" onErrors="false"/>
</development>
Next, make sure to replace 'false' with 'true'. Do not type apostrophes. [So, the line/string should look like: <controls>true</controls>]
Simply press the Ctrl+S keys to save the file with new changes. [Keep in mind that DO NOT save it as a new file]
You're good to go.
How to Enable Cheats
You'll also need to enable cheat commands in the console so that you can run the game with the command line parameter -cheats.
You should have to find Launch Options in Steam. So, open the Steam client > Click on Library > Right-click on Farming Simulator 22 > Click on Properties > Click on General > Here you can find Launch options.
Now, make sure to write/type -cheats command-line parameter inside the box to give enough permissions from your end.
Finally, run the Farming Simulator 22 game, and run cheat commands.
Execute Cheat Commands in the Console
Now, you'll need to execute your preferred or useful console commands by following the steps below:
So, launch the Farming Simulator 22 game on your PC.
Next, press the ~ key or ` key on your keyboard. [You'll find it on the upper left side of the keyboard, above the Tab key]
Then the console interface will start. If not opened, try launching the game again and press the mentioned key to open the console.
Now, you'll need to press ´ or ö or ' or ñ or ù or ~ or ` again to enter cheat commands. Make sure to type one cheat command at a time.
Some Useful Tips for Beginners
Press the ` (backtick) key for the first time will open the console in read-only mode.
Pressing it for the 2nd time will show the box where you can enter cheat commands.
While pressing it for the 3rd time will hide the console interface.
Press the PAGE UP and PAGE DOWN keys to scroll the console output from first to last.
Press the TAB key to get an auto-completed command line like usually we do in typing codes or auto-fill suggestions.
As mentioned above, you'll get all commands (full list) by using the help command in the console.
That's it, guys. We assume this guide was helpful to you. For further queries, you can comment below.