GIANTS Software has come up with a much-improved co-op farming simulation video game Farming Simulator 22 that has been received very positive reviews on Steam for the PC version. This agricultural simulator title is so much complete and soothing in every aspect that a farming sim player can ask for. However, it seems that recently some players are reporting about the Farming Simulator 22 Save Game Disappeared issue which is frustrating.
Now, if you're also facing the same kind of issue at your end then don't worry because we've shared a couple of possible workarounds for you that should gonna help a lot. So, if in case, your Farming Simulator 22 saved game data or progress is suddenly gone then it may happen due to various reasons in most scenarios. Well, as per multiple reports online, issues with the game version or corrupted game files may trigger such problems.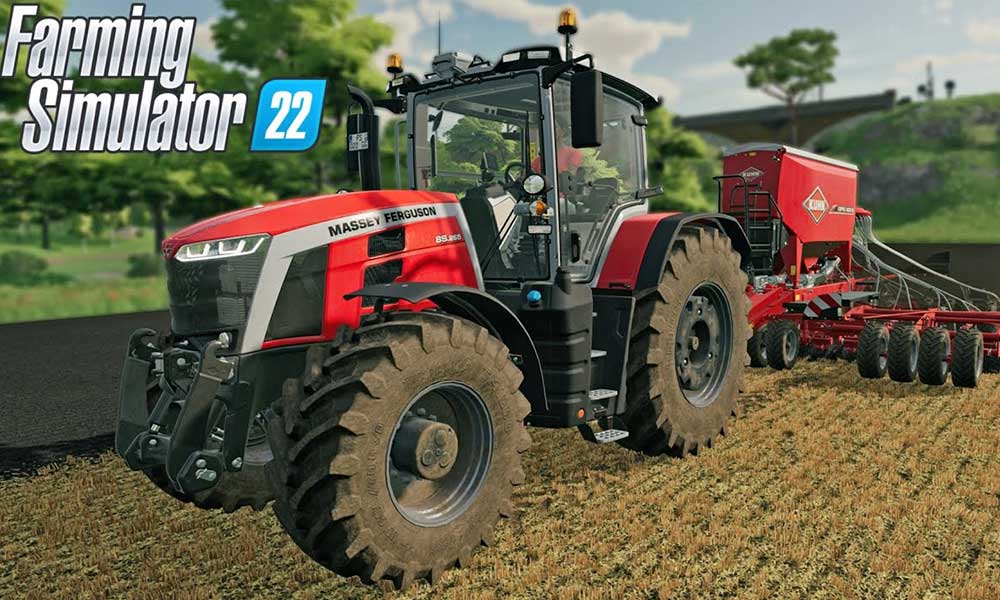 Farming Simulator 22 Save Game Disappeared, How to Fix?
Whereas there is a possibility that you may have started a new game session and forgot to save the game progress or checkpoints which will cause the save game disappeared issue the moment you close and exit the game. So, it's quite important for you as a player to go through all recommended troubleshooting methods one by one until the problem gets fixed. Now, without further ado, let's jump into it.
1. Update Farming Simulator 22
If in case, you haven't updated your game for a while then make sure to follow the steps below to check for updates and install the latest patch (if available). To do this:
Open the Steam client > Go to Library > Click on Farming Simulator 22 from the left pane.
It'll automatically search for the available update. If there is an update available, make sure to click on Update.
It may take some time to install the update > Once done, make sure to close the Steam client.
Finally, reboot your PC to apply changes, and then try launching the game again.
2. Verify and Repair Game Files
Sometimes corrupted or missing game files on the system may also cause multiple issues with the game launching and game progress data backup. To fix most of the game file-related issues, you should verify and repair game files automatically via Steam.
Launch Steam > Click on Library.
Right-click on Farming Simulator 22 from the list of installed games.
Now, click on Properties > Go to Local Files.
Click on Verify Integrity of Game Files.
You'll have to wait for the process until it gets completed.
Once done, just restart your computer.
3. Tweak with Saved Game Folder (Restore)
The scores or saved game data of Farming Simulator 22 are basically stored locally on the PC under the installed FarmingSimulator2022 folder. It depends on which drive you've installed your game but if you did install the game by default via Steam then it'll be inside the C: drive. Well, once the game folder is created and you launch the game and start playing it, a subfolder called 'savegameBackup' might appear.
If the game status is reset or starts disappearing on your PC then you'll need to restore the old savegame and copy/paste the save game folder to its previous folder. Apart from that deleting the '_backup' in the folder name should gonna help you a lot. So, it's also recommended to simply play with the backup folder of the game and restore it by following the steps below.
Open the Farming Simulator 2022 folder in Windows Explorer (This PC) under 'MyGames'. [The default location should be like C: \ Users \ username \ Documents \ My Games \ FarmingSimulator 2022]
Once you locate the savegame folder, copy or rename the 'savegame' folder from the problematic saved game folder.
Now, search for the most recent saved game file inside the 'savegameBackup' folder and delete the '_backup' from the folder name.
Finally, launch the Farming Simulator 22 game, and check for the issue again.
Note: Some game progress may be lost.
That's it, guys. We assume this guide was helpful to you. For additional queries, you can comment below.