Did it ever happen that you are playing PUBG and while the game is at its intense moment, suddenly the screen blacks out? Then you see a message that says Unfortunately App has stopped. For some, it may happen while you're busy watching your favorite music video on YouTube. Again, some other users may have faced it while using WhatsApp, Facebook, Chrome, etc. Basically we are referring here to the Android App crash issue. It happens with every single person who uses any smart device such as smartphones, tablets, etc.
It may happen due to various issues that can be related to hardware or software. We have detailed it out later in this article. The main thing is the crashing of applications causes hindrance to ongoing work. It may be entertainment or any serious work, no one likes interruption. In this guide, we have put up, some standard troubleshooting procedures that you can carry out to fix the Android app crash issue. So, let's dive into the guide.
Read Now | Google Pixel 4 Car crash Detection System Explained
Why does Android App Crash Happen on Any Smartphone.?
The first question that may strike your mind is why the issue happens in the first place.?
It may happen when your device has Less RAM and you are trying to run memory-intensive apps. Like I said earlier, if your device has 3 GB of RAM and you're running PUBG, it may tend to crash. As the device has also to handle other applications and services, it may not free enough memory for the game to run.
Talking of hardware induced reasons, we can also consider external storage elements such as the SD card.
Other reasons may include some bugs withing the app build. Nothing is perfect and technological aspects are no exception. So, maybe the current version of the respective app has some technical downsides.
Android app crash can happen when the cache gets cluttered with temporary files. So, the memory allocation issue can lead to apps closing down.
In case you have installed an app from non-official sources, then that may also cause a crash problem. So, always try to install APKs from official and genuine portal such as the Google Play Store.
Now, that we know the possible cause of the problem, let's head out to seek the solution to fix the Android app crash problem on smartphones.
Check this |  How to Recover Old Android Notifications from any Smartphone
Solution for App Crash Issues on Smartphone
We will consider some basic troubleshooting to deal with this issue. Here we go with them one by one.
Restart your Smartphone
One of the most basic forms of fixing issues. Often people keep using their devices for days. Every day the device installs the number of app updates and sometimes system updates. SO, it is important to restart it to integrate the changes introduced. However, a lot of users do not reboot their devices.
So, in case you are facing an app crash, restart your smartphone or tab. Then try using the app. You should not face any crash problems.
Update your App
Users often miss out on updating their smartphone apps from the Play Store. Google releases regular build updates that bring bug fixes. So, it's imperative for the users to install the updates.
Go to Play Store > tap on the hamburger button
Now tap on My Apps & Games
You will see the list of apps that are waiting for the update. Besides these apps, you will see the option Update.

Try Re-installing the App
Another workaround is to uninstall the crashing app and re-install it. You can simply long-press on any app that you wish to uninstall. You should see an option for Uninstall. Simply tap it and you will be good to go.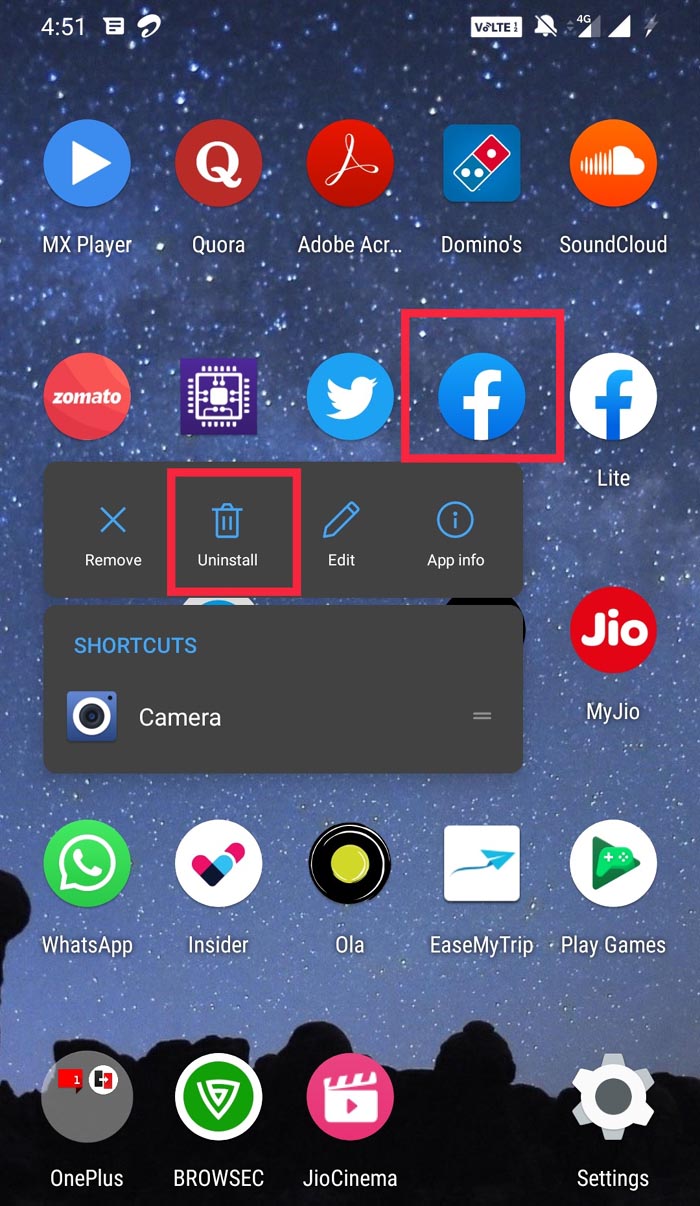 Then go to Play Store. Search for the application and install it. It should be done within a few minutes.
Cache and Data Clearing
It is another effective method that should clear out the clutter such as temporary files from the cache and other info allowing the availability of memory for various applications. So, this will ensure a smooth running of apps. Clearing app cache and data is easy. I will show you how to do it for one app, say Facebook. Follow the same process for any app for which you wish to clear the data and the cache.
Go to Settings > Apps & notifications > Tap on See All Apps
Scroll for Facebook, tap on it to open
Tap on the options Storage and Cache
Now tap on clear cache and clear data

This I demonstrated for Facebook. The process is similar to any other application present on your device.
Remove SD Card
If you have an SD card, then check whether it is corrupt or working fine. If the memory card has problems then any App whose info you save to SD card, the app info will also get affected. So, try to take out the SD card from the slot. Then try to run the app. You should not face any issue relating to the crash.
Factory Resetting the Device
This method should be used in the very last in case the above-mentioned troubleshooting is not effective. Before the factory resetting your smartphone, you have to take a complete backup of your device data. For performing the resetting, you can use our Android Factory Resetting guide. Depending on your respective device, you can follow the same guide.
So, that's it, guys. To fix the persistent Android app crash problem, do try out these methods. let us know which one worked for you.
You May Also Like,