To improve the experience of the native messaging app of Android smartphone, last year Google introduced the RCS Messaging. It stands for Rich Communicator Services. It will implement features such as file transfer, the receiver can know when the sender initiates to type a message. This is quite the same experience we have on Messenger or WhatsApp. However, both of these are third-party applications. RCS can bring all these features on the stock text messaging application that every Android device comes with.
Back in October, Google began to roll out the RCS for selected tele-carriers and regions. So, there are still a number of users left who are yet to experience the Google Messages RCS. However, those users who have tried installing the RCS (by official/non-official means) are complaining that it's not working for them.
So, in this guide, we will tell you how to fix the Android RCS issue on any smartphone. We will focus on various simple techniques that we believe should troubleshoot the RCS and make it work on your Android device.
How to fix Android RCS issue on your Smartphone
Now, one by one let us go through some common troubleshooting methods that should help us.
Set Google Messages as the default app
Yes.! RCS is exclusively made to work on google's own messaging application. So, you must install the Messages app. Some devices today make use of their native skin over the vanilla Android OS. In these devices the stock messaging application is different. So, it's important that you separately install the Google Messages app from the play store to implement RCS.
Not only that, you have to set Messages as the default messaging service on your device. If you newly install the Messages from google, you should see something like this.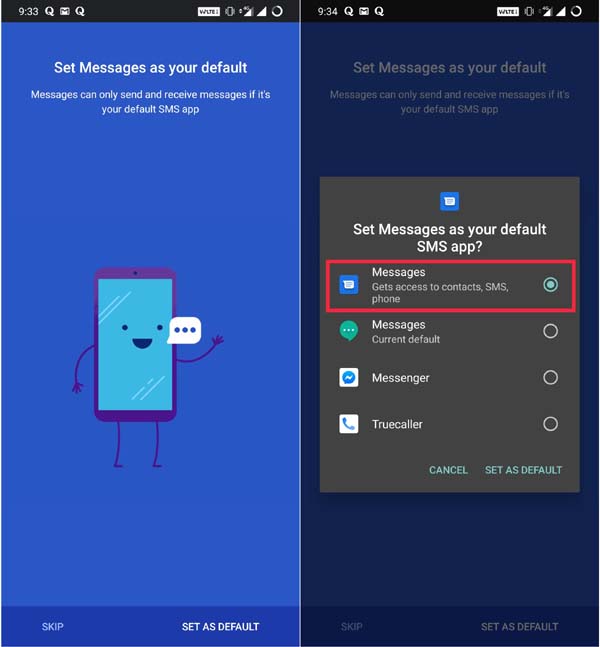 Enabling the RCS Messaging Status
Having Google Messages on the device will not alone solve the issue. It's important that you must have the RCS chat feature enabled on your device. To enable it these are the steps you have to follow.
Go to Messages app > go to Settings (tap the 3-vertical dot menu in the top right corner to access it)
Under Settings > tap on Chat Features > Tap on the toggle Enable Chat Features
When asked whether you want Messages app to run in the background, tap on Allow.
Now go back to Chat Features. You should see the status as Connected. (you will be asked your mobile number to verify it)


It may take some hours for some to see the status of RCS as Connected. If you tried the above steps and nothing seems to work, then try to disable and re-enable the Chat Features.
Note
It is important that if you are texting in a group and you have RCS enabled, then others in that group should have RCS enabled on their devices.
Regional Availability
As of now, RCS is officially available in the US, UK, France, and Mexico. So, if you are in these regions and still waiting to see RCS on your device, you may check with your carrier provider.
Tweaking the Google Fi
To fix the Android RCS issue on your device, you should make sure that turn off your Messages in the Hangouts under Google Fi calls and SMS. Let us make it simple for you.
Go to Hangouts > under the menu select Settings > Accounts
Select your Google Accounts > Google Fi calls and SMS
Toggle off Messages.
Clear Cache and App Data
This is something you should try out in case one of the first few methods do not work.
Go to Settings > App & Notifications > See All Apps
Scroll down to Messages, tap to open it.
Tap on Storage & Cache
Tap on Clear Cache and Clear Storage. Follow the screenshots below for a clearer idea.

Disable the Second SIM(in dual SIM phones)
This has been observed by Android enthusiasts that having a dual SIM on the smartphone can create a hindrance for RCS to operate smoothly. So, the course of action demands to disable the second SIM or remove it from the device. Currently, the RCS is configured to work on a singular SIM. Perhaps having another SIM in the device creates some confusion for the RCS algorithms.
Remember that in some devices there is no provision to disable SIM. Some devices may require root access to disable the SIM. If it sounds difficult, you can keep it as a last resort and try out other fixes we have mentioned above.
Note
Personally, I have a dual SIM phone. However, setting up RCS was very easy. By default, RCS was set to the first SIM. I did not have to disable the second SIM. In fact, on my device, there is no provision for disabling SIM. So, even if you use a dual SIM device, RCS should work fine.
If you have been trying to fix the Android RCS issue, then do try out these methods. We hope that this guide should help you out. Do let us know in the comments section if anything works for you.