In this tutorial, we will show you how to fix the Blue Screen Error 0xA0000001 on Windows 10. Among all the errors that you might regularly come across on your Windows 10, the BSOD or Blue Screen Of Death seems to be the most worrisome. Well, the naming of this error doesn't do any good in this regard as well. One of the most frequently faced BSOD error comes with the error code 0xA0000001. More often than not, when a user boots or restarts their PC, they get greeted with an error message.
This reads "Your PC ran into a problem and needs to shut down. We are just collecting some error info, and then we will restart for you". Quite a few users are being bugged with this error. They have also voiced their concerns across numerous Windows forums too. So why does this error occur in the first place, and more importantly how it could be rectified? In this guide, we will be mentioning all the possible reasons for this error and the steps to correct it. So without further ado, here are the steps to fix the Blue Screen Error 0xA0000001 on Windows 10.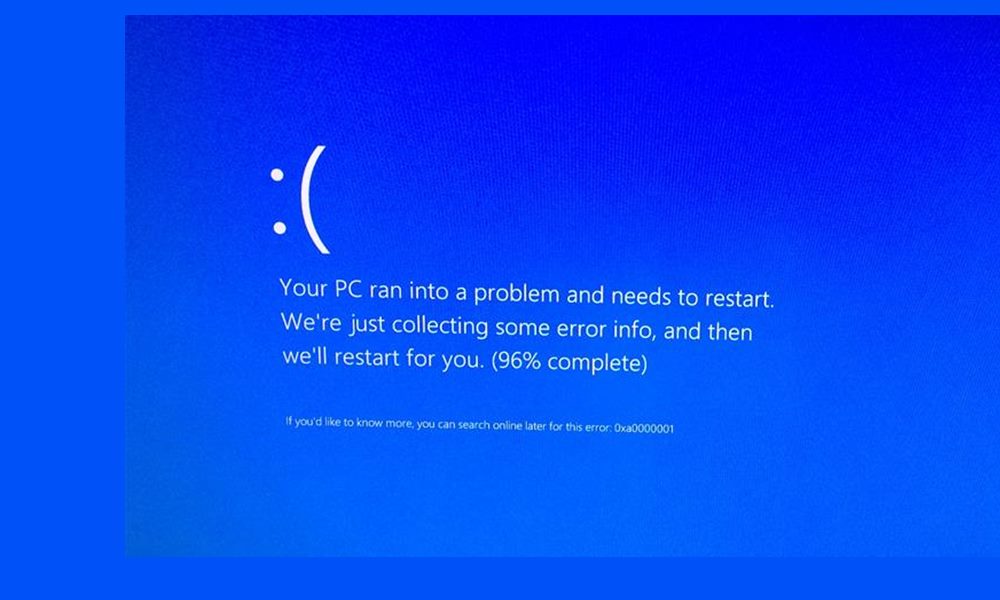 Fix Blue Screen Error 0xA0000001 on Windows 10
There could be quite a few potential reasons as to why you are being greeted with the said error. Some of the most common ones include if you haven't updated your Windows PC for quite some time or an Antivirus app might be conflicting with the normal functioning of the PC. Likewise, the outdated GPU drivers, issues with BIOS or UEFI, or the corrupted OS files could be the culprit as well. In this regard, we will be giving out instructions to rectify all these issues. Let's begin.
Check For Pending Updates
You must be using the latest Windows update. Windows regularly release a new update, which might or might not bring in new features, but focuses on fixing bugs error and bringing in more overall stability. So we will recommend to you to check if there is any pending update and if its there, apply it right away. Here is how to do so: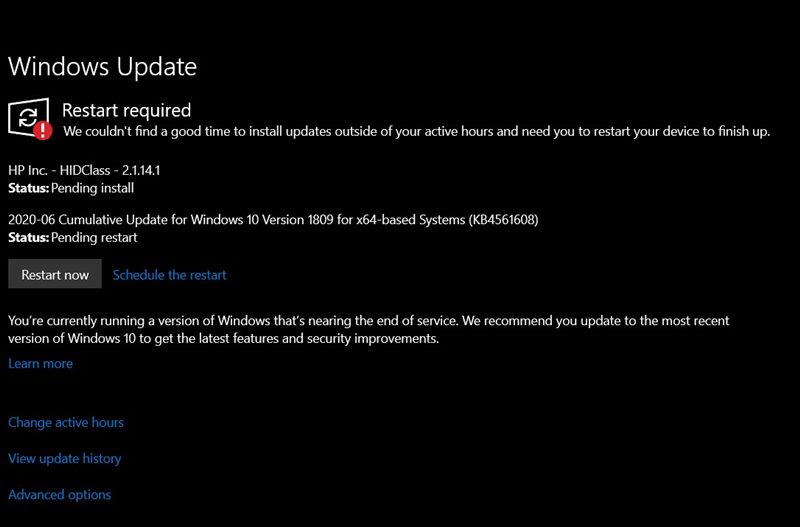 There are many ways to reach the Windows Update page, but the easiest of them is via the Run dialog box. So go ahead, use the WIndows+R shortcut key combinations to launch Run. Then type in ms-settings:windowsupdate and hit Enter.
This will launch the Windows Update section from the Setting page. On the right-hand side, you should see the Check for updates button, click it. Windows will then check for the latest update available. If there's one, install it right away.
Once the update gets installed, restart your PC and see if the Blue Screen Error 0xA0000001 error is fixed or not.
Uninstall Third-Party Antivirus
Some third-party antivirus seems to implement some strict rules that end up conflicting with the normal running on your PC. You should try disabling the installed third-party antivirus, if the error gets rectified, then you have identified the culprit. Uninstall it right away. To do so, follow the below steps: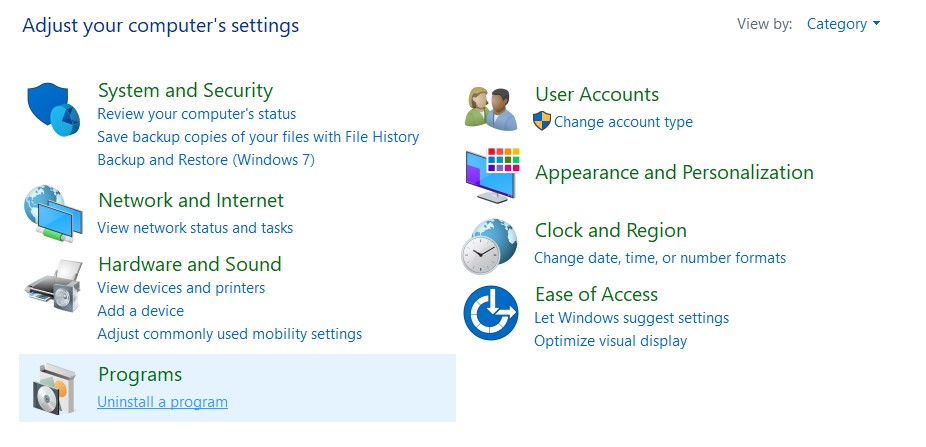 Launch the Run dialog box and type in appwiz.cpl and hit Enter. This will launch the Programs and Features page.
Scroll to the installed antivirus application, select it, and hit the Uninstall option.
Then restart your PC after the process gets completed. If the Blue Screen Error 0xA0000001 error is fixed, well and good. Otherwise, move over to the next fix.
Update GPU
An old or outdated GPU is found to cause quite a few errors. One of them could be the error that we are dealing with in this guide. Therefore we would recommend you update your GPU drivers to the latest version right away. The steps are relatively easy to execute, follow along:
Right-click on the Start menu and select Device Manager from the menu.
Within that, scroll to the installed graphics card and right-click it. Select Update Drivers from the menu that appears.

In the next dialog box that appears, select Search automatically for updated drivers software.

Windows will then perform an online search for the latest drivers, and if found, will apply the same.
However, if it fails to do so then you should manually download and install them from the given links: GeForce Experience – Nvidia, Adrenalin – AMD, Intel Driver – Intel
Once you have performed the update, give your PC a reboot. See if the Blue Screen Error 0xA0000001 error is fixed or not. If not, refer to the next method given below.
Reset BIOS or UEFI Settings
If there have been some changes to the BIOS (Basic Input / Output System) or UEFI (Unified Extensible Firmware Interface) settings, intentional or otherwise, you should try resetting it to their default values. Follow the below steps for that, the first section deals with testing the UEFI settings which will then be followed by BIOS.
Resetting UEFI Settings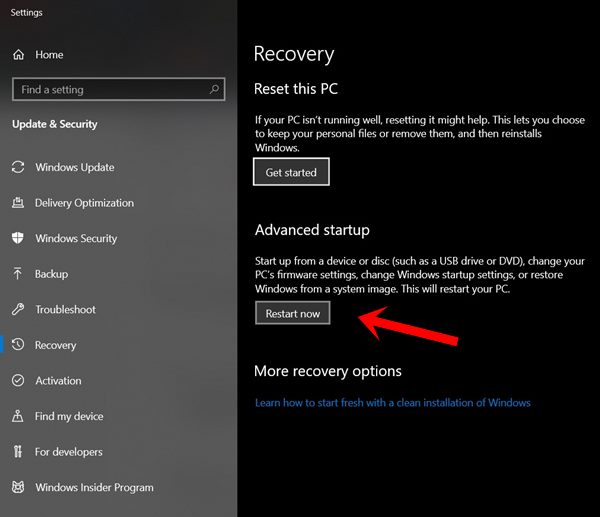 Launch the Run dialog box using the Windows+R shortcut key combination.
Type in ms-settings:recovery and hit Enter. This will open the Recovery settings from the Settings menu.
Go to the Advanced Startup option and click on Restart Now.
Your PC should now boot to the Advanced Options menu. Within that, go to Troubleshoot > Advanced Options and click on UEFI/BIOS Firmware Settings.
Next up, hit the Restart button and your PC should now boot to the UEFI firmware settings menu. Look out for the Reset, Reset Default or other such options, and click on it.
Once the values have been reverted to stock, restart your PC for the changes to take place. See if it was able to rectify the issue, if not, try resetting the BIOS values as following
Reset BIOS Settings
Different manufactures have assigned different keys to the boot menu.
When your PC boots up continuously tap any of the following keys: Esc key, the F keys (F1, F2, F4, F8, F12), or the Del key (Dell computers).
Your PC should now boot to the BIOS Setting page. Look out for the Reset to Default, Setup Default, or Factory Default options. Click on it and as and when the values take their default values, restart your PC.
See if you are still getting the Blue Screen Error 0xA0000001 error or not. If the issue is yet to be rectified, follow our next fix.
Repair, Restore or Fresh Install Windows
If none of the above methods managed to fix this issue, then you might have to repair you perform the following three options, repair, restore, or a fresh install of Windows. For the first one, Windows setup file will look out for all the associated fix, and if an error is found should repair and rectify it. The second method will restore your PC to an earlier build, granted you have created a restore point and the said file exists on your PC.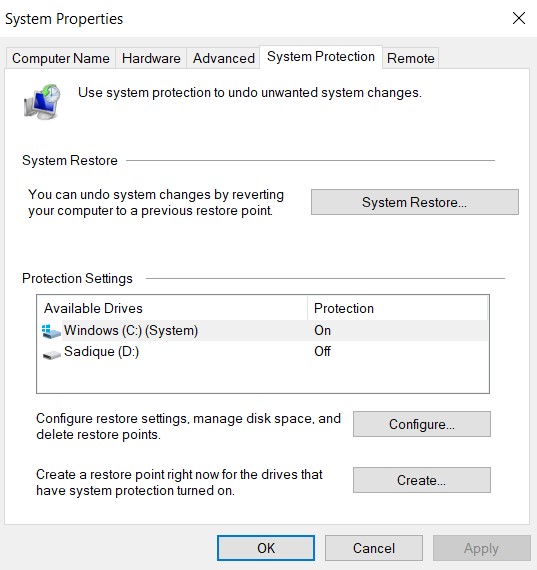 To check for the restore, click on the Windows icon and search for System Restore. Then select Recommended Restore or Choose a different restore point, depending on your preferences. Hit Next, follow the on-screen instructions and wait for the process to be completed. However. If both of the repair and restore option fails to do any good, then you should consider going for a fresh Windows install. But before you do so, make sure to take a backup of all the important files and folders.
Conclusion
So this was all from this guide on how to fix the Blue Screen Error 0xA0000001 error. We have mentioned around 5 different fixes for the same. Any one of them should work in your favor. Do let us know in the comments which one managed to do the job for you. Rounding off, here are some iPhone Tips and Tricks, PC tips and tricks, and Android Tips and Trick that you should check out as well.