If you're facing inconsistent Bluetooth pairing or connectivity issues on your iPhone 11 series devices, you're in the right place. Here we've provided some of the possible fixes or tricks that you should try to fix the Bluetooth-related problem on your iPhone easily. The new iPhone 11 lineup device users are facing issues related to Bluetooth. Check out how to fix the Bluetooth pairing problem on iPhone 11, 11 Pro, and 11 Pro Max.
New software updates mostly come with some of the general bugs or stability issues that the device users always face in their daily life. So, it's quite obvious that some of the features or connectivity option is useful for any user but they're facing issues with it. These days, Bluetooth-enabled devices like Bluetooth speakers, headphones, smart TVs, etc are one of the most useful gadgets or electronics that most people use with their smartphones.
Now, coming to the topic, in order to deal with the Bluetooth pairing issues on your iPhone 11, you can follow the steps below.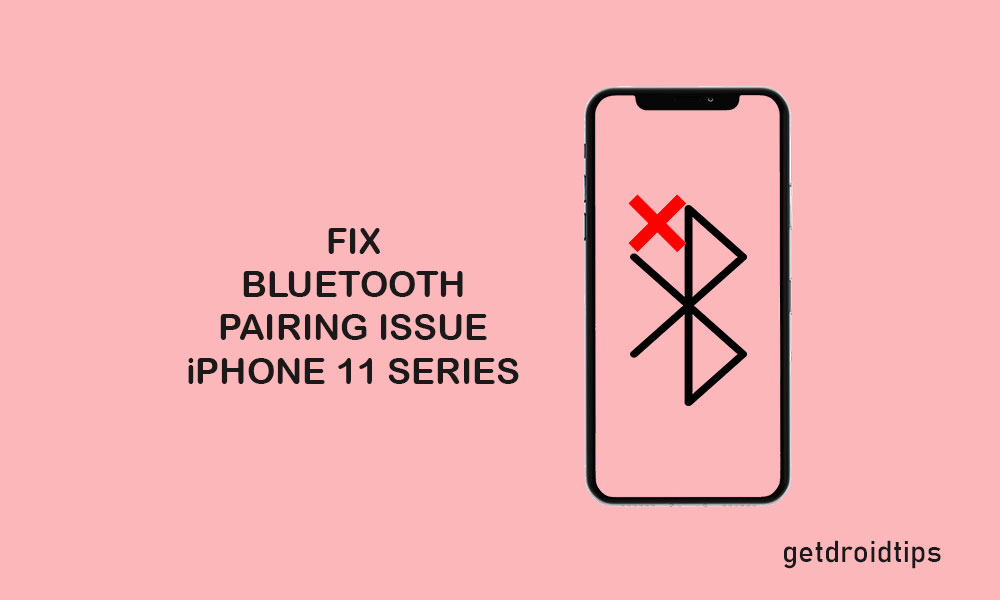 How to fix Bluetooth pairing problem on iPhone 11, 11 Pro, and 11 Pro Max
There are a couple of steps or tricks that are mentioned below that you can try for your iPhone and Bluetooth-enabled device to work properly.
1. Restart your iPhone and Bluetooth Device
Long-press both the Side/Power + Volume Up buttons together for a few seconds.
Release both the buttons when the Slide to Power off bar appears on the screen.
Now, slide the bar to turn off your iPhone.
Wait for around 30 seconds and long-press the Power/Side button until the Apple logo appears.
Similarly, if you use any Bluetooth-enabled device with your iPhone, make sure to turn it off and restart it.
2. Pair Bluetooth Connection
If your iPhone or your Bluetooth device is having an issue, you should delete the Bluetooth pairing between both the devices and create a new pairing.
Go to the iPhone Settings menu > tap on Bluetooth.
Turn off the Bluetooth toggle.
Wait for around 30 seconds and turn on the Bluetooth toggle again.
Now, you will see a list of available Bluetooth devices.
Choose and select your preferred Bluetooth device and tap on it to pair freshly.
If required, you've to enter the pin. Mostly the Bluetooth pin can be 0000 or 1234.
3. Use Airplane Mode (Turn on/off)
You can also use the Airplane mode on your iPhone 11 lineup devices in order to fix any minor Bluetooth issue.
Tap on the device Settings.
Choose Airplane Mode and turn it on. Therefore, all the connections will be disabled.
Now, reboot your iPhone and turn off the Airplane mode from the Settings again.
This will most probably fix your Bluetooth pairing issue on your iPhone 11 series.
4. Remove and Add the Bluetooth Device
Head over to the iPhone Settings > tap on Bluetooth to turn it on and check whether your Bluetooth device is connected or not.
Tap on it and go to the "i" icon.
Simply tap on the Forget button to forget the device.
If prompted, tap on the option again to confirm.
We hope this step may help you.
5. Reset Network Settings on iPhone 11 Lineup
Tap on the Settings icon from the home screen on your iPhone.
Tap on General.
Next, scroll down to the bottom and tap on Reset.
Choose Reset Network Settings and enter the device passcode to continue, if prompted.
Finally, tap on Reset Network Settings again to confirm the task.
Wait for it and reboot the handset.
6. Perform Factory Reset
Last but not the least, you can reset your iPhone settings and data completely to run your device in the default settings.
Go to the iPhone Settings > General > Reset.
Select Erase All Contents and Settings > choose Erase Now.
You have to enter the passcode if prompted.
Tap on Erase iPhone.
Then tap on Erase iPhone again to continue the action.
If prompted, enter your Apple ID and password.
Then tap on Erase to continue.
Wait for it and it will reboot your iPhone.
Now, you can check the Bluetooth pairing on your iPhone 11, 11 Pro, and 11 Pro Max along with the respective Bluetooth-enabled device.
We assume that this guide is helpful to you. You can comment below for any queries.