In this tutorial, we will make you aware of the reasons for the Doordash Error Code 400 as well as the various methods to fix it. This food delivery and takeout service have firmly established itself as the best in this domain, especially in the United States. Then during this pandemic phase, when people were confined to their homes, many users flocked to this service. Hence there was a tremendous rise in its userbase. But in spite of all the goodies that it has to offer, it occasionally faces a few hiccups as well.
In this regard, many users have voiced their concerns regarding Error Code 400. As is evident from this Reddit thread, it seems to infuriate quite a few users, and rightly so. With that said, fortunately there do exist a few workarounds that are known to fix the Doordash Error Code 400 issue. But before we list out potential fixes for this issue, let's understand it in more detail and check out all the plausible reasons for its occurrence.
Also Read Doordash App Unable to Sign in or Not Working, How to Fix?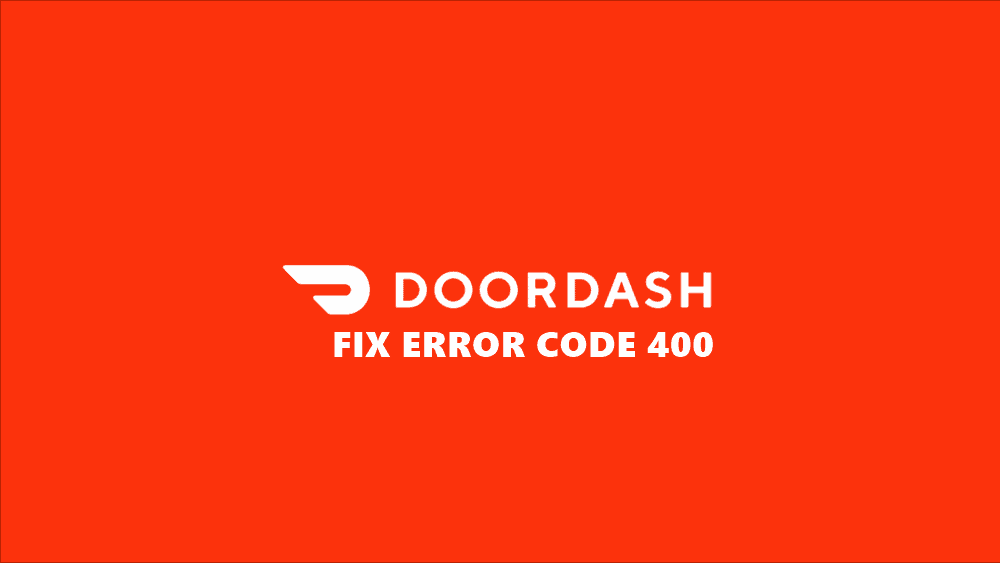 What is Doordash Error Code 400?
As and when that happens, users are straightaway getting the 'HTTP 400 bad request error'. This results in their inability to even access the app, let alone order foods via it. As far as the reason for this issue is concerned, well there could be quite a few ones. To begin with, it could be due to a network issue or your ISP placing certain restrictions.
Along the same lines, using an older build of this app might also show in this error. Likewise, in some instances, the temporary data prevents the app from working in its full capacity. Not to mention the fact that corrupt app data could be the culprit as well. With that said, given below are the various methods to rectify all the aforementioned issues, which in turn will fix the Doordash Error Code 400 as well. Follow along for the detailed instructions.
How to Fix Doordash Error Code 400?
Do keep in mind that there isn't any universal fix for this issue. You might have to try all the below mentioned fixes until you achieve success. So without further ado, let's start off with the guide.
Fix 1: Force Close the App
Just hitting the back key and closing the app might not always be the best way. This is because, in some cases, there could be a few of its background apps and services that would still run in the background. Hence they wouldn't be able to refresh themselves the next instance the app re-opens and could in turn throw in this error message. So the safest route forward is to force close this app and then relaunch it. Here's how it could be done: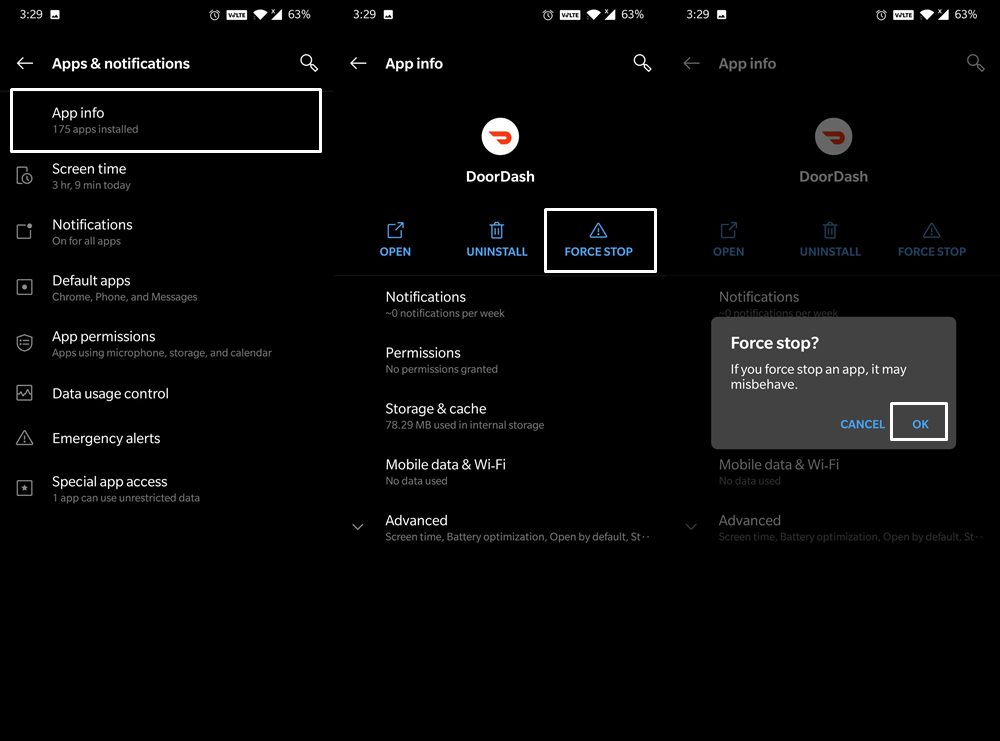 Head over to Settings on your device and go to Apps and Notifications.
Tap on App Info and scroll to the Doordash app.
Now tap on Force Stop. Wait for a few seconds and restart your smartphone.
Once it reboots, check if the Doordash Error Code 400 has been fixed or not.
Fix 2: Switch to a Different Network
One cannot refute the fact that the above error could well be attributed to the network issues. In this regard, you could try switching to a different network, such as switching to the carrier network from WiFi or vice versa. Likewise, you could also make use of the hotspot functionality. Then if your ISP has blocked certain IP addresses, then you could use a VPN app to re-route your traffic through a different server. Try out these network tweaks and see if it fixes the Doordash Error Code 400.
Fix 3: Clear Cache
If a lot of temporary data gets accrued over time, then it could conflict with the proper functioning of the app. Therefore, it is always a good idea to delete these temporary cache files from time to time.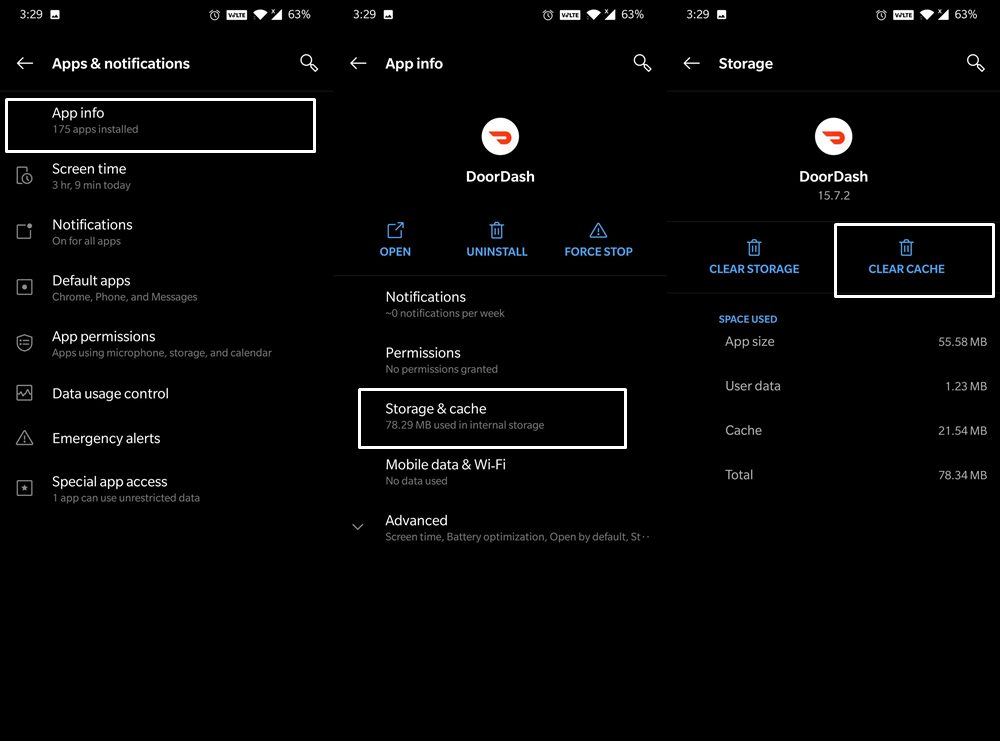 So go to the Settings page and head over to Apps and Notifications.
Then tap on App Info and navigate to the Doordash app.
Within that, go to the Storage and Cache section and tap on Clear Cache.
Once done, relaunch the app and see whether the Doordash Error Code 400 has been fixed or not.
Fix 4: Delete Doordash App Data
If deleting the temporary data didn't manage to rectify this issue, then it could be the case of data getting corrupted. If that happens, then deleting the app data might spell out success. Make sure that you remember your Doordash account credentials and then proceed with the below steps: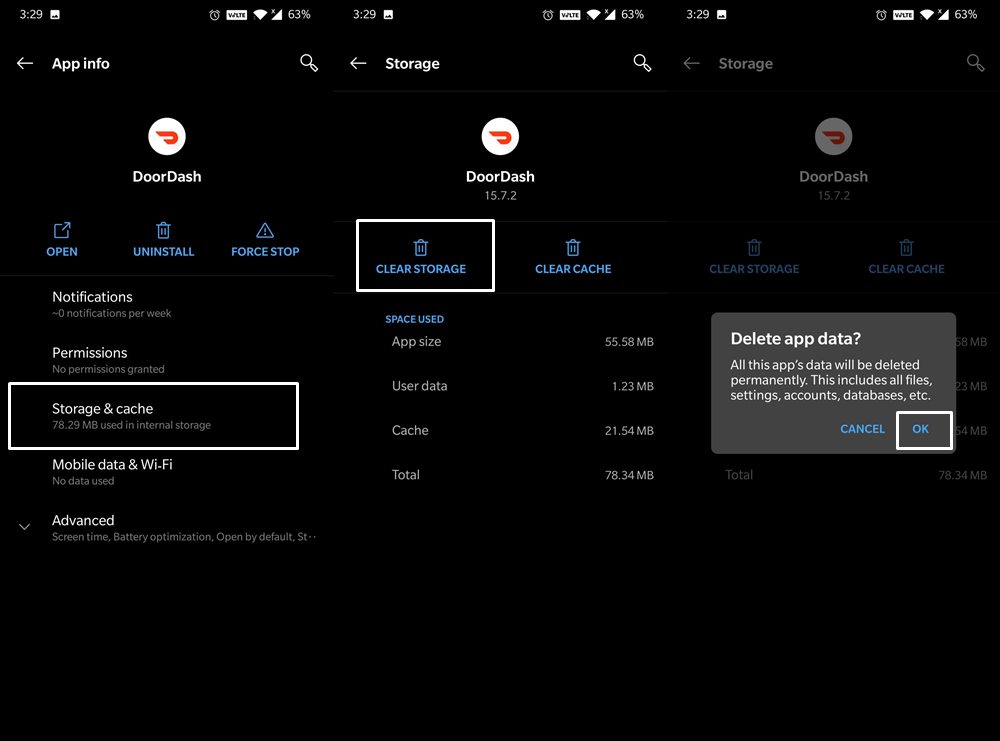 First off, go to Settings > Apps and Notifications.
Then head over to App Info and select the Doordash app.
After that, go to Storage and Cache and tap on Clear Data
Reply in the affirmative in the confirmation dialog box that appears.
Once done, launch the app and sign in to it. Check if it fixes the Doordash Error Code 400 or not.
Fix 5: Reinstall the Doordash App
So if you have reached this section, then clearing the app data and cache might not have worked out for you. Hence, the only way out now is to delete the app and then reinstall it from the Play Store. Again, keep a note of your account ID and password before trying out the below instructions.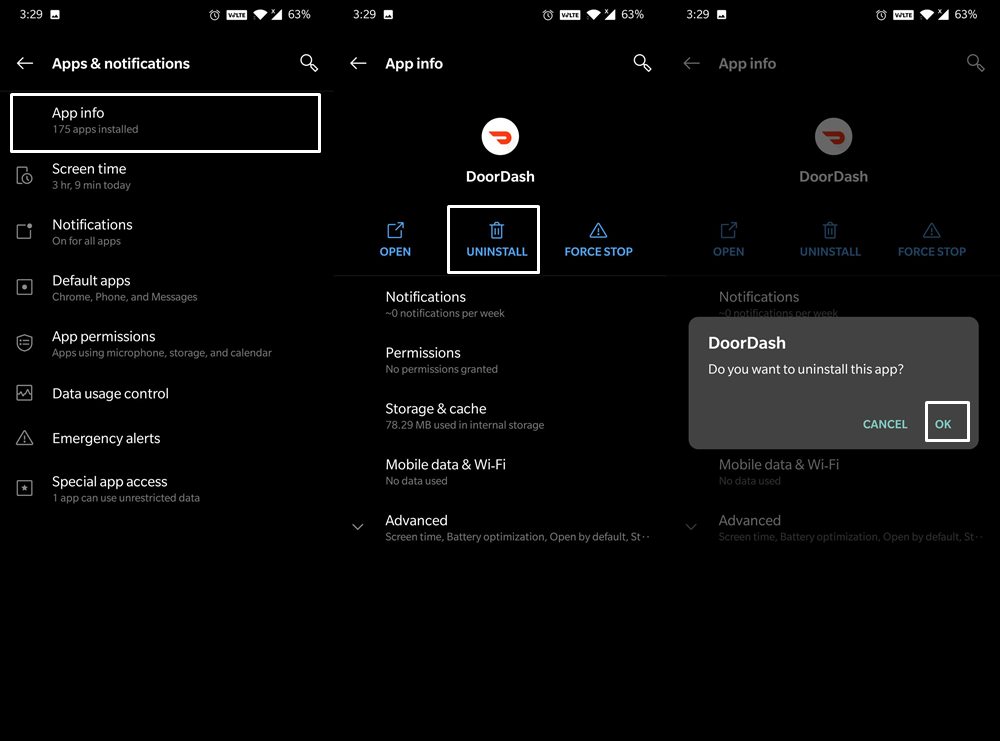 Start off by going to Settings followed by Apps and Notifications.
Then go to App Info and scroll to the Doordash app listing page.
Then tap on Uninstall > OK.
Once the app has been removed from your device, go to the Play Store and reinstall the latest build.
Now launch the app and sign in with your credentials. This should fix the underlying issue.
So with this, we conclude the guide on how to fix the Doordash Error Code 400. We have shared five different fixes for the same, do let us know in the comments which one worked out in your favor. Rounding off, here are some iPhone Tips and Tricks, PC tips and tricks, and Android Tips and Tricks that you should check out as well.