Have you recently upgraded your iPhone 11 to the new iOS version (iOS 13.2.3) and facing a couple of issues? If yes, then you're in the right place as some of the most common issues of the iPhone 11 are the overheating issue after upgrading to the iOS 13.2.3 version. So, if you're one of them and want to fix this issue completely, you can check out the guide on how to Fix iPhone 11 overheating issue after updating to new iOS version.
It's quite normal and obvious to start heating the back panel of the device if you're using it continuously for a long time or playing games for a while or even charging your device (fast or wireless charging). But if in case, you're not running your device quite much and still your device gets overheated very often, you should check some of the tips or tricks that are mentioned below. Here we can expect that the device is getting overheated due to the iOS 13.2.3 update.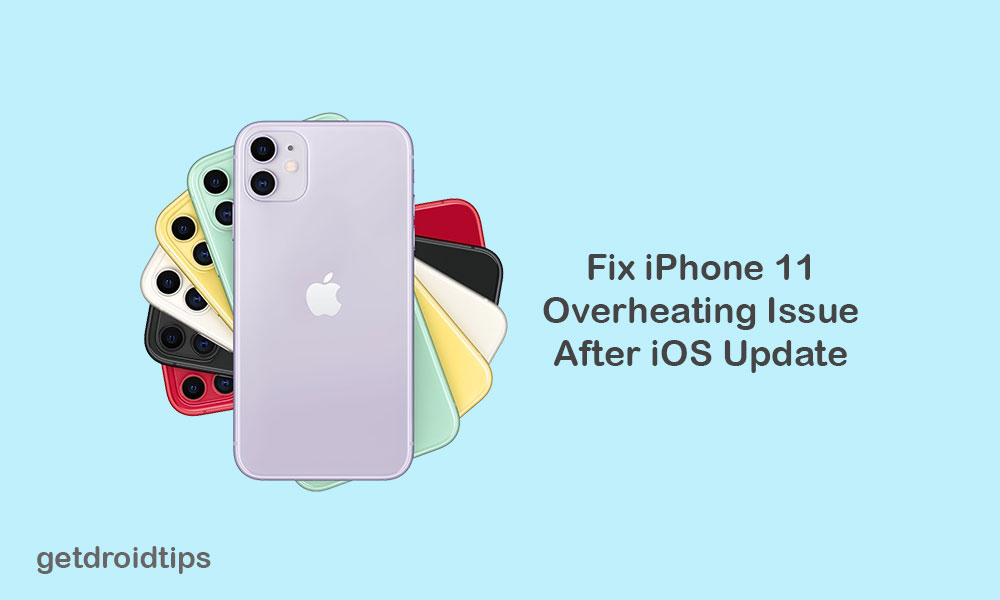 Steps to Fix iPhone 11 overheating issue after updating to new iOS version
By performing all of these following steps one-by-one can fix this overheating issue completely. Make sure that these steps will become useful if there isn't any hardware damage or manufacturing defect present on the device.
Steps 1: Disable Background Running Apps and Reboot
Believe it or not, if your iPhone is getting overheated even in cold conditions or idle time, you should check and disable all the RAM hungry background running apps (third-party) on your device.
First of all, swipe up from the bottom of the screen and hold to open the recent tab UI. Here you will get all the recently opened or background running apps that you haven't closed properly.
Now, you have to close all the opened app cards in the app switcher to forcefully close those background running apps.
Now, you will need to force restart your iPhone in order to clear all the junk/temp files from the system which are also running and taking a lot of space.
Press and hold the Side/Power + Volume Up buttons together for a few seconds.
Then release both the buttons when the Slide to Power off option appears on the screen.
Now, just slide the bar to turn off your iPhone.
Around 30-40 seconds later, long-press the Power/Side button and then release it when the Apple logo appears.
Wait for the device to boot into the system completely.
Now, check your iPhone whether the device still feels overheated or not after using it for a while. If still overheating, follow the next step.
Step 2: Update All Apps
Even some of the pending or outdated third-party apps can also cause trouble to the system. So, it's better to upgrade all those pending or outdated apps properly.
Go to the App Store on your iPhone.
Tap on Today category at the bottom.
Next, tap on the user profile icon on the top right corner of the screen. (Account Details)
Go to the Available Updates option.
Either, tap on the Update button beside the app name or tap on Update All option to update at once.
Now, restart your device and check whether this Fixes iPhone 11 overheating issue or not.
Step 3: Reset iPhone (Reset All Settings)
Either the recently upgraded software version or any other third-party app can conflict with the system that reduces the system performance, increases stutter or lag, and overheating issues as well. So, you should try to reset all the device settings also.
Go to the Settings menu on your iPhone.
Tap on the General.
Tap on Reset.
Select Reset all settings > enter your passcode.
Confirm the prompt message to reset all settings on your device.
Reboot your device.
Step 4: Perform a Factory Reset (Fix iPhone 11 overheating issue)
Some times resetting all the device settings may not be useful as some of the internal data or temp files can also cause issues with the device system. So, you can additionally perform a factory reset as well.
Tap on the device Settings.
Go to General.
Tap on Reset.
Select Erase all content and settings.
Enter your passcode and continue by confirming.
It will wipe out all the internal data and reset your iPhone.
Your device will reboot automatically. Wait for it.
Step 5: Restore iPhone via iTunes
Last but not the least, you can also use iTunes to restore your iPhone if you've backed up the previous iOS version on iTunes.
First of all, you have to connect your iPhone to the PC via the lightning cable.
Launch the iTunes on your Windows computer or Finder tool on your Mac.
Quickly press and release the Volume Up button when the device is connected.
Then press and release the Volume Down button quickly.
Next, long-press the Power/Side button until the Recovery mode or Connect to iTunes will appear.

Do Not release the Power button if you can see the Apple logo as you will have to boot your iPhone into the Recovery mode.

A prompt message will appear to Update or Restore your iPhone in iTunes.
Select the Restore option to erase the device data and restore the backed up data from iTunes.
You will have to follow some of the on-screen instructions to complete the process.
Reboot your device into the system again.
6. Keep your iPhone in Cool Environment
Most of the smartphone parts are metal and the lithium-ion battery also consists of electrodes and electrolytes. So, the higher heat or warmer environment can decrease both the battery level and life cycle as well. Apple usually recommends using your iPhone in 0-degree to 35-degree C (32º to 95º F) conditions.
However, in the tropical regions like India, China, or other Asian countries, the normal temperature becomes high enough in Q2 to Q3 stages. So, it's a better idea to use or keep your iPhone in a slightly cooler environment. Meanwhile, if in case, you were out for some time in sunlight or inside the car where temperature arises heavily, simply don't charge or use mobile data instantly. Let it cool for some time and then do whatever you want.
Make a note: Do Not leave your iPhone in a parked car and especially directly under sunlight as the temperature becomes so high that you can't even imagine and it can damage your device battery or a full phone as well.
7. Don't Use a Faulty or Local Charger
In order to save some money or in an emergency situation, most of the iPhone users simply don't care about the charger and lightning cable compatibility. If your iPhone is overheating during the charging, it's quite possible that either your charging adapter or the lightning cable becomes faulty. In some cases, the local charger can also cause the overheating issue due to non-compatibility with your iPhone.
So, it's recommended to always use stock or official iPhone charger to charge your iPhone 11. If you think that the existing one becomes older or has some fault, then you should buy a new Apple standard 5W or 12W or even an 18W charging adapter from the Apple website or any authorized reseller. Make sure that whether the fault is only in the lightning cable or not. If there is an issue with the cable, just buy a new lightning cable according to your adapter and you're good to go.
8. Clean the Lightning Port using a microfiber cloth
It's also expected that there is some dirt or dust particles inside the lightning port of your iPhone which is causing the charging issue and the device gets overheated every time. In order to keep the port clean, use a microfiber cloth and gently clean the inside portion via a toothpick.
9. Use a Stable Power Outlet
It's always recommended to use a stable power outlet or switchboard in order to charge your device properly without any interference. If you're using an extension cord then plug the charger to a different power source directly and check whether the device is getting overheated after some time or not.
10. Turn Off All Connectivity Options
Though turning off the connectivity option isn't a complete solution, you can check out whether the actual issue is occurring from this or not. So, you should turn off the Wi-Fi, Cellular Data, Bluetooth, Hotspot, Airdrop, and even Location Services from the iPhone Settings.
Simply turn off all these options and reboot your iPhone. Now, use it for calling, texting, or leave it for a while and check if the overheating problem is solved or not.
11. Use Low Power Mode
The Low Power Mode simply reduces the limit of power usage of your iPhone so the battery level goes much longer than expected. In order to turn on Low Power Mode, head over to Settings > Battery > Turn on Low Power Mode.
We hope that you've found this guide useful. If you've any queries, let us know in the comments below.