It seems that more and more Android device users are experiencing issues with the carrier network because your SIM can't really connect to it. This particular issue is common for several Samsung Galaxy device users for a while and some other Android device users from other brands are also facing the same problem whatsoever. Well, if you're one of them, you can check out this guide to Fix Not Registered on Network Error on Android Phone.
If you see the 'not registered on network' error that means your SIM can't connect to the carrier's network You won't be able to make or receive calls or even text messages because there will be no network signals appear on the status bar of your handset. This error may happen on any Android device so the fixing steps will be the same irrespective of the manufacturer or device model.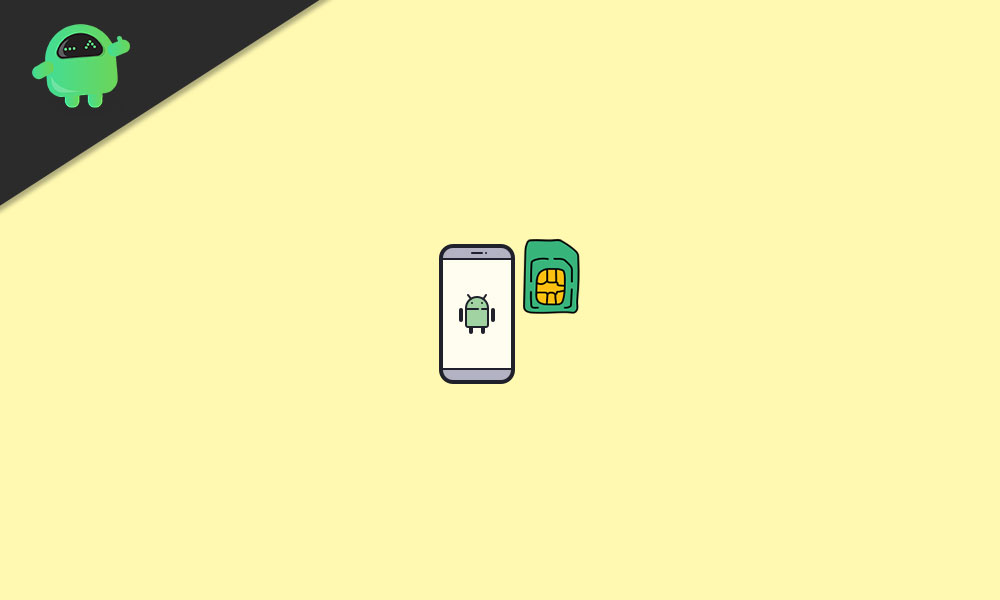 Fix: Not Registered on Network Error on Android Phone
Talking about the possible reasons behind such an error, your device firmware or the operating system may become outdated for a while. Additionally, it may also be possible that your SIM card is either disabled from the settings menu or damaged physically. Whereas your SIM carrier isn't selected in the phone settings or somehow the carrier network is experiencing an outage at that moment.
Here we've shared a couple of possible workarounds to easily register your SIM to the carrier network on any of your Android devices. So, without wasting any more time, let's jump into the steps below:
1. Reboot your handset
Make sure to restart your Android device to properly refresh the system because the networking or system glitch can cause several issues with the SIM connectivity to the carrier's network.
2. Turn Off Wi-Fi or Bluetooth
Try disabling the Wi-Fi and Bluetooth on your handset then wait for around 30 seconds before turning it on. It should help you to fix the issue.
3. Turn On or Off Airplane Mode
It's also worth mentioning to turn on the Airplane mode on your device and wait for a few seconds to refresh the networking issue. Then turn it off and check whether the SIM is still unable to register your carrier's network or not. Go to Settings > Airplane Mode.
4. Update your device firmware (via Wi-Fi)
Make sure that your handset is connected to a Wi-Fi network and has internet access. Now, head over to the device Settings menu > Software Update > Check for updates. If there is an update available for firmware, make sure to Download and Install it. This method will help your device firmware to get updated and reduces chances of networking issues as well.
Read More: How to Find What's Using My Bandwidth on my Home Network?
5. Reinsert the SIM card
You can also try removing and reinserting the problematic SIM card on your Android device to check if that works or not. If you're using a dual SIM slot then try inserting or replacing the SIM slot to ensure there is no issue with the particular SIM slot whatsoever.
6. Manually Select Network
Try manually selecting your carrier's network on the Android handset. Just head over to the device Settings menu > Connections > Mobile Networks > Network Operators > Search for the available carrier's network then select the network. Still, you're facing the network not registered error? Jump to the next method.
7. Change the Network Type/Mode
Try changing the network mode or type from the device Settings menu > Connections > Mobile Networks. If your device supports 5G/4G then select accordingly. Otherwise, if your device supports 3G/2G, then do the same. In most scenarios, the network type/mode should be set to Automatic.
8. Reset Network Settings
If you're using a Samsung Galaxy device then you can follow the steps below to easily reset network settings:
Open Settings > General Management > Reset.
Tap on Reset Network Settings > Tap on Reset Settings (If prompted, enter your PIN, password, or pattern).
Finally, tap on Reset Settings again to confirm the process.
If you're using any other Android device from another brand then the steps may vary but all you need to head over to Settings > Reset > Then search for Network Reset and perform the action. If the device lock screen password or pattern is required, input it.
9. Contact your mobile carrier
You can either directly visit the nearest store of your carrier's network or use another phone/SIM to call your provider (helpline number) for elaborating on your issue. They will definitely gonna help you out. However, if there is no issue found at their end or settings-related issues then you should replace your SIM card with a new one having the same contact number.
10. Update APN Settings
It's better to ask your carrier's network provider to properly share the valid APN (Access Point Name) settings for your device model respectively. Due to invalid or misconfigured APN settings on the device, the SIM may not be able to connect to the network of the carrier whatsoever.
11. Try using another SIM
If you have an additional SIM card then try using that one on the problematic phone with the same SIM slot. Then try connecting to the carrier's network. If the SIM connects to the network easily and runs well that means there is some issue with that specific SIM card and nothing else. However, we'll recommend you try using the problematic SIM card once again to cross-check the issue.
Alternatively, you can insert the problematic SIM card on another Android device and check whether the same Not Registered on Network Error on the Android Phone is still bothering you or not. As mentioned, if the SIM card has some issues then try replacing it with a new one with the help of a local store or carrier support.
That's it, guys. We assume this guide was helpful to you. For further queries, you can comment below.