The Nothing Phone 1 and Nothing Phone 2 have been under the spotlight recently, garnering substantial attention. This is not only due to the innovative features of the smartphones but also the dynamic marketing strategies led by CEO Carl Pei, making the buzz well-deserved.
Both models of the Nothing Phone are now accessible to consumers, and reviews have begun to surface. Nevertheless, some users have pointed out a prevailing issue in Nothing 1 and 2 – difficulties with fingerprint recognition. This concern has become prominent as numerous users have encountered it. However, there is no need for concern as we have discerned solutions.
In this article, we will delve into addressing the "Nothing Phone (1,2) Fingerprint Sensor Not Working" predicament, providing straightforward and efficient resolutions. Let's proceed: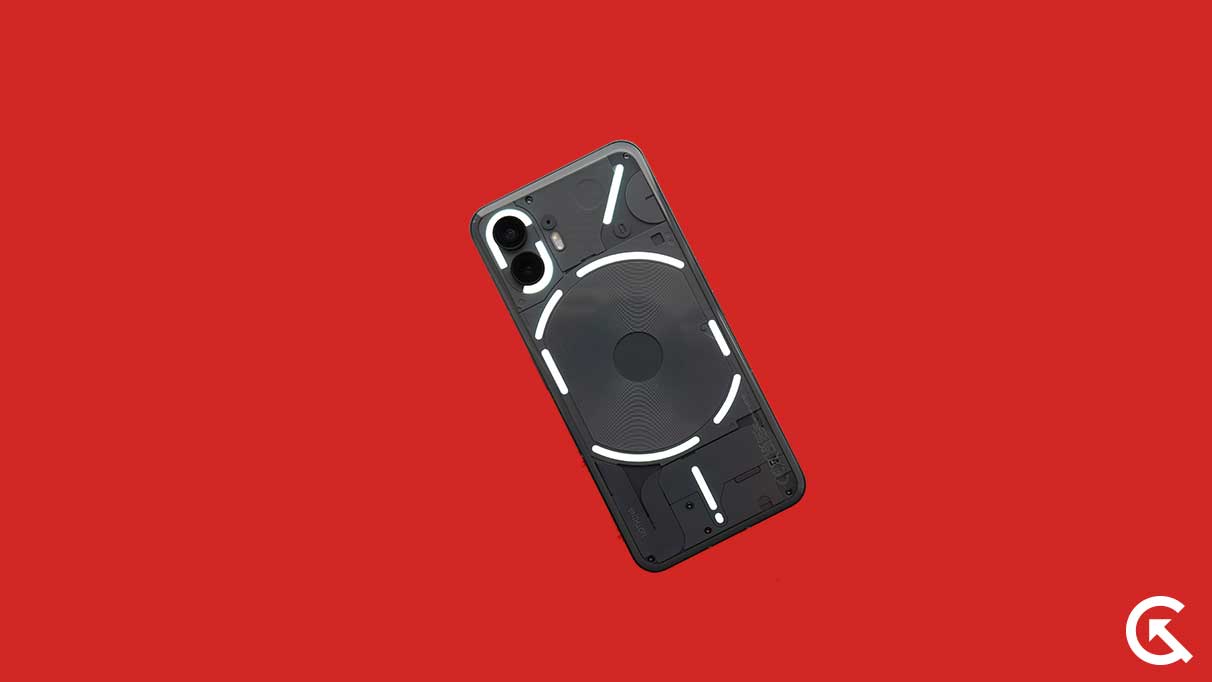 Why is the Fingerprint Sensor not working on my Nothing Phone 1 and 2?
The fingerprint sensor not working on your Nothing Phone 1 and Nothing Phone 2 can happen due to the following factors:
Liquid or Dirt on Fingers: If your fingers are wet or dirty, the fingerprint sensor may struggle to recognize your fingerprint. Make sure your fingers are clean and dry when using the sensor.
Injured or Scarred Fingers: Injuries or scars on your fingers can alter the fingerprint's ridges and patterns, making it difficult for the sensor to match your fingerprint.
Fingerprint Sensor Modes (Dry and Wet): Some fingerprint sensors have different modes for dry and wet fingers. Ensure using the appropriate mode.
Software Bug: Software glitches or bugs can affect the functionality of the fingerprint sensor. Therefore, updating your device's software regularly can help resolve such issues.
No Fingerprint Hardware Available: If your device lacks a fingerprint sensor or hardware support, no amount of troubleshooting will enable fingerprint recognition. Therefore, it is important to ensure that your smartphone has the required hardware.
How To Fix Nothing Phone (1,2) Fingerprint Sensor Not Working
Method 1: Clean Your Finger and Sensor
If you're encountering problems with the fingerprint sensor on your Nothing Phone, start with these tips and tricks:
Make sure that your finger and the fingerprint sensor of your Nothing Phone 1 and Nothing Phone 2 are clean and dry.
Wipe any dirt, oil, or moisture from your finger. Also, make sure you clean the fingerprint sensor using a clean, dry cloth.
When placing your finger on the sensor, experiment with different angles and positions.
Make sure you are covering the entire sensor area with your fingerprint.
Method 2: Re-register Your Fingerprint
If you are coming across the Nothing Phone (1,2) Fingerprint Sensor Not Working issue, try to improve sensor recognition by deleting and re-registering your fingerprint(s). To do so, follow the steps given below:
On your Nothing Phone 1 or 2, launch the Settings app.
Now, on your device, select the Security option.
Further, select the option Fingerprint or Fingerprint Scanner, depending upon your device.
Now select the registered fingerprint(s) and choose Remove or Delete.
Lastly, follow the on-screen instructions to re-register your fingerprint(s) by placing your finger on the sensor multiple times from various angles.
Method 3: Update Device Software
Ensure your Nothing Phone is running the latest software version, as updates often include improvements and bug fixes for biometric features. To do so, follow the steps given below:
On your Nothing Phone 1 or 2, launch the Settings app.
Scroll down and select System or About Phone.
Tap on Software Update or System Update.
Upon finding any available update, download and install it using the on-screen instructions.
Method 4: Remove Screen Protectors or Cases
In some cases, screen protectors or cases may interfere with the fingerprint sensor's functionality. All you need to do is try removing any screen protectors or cases from your device and test the biometric features again. If the Fingerprint Sensor starts working, use a new protector/ case since the old one might be hindering this feature.
Method 5: Restart Your Phone
Sometimes, the simplest solution can be the most effective. Therefore, try to Restart your Phone and check if the Fingerprint Sensor works effectively on your Nothing Phone 1 or Nothing Phone 2. Restarting your smartphone can resolve minor issues like unstable Wi-Fi connections, frozen apps, or malfunctioning fingerprint sensors.
Method 6: Clear the System Cache
Clearing the system cache can help when your Nothing Phone 1 or Nothing Phone 2 fingerprint sensor isn't working. As you clear the cached data apps use, most of the other common issues are also resolved. In fact, after major software updates, clearing the Cache System is good practice.
Here's how to clear the system cache in recovery mode:
To begin with, Power off your device.
Now, simultaneously press the Volume Up and Power buttons, and it will boot into Recovery mode.
Please Note: The exact key combination may vary depending on your Nothing Phone 1 and Nothing Phone 2 model.
Now use the Volume buttons to navigate and the Power button to select the Wipe cache partition.
After the cache partition is wiped, reboot your device.
Method 7: Contact Manufacturer Support
At last, if nothing helps, it's advisable to contact the manufacturer's support for further assistance. Nothing Phone's support team will be able to provide specific troubleshooting steps or recommend a repair or replacement if necessary. You can also visit their nearest service center to rule out hardware-related issues. It is possible that the Fingerprint Sensor of your Nothing Phone 1 or Nothing Phone 2 isn't working because the sensor itself is broken or has any other physical issue. This may happen if the phone falls or gets pressed under a hard object.
Wrapping up
Overall, it is common to encounter the Nothing Phone 1 and Nothing Phone 2 Fingerprint Sensor Not Working, and there's nothing to panic about. Simply start following the fixes explained above, and you will be able to get through this situation.