If you're facing sound-related problems on your OnePlus 6T such as low volume, unresponsive ringtones, speaker sound issues, or any other related issue, you're in the right place. We have compiled a guide to help you troubleshoot and fix these common sound problems.
OnePlus 6T is a mid-range smartphone with impressive specifications and a budget-friendly price tag that has generated a lot of buzz among tech enthusiasts. However, the device's software has been reported to have some major sound issues, particularly with the latest Oxygen OS versions. In response, OnePlus has acknowledged the issues and promised to fix them in the next OTA update. These issues have been identified and reported by users on the OnePlus forum.
OnePlus 6T Sound Problems are:
No sound coming when receiving/placing a call
Media sound coming from the earpiece (barely hearable)
Speaker sound is cacking
Speaker not working while Playing media or games
Not able to hear the OnePlus ringtone
As you can see, there are many issues with the new OnePlus 6T. But today, in this blog post, we will help you to fix all these sound issues in the OnePlus 6T.
How to Fix OnePlus 6T Sound Problems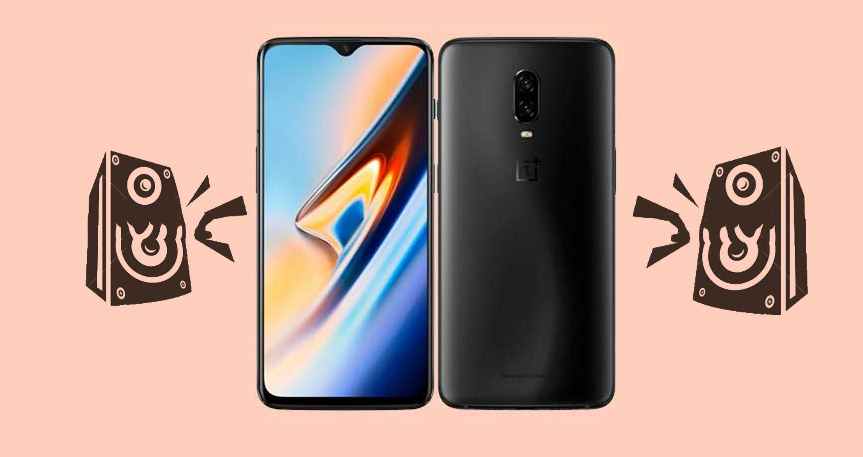 OnePlus 6T is a great device for power users but it is not perfect. After few months of the launch of OnePlus 6T, many users are complaining about several issues they are facing. OnePlus has acknowledged these issues and promised to fix these sound issues in OnePlus 6T in the next OTA update.
Luckily, you can easily fix sound issues in the OnePlus 6T device. You don't need any technical expertise and it won't void the warranty as well. Down below, we are giving every possible solution to these sound problems.
Problem 1: No sound coming when receiving/placing a call
Many users have reported an issue where they are not able to hear anything from the receiver end while placing or receiving the call. The earpiece speaker stops working during a call. To hear the voice of the person, users have to switch to speaker mode to take a call manually.
Also read: How to Fix Bluetooth issue on OnePlus 6T with latest Oxygen OS update
The good news is that a simple device reboot can easily fix this bug. Steps to reboot OnePlus 6T:
Press and hold the power button for 3 seconds
Press on the "reboot" option in the shutdown menu
Wait for few minutes until the device reboots
Check whether this reboot has fixed the issue
If the above method doesn't fix the problem, you can wipe your device's data and cache. Detailed instructions for wiping data and cache on OnePlus 6T is at the end of this article.
Problem 2: Media sound coming from earpiece (barely hearable)
While playing any media clip or playing games, users have reported that the device speaker doesn't work. Instead, the earpiece speaker turns on and the sound from that earpiece is barely audible for media consumption. Turns out that there is no official fix for this issues. However, users from the OnePlus forum have suggested that this issue can be fixed with a simple device reset.
Also read: Download YouTube Videos on iPhone with this shortcut without Jailbreak or any apps
The instructions for Device reset are as follows:
Go to the Settings app by pressing the settings button
Navigate to Settings > Backup & Reset
Tap on factory data reset
Click on Reset Phone and confirm your action
Problem 3: Speaker sound is cacking
If the sound coming from your OnePlus 6T sounds cracks and muffed up then this might be a hardware issue. If you are having an issue then we recommend you to visit the nearest OnePlus service center if the device is still in warranty period.
Problem 4: Speaker not working while Playing media or games
Many users have reported that they are not able to hear sound while playing the game or accessing media files such as music videos. There are a few possible solutions to fix this issue:
Also read: How To fix WiFi issue on OnePlus 6T with latest Oxygen OS update
Check if the speaker grill is blocked from lamination sheet/degree
Many time, during lamination or placing a hard care, the speaker grill gets hidden behind the case. In this scenario, you will not be able to hear the speaker voice. So make sure the speaker cutout is proper n your device's case.
You are blocking the speaker grill
Many time, we block the speaker grill without even realizing it. This results in speaker voice being so slow which is barely audible to the user. So make sure you're not placing your thumb or fingers on speaker grill while media consumption.
There is a slider on the top right side(when the phone's display is facing to you)
OnePlus has a ring slider similar to Iphone's. This slider helps a user to quickly switch between silent, vibrate and ring mode. So make sure that you are not keeping this slider in vibrate or silent mode. Because this will cause the speaker to remain silent.
Going to the OnePlus care center
Many times, this issue arises because of the speaker fault. If your device is in warranty period, the do check with the service center again. Because in the case of a faulty speaker, the customer care executive will change the speaker component for you.
Problem 5: Not able to hear the OnePlus ringtone
Many users have reported that they are not able to hear a ringtone when someone calls them. If you're facing the same issue, then there are three possible causes for this situation:
Your ringtone is set to "None" in ringtone settings
Your ringtone volume is set to "Null" in volume settings
Your device's speaker is malfunctioning, so better visit a nearest OnePlus service center to solve the issue.
Also read: Did Oppo launched RealMe 2 Pro with a waterproof IP Rating?
So if you're facing the ringtone issue, then we recommend you to double-check whether your ringtone volume settings are set to full. Also, make sure to change your ringtone from volume settings.
I have tried everything, still, there is a sound issue?
Well, I'm sorry to hear so, but don't worry! We still have one final solution/fix the OnePlus 6T sound problems. You can easily fix sound issues by clearing data and cache from your device using the built-in recovery system. To do so follow the steps below:
Note: Please make sure to follow all the steps carefully. Wiping cache and data from recovery is a bit technical and complicated if you haven't done this before. We take no liability or responsibility if you break/malfunction your device in the process.
Turn your OnePlus 6T off by pressing the power button and selecting shut down
Press and hold the Volume Up, Power and Home buttons at the same time until the Android logo shows up and the phone vibrates
Use the volume buttons to scroll down to highlight Wipe Cache Partition
Use the power button to select wipe cache partition
Scroll to reboot the system and press the power button
Wait for your device to reboot
Conclusion:
OnePlus 6T is one of the best devices you can buy. However, it is not perfect. We hope all the OnePlus 6T sound issues you have been facing are fixed. If they aren't, we suggest you visit the nearest OnePlus care centre to get a clear picture of what's happening.