You just bought a phone and inserted your SIM card. Well, logically, it must search and show network or at least another network if you are in 'Roaming'. But what if it doesn't search for any signal. You can get errors like No SIM Card or No Service or No signal, etc. In such cases, what would you do? This is one of the issues which a user reported after using his Samsung Galaxy A8 2018. Although this issue may not occur on your device, there are chances that some of the users have observed it and that is why they are here on this page searching for the answer. This is a guide to fix Samsung Galaxy A8 2018 No SIM card error.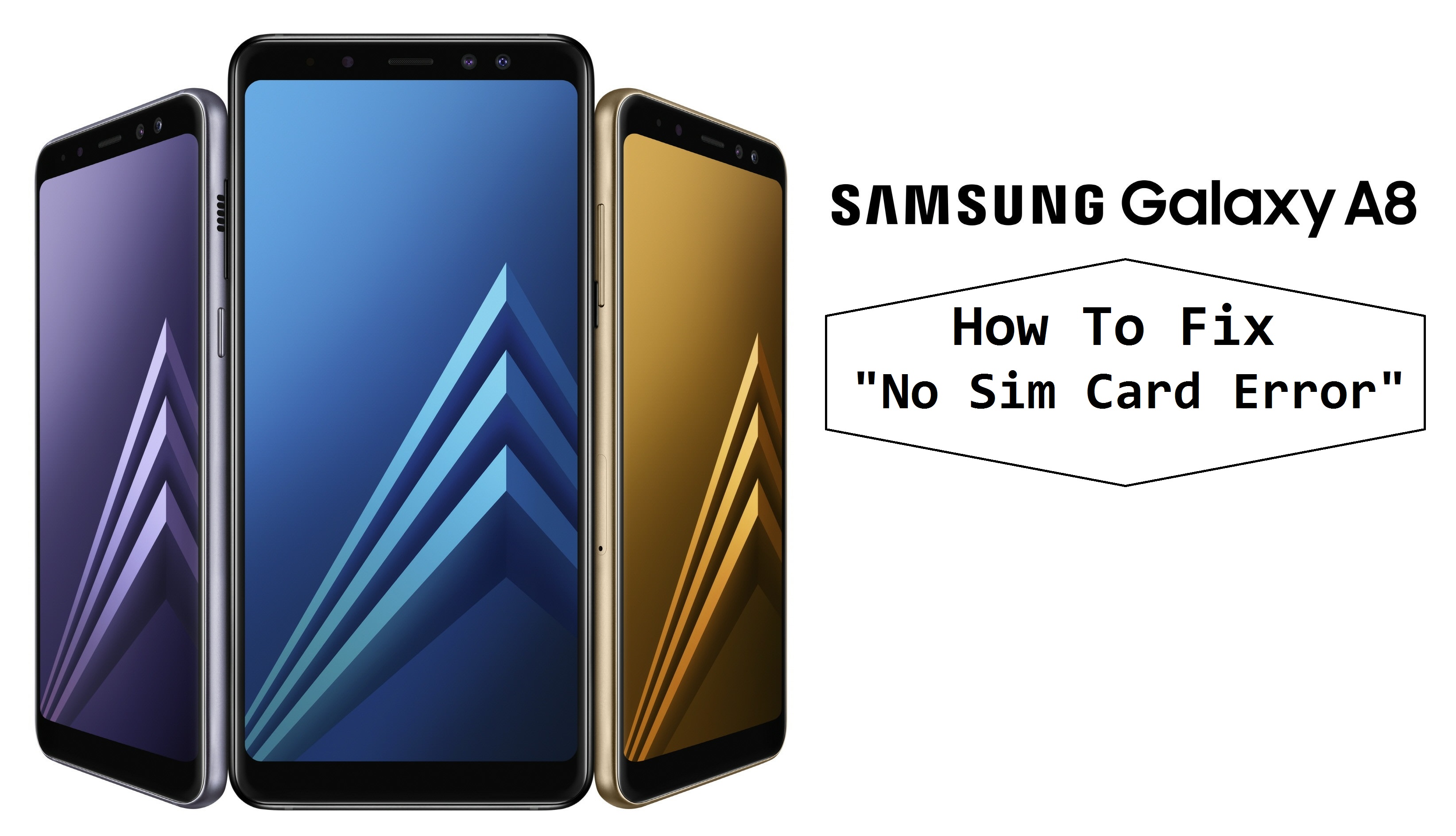 Samsung Galaxy A8 2018 is a fantastic smartphone and it is of little use if it cannot detect a SIM Card. It could be due to internal software issue or hardware issue where the latter is required technicians then and there but it is not on the software side, it can be curbed with simple tips mentioned below.
How To Fix A Samsung Galaxy A8 2018 No SIM Card Error?
Before commencing with the guide to fix the error, it is recommended to check with your carrier if it is a locked phone. The error could also occur if you recently changed your network provider for which, you can call the customer care executive for resolution. If your instinct says that there is nothing wrong with the phone, call the carriers and confirm if the error is due to their network or due to any software or hardware issue.
Soft Reboot Your Samsung Galaxy A8 2018
If you got a No SIM card or No Signal error on your phone, the first step is to check for Networks to search for networks. If it doesn't connect or search network, then you can soft reboot your phone which is one of the solutions to get the network error fixed.
To start the process, first, you will have to press the 'Power' button until the phone switches off.
Now wait for few seconds and then, hit and hold the Power button until the phone reboots itself.
This must solve the issue promptly, however, if it doesn't, there are alternatives mentioned below.
Check For Carrier Settings
It is crucial to keep up with the pace of OSes by updating the Android OS as and when available. Many times, the No SIM card and other such errors are caused due to incompatible carrier settings or due to an old Android version presently installed on your phone. Software updates are usually sent via OTA which contains patches and bug fixes against the older version. Therefore, incompatibility can cause the phone not to detect the SIM card. To check if there is an update available, go to 'Settings > About Device > System Updates (For OS) or go to 'Apps > Settings > System Updates' for carrier and other apps updates.
Enable & Disable Airplane Mode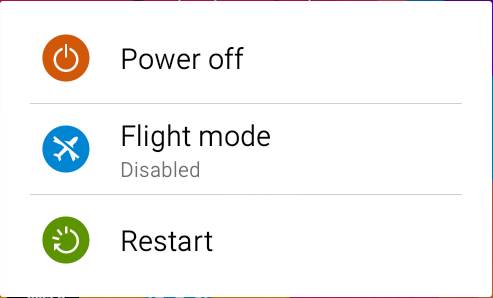 At times, the error could be temporary and the easiest way to fix it is the Airplane Mode. The mode puts the smartphone out of network, thus, it will disable cellular network to and fro your phone for the time being. Wait for few seconds and disable. After deactivating, the phone must search for networks in the vicinity. (In many iterations, it is also known as Flight Mode)
To enable 'Airplane Mode', go to 'Settings' app from the Menu.
Now, hit the 'Airplane Mode' feature and toggle it to enable.
Wait for few moments and then toggle the switch again to disable it.
Diagnose Using Safe Mode
Safe Mode is simple a partition or bootloader which bypasses all the third-party apps and allows the users to diagnose the issue with the phone. In safe mode, you can browse the apps and services causing Samsung Galaxy A8 2018 No SIM Card error and eventually undertake required measure to get it fixed asap. There is a definite set of instructions to enter the safe mode on Galaxy A8 which is explained below.
First, you'll need to switch off your phone and keep it idle for some time.
Now, take the phone and press Power Key and hold until a Samsung logo appears on the screen.
Tap on the 'Restart' button for few times so that the phone could reboot.
While it is rebooting, you'll have to press Volume Down Key for 10-20 seconds and release it only after the phone reboots.
This will reboot the device into Safe Mode.
Once you are done with your tweaking, press the power button to turn off the phone.
Then do it again to reboot in normal mode.
While in safe mode, you can check if apps or services are causing the Samsung Galaxy A8 2018 No SIM card error. Later, you uninstall or fix the issue as mentioned. Note that if you can access the network while in Safe Mode, the third-party apps you have installed are the main culprit. If not, it is potentially a software issue.
Reinstall the SIM Card
Samsung Galaxy A8 2018 uses a Nano SIM card in both of its SIM slots. It is possible to encounter an issue such as No Signal or No SIM Card if the card isn't inserted properly. First, remove the SIM Card and blow lightly on the slots with your mouth to remove dirt or any other particles stuck. Now, properly install the SIM Card or search for the correct method on the internet and boot the device. It must solve the error but if not, try other methods mentioned in this explicit guide.
Factory Data Reset (FDR)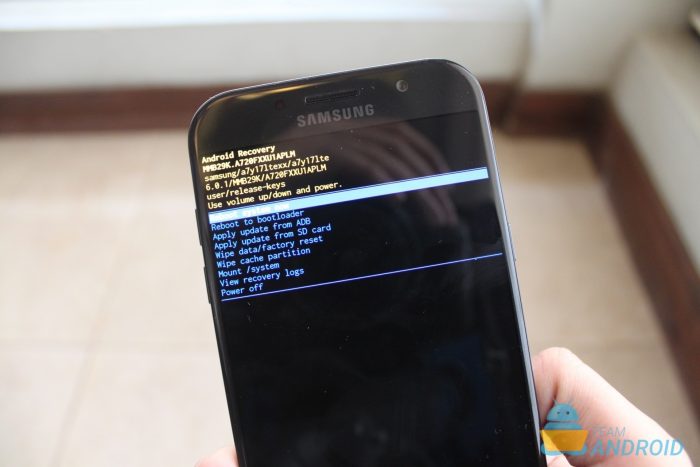 Factory Settings are built-in default settings which are activated once the phone is turned ON for the first time. Over time, the phone can get laggy and slow or a title, it could develop SIM card, however, it could also happen when you insert the card for the first time too. FDR erases all the memory stored on the phone and SD Card including cache, photos, videos, contacts, and every other data except the default factory settings Here is a simple guide on how you can do it.
Open the menu, scroll, and tap on 'Settings'.
Now, go to 'Backup & Reset' feature on the phone.
Now select 'Factory Data Reset' on the phone.
It will prompt you to enter PIN Pattern and tap on 'Erase Everything' to confirm FDR on your device.
The phone will automatically erase and reboot into Factory Settings.
There is an alternative method available for FDR which is through Hardware Keys. It is a definite set of instructions which will erase data from your phone and reboot into factory settings. FDR is a potential solution to every software related issue and must curb the issue.
Report The Issue To Any Authorized Samsung Technician

Although this guide is more than enough to fix the issue, in case if it doesn't, you can approach an authorized Samsung Technician. This is essential if the phone is in warranty since getting it fixed from any technician other than Samsung's will void the warranty. Thus, you will lose coverage on your phone which otherwise could have saved future damage.