We all know that ODIN software allows us to flash the firmware on our Samsung smartphones. You have to enter your Samsung device into Odin Mode to flash a new firmware. To enter the Odin mode, long press the Volume Down, Power and Home buttons. However here is where the issue arises. Sometimes, if you want to exit the Odin mode, it gets stuck in the Odin Mode. Usually, you can press the Volume Down button to Cancel your firmware flashing. You cannot do anything and even you are not able to restart your phone. Worry not for we get you sorted. In this post, we will tell you How to Fix Samsung Galaxy Device Stuck on Odin or Download mode.
How to Fix Samsung Galaxy Device Stuck on Odin or Download mode
Before going for a more technical method to solve the issue, we will mention simple methods to Fix Samsung Galaxy Device Stuck on Odin or Download mode.
Simple Methods to Samsung Galaxy Device Stuck on Odin or Download mode
1st Method
It may sound simple, but this method often works.
Try to remove the battery of the Samsung device.
wait for a few minutes
Then re-insert the battery in the device.
Now turn it on.
2nd Method
You can try force reboot method which is very effective in most cases where the device gets stuck.
hold and pressing the Volume Down + Power keys at the same time
Wait for a few minutes for the device to boot up. It should return to normal phase.
You May Also Like,
Using Odin Tool to fix Fix Samsung Galaxy Device Stuck on Odin Mode
Now let's see how we can solve this same issue by using the Odin Tool. Before starting out with the process, you have to keep a few things in the mind.
Pre-requisite
This guide is exclusively for Samsung devices. Don't use it on other devices.
A PC/Laptop
A USB cable
You must install the latest Odin tool on your PC.
Install Samsung USB Drivers on your PC.
Download and Install Samsung Kies software.
Download the latest firmware for your respective Samsung Galaxy device.
GetDroidTips will not be responsible for any incidental bricking/damage to your device while/after following this guide. Follow the steps carefully at your own discretion.
Steps
Step-1 Press and hold the Power +Volume Down + Home button to boot your device into Download Mode.
Step-2 Release the Power button when you see the device vibrates.
Step-3 To get the Download Mode screen, Press the Volume Up button.
Step-4 Connect your Samsung device to the PC/Laptop with a USB cable
Step-5 As the Odin tool will detect the device a message saying Added will appear in the Odin tool window.
Step-6 Click on "PDA" or "AP" in the Odin window to locate the firmware.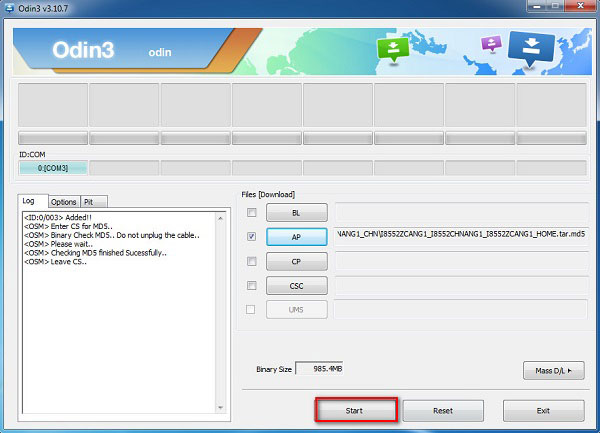 Step-7 Now click on Start.
This is it. The above-mentioned method should fix up the Galaxy device stuck in the download mode issue. So, if your device is stuck, look no further. Use the guide and get it back to the normal usable condition. If you have any queries do let us know.