Samsung is one of the largest brands in the world and has its toes dipped in all kinds of consumer electronic goodies like phones, watches, refrigerators, monitors, and more. Samsung TVs are by far one of their best-selling electronic devices. I own a Samsung TV, my neighbor next door owns a Samsung TV, and chances are you own one too.
The simple reason behind the success of Samsung's lineup of TVs, other than the great panels, is the smart features they come with. I remember vividly when Samsung was one of the first mainstream companies that started the trend around smart TVs. The definition of a smart TV has sure come a long way since and you can't really go wrong with any model of TV you decide to pick.
However, with many features also come a few bugs, and users have been reporting about them facing WiFi connection issues on their Samsung TVs. In this quick-fix guide, we will be going over a few of the most effective ways to solve WiFi connection issues with your Samsung TV.
Also Read: Fix: Samsung TV Not Responding to Remote/Not working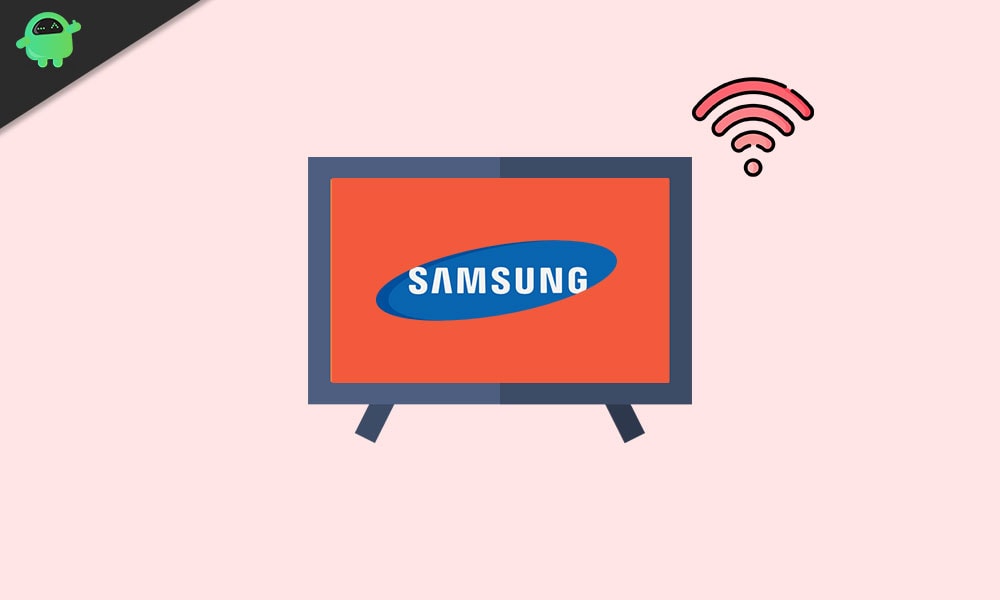 Fix Samsung TV WiFi Connection Issue
A common problem like this usually occurs due to a few obvious reasons. Down below, we will be going through a number of fixes that we recommend you follow in sequential order. Eventually, you should be able to find a solution that fixes this annoying issue for you.
Fix 1: Perform a Power Cycle on your TV
The first thing worth trying is to see if simply turning your TV off and back on again fixes the issue. Most of these situational bugs arise due to improper boot or messed-up temporary system files. To perform a power cycle on your Samsung TV, simply switch it off using the remote, unplug the adapter from the wall, leave it out for 10-20 seconds, plug it back in, and turn your TV back on.
Fix 2: Check your Internet Connection
If you are facing connectivity issues or content not loading on your Samsung TV, chances are that your TV has been getting a bad or no signal from your WiFi router. You can confirm if the issue is with your connection or not by running a speed test on your phone that's connected to the same WiFi network as that of your TV. You can also remove and re-add the WiFi network, or use an ethernet cable to directly connect your router to your TV for the best connection speeds.
Also Read: Activate STARZ on Samsung TV, LG TV, or Sony Smart TV
Fix 3: Change your DNS Settings
Usually, the default settings for your DNS options are the ones that are supposed to provide you with the best connection to services like Netflix, Prime Video, and other streaming platforms. However, you can try to change the DNS settings to Google DNS to see if that fixes the bug.
Navigate to Settings > Network > Network Status.
Click on IP Settings and select DNS Settings from the menu.
Change the default from Obtain Automatically to Enter Manually.
In the Primary DNS address field, enter 8.8.8.8 and 8.8.4.4 in the Secondary DNS field.
Save the settings and restart your TV.
Fix 4: Update your TV
If you are able to connect your TV to the WiFi for a bit but have been facing sudden disconnect issues, there must be something wrong with your TV's firmware. In such a case, you can try updating your TV's operating system to a newer build if available. Not only will this bring new features, but it most likely will also fix any issues that you have been facing with the connectivity issues that you have been facing on your Samsung TV.
Make sure your TV is connected to a reliable internet connection
Navigate to Settings > Support > Software Update and click on the Update Now button.
If there are any firmware updates available for your TV, they will automatically get downloaded and installed. Make sure you don't turn your TV off during this process.
Fix 5: Reset Network Settings
If you had made certain changes within the network settings on your TV before and are not sure what caused the problem to arise, you can reset your network settings with quite an ease. This will require you to authenticate your WiFi credentials once more after the reset has been performed.
On your Smart TV, navigate to Settings > General > Network.
Click on Reset Network and confirm the action.
Once done, re-enter your WiFi credentials and reboot your TV.
Fix 6: Factory Reset your TV
If all else on this list fails, it is time to pull the last straw and completely factory reset your TV itself. This will get rid of any settings that you have made and will also delete all of your apps and will log you out of any accounts. This is the most effective way to fix any kind of software error that you have been running into with your smart TV.
Navigate to Settings > Support > Device Care.
Click on Self Diagnosis and select Reset.
Enter the reset pin 0.0.0.0 and let your TV finish the resetting process.
Your TV will restart on its own. Sign in to your Samsung/Google account once again and check to see if your Samsung TV has started to work with your WiFi connection again.
Conclusion
We hope our guide on how to fix Samsung TV WiFi Connection issue was helpful to you. If you have any tips other than what we've mentioned, do let the other readers know in the comments below! If you have any queries regarding the guide, feel free to contact us, we'd be happy to help!