In this guide, we will show you how to fix the Samsung TV WiFi not working or no internet issue. The South Korean Congloremate has quite a decent line of electronics goods lined up. While it is always known to offer some of the best smartphones, its Smart TVs are equally impressive as well. Plus the fact that you could dive deep into the online content on these smart TVs further adds to the brownie points. However, not everyone is able to make full use of this feature.
Also Read: Some TV Channels Are Missing on My Samsung Smart TV: How do I Fix?
There have been quite a few users who aren't able to connect their Samsung TVs to the WiFi. As far as the reason for this issue goes, it could be attributed to various factors. To begin with, it could be related to a general bug that arises when you power off your TV with the remote for a long period of time. Likewise, entering an incorrect password or issues with your network or router could also be attributed to this issue.
Then if your TV fetches up an incorrect DNS, then also it might be a cause of concern. Although rare, we have also seen instances where a user's TV MAC address was blocked by the ISP. Not to mention the fact that an old firmware might also cause this issue. With that said, this tutorial will show you the steps to fix these issues which in turn will fix the Samsung TV WiFi Not Working or No Internet issue as well.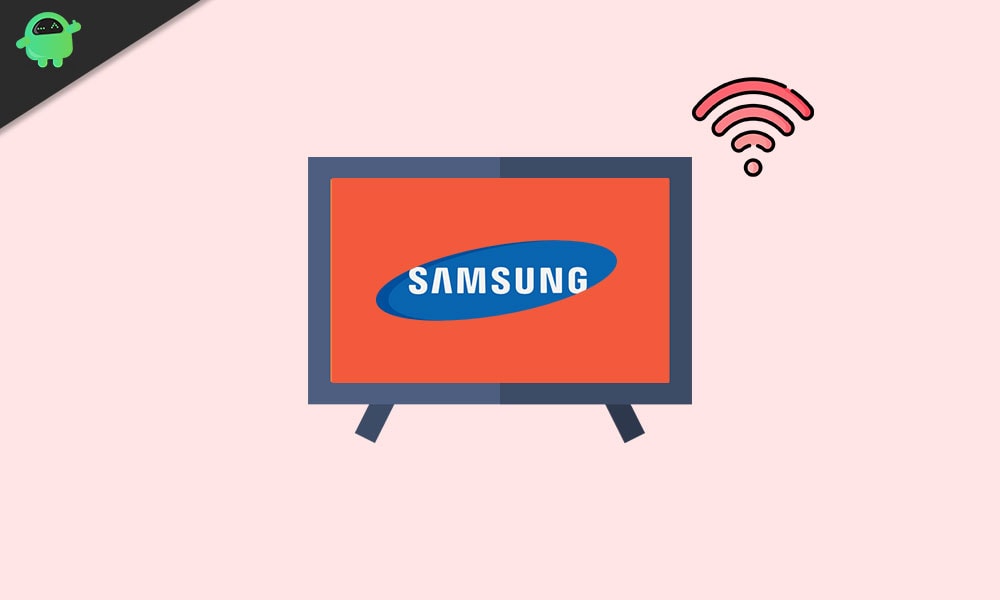 Fix: Samsung TV WiFi Not Working or No Internet issue
There isn't any universal fix for this issue. You will have to try each of the below-mentioned tweaks until you are able to rectify it. Follow along for the detailed instructions.
Fix 1: Restart your TV
Sometimes, when you turn off the TV using your remote for a considerable long period of time, then it leads to a few network issues. In that case, your TV will show the available networks, but wouldn't be able to connect to any of them. Fortunately, the fix for the same is pretty straightforward- just restart your TV once.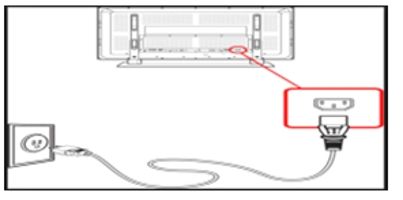 But don't do so via the remote, as that seems to be causing this issue in the first place. What you do us turn on the TV and keep it in that state for around 10-15 mins. Then directly remove the TV's plug from the socket. Wait for a few minutes and then re-insert the plug into the wall socket. Now power on your Samsung TV and try connecting it to the internet, check if the issue is fixed or not.
Fix 2: Check the WiFi Password
Most of you might have set up a stringent password consisting of a combination of an alphanumeric string of characters. However, it becomes quite a challenging task entering the same on your TV. The chances of a slight typing error are generally quite high when it comes to entering them via your TV via the remote. So we would suggest you try re-entering the password for the desired wireless network.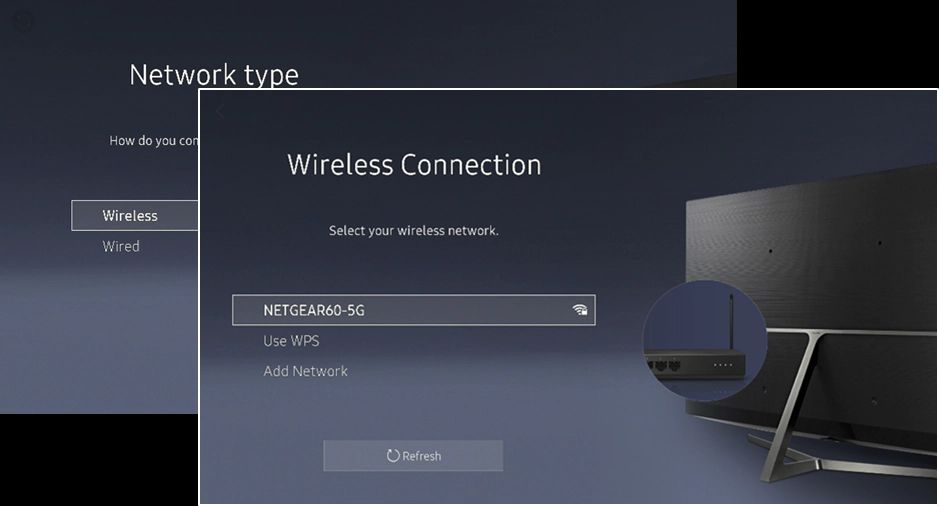 So hit the Home button on your remote and go to Settings.
Then head over to the General section and go to Network.
Go to Open Network Settings followed by Wireless.
Now select your preferred network and re-enter the password.
We would also suggest you enable the Show password option to reverify the entered password.
Once that is done, see if the Samsung TV WiFi not working or no internet issue has been fixed or not.
Fix 3: Switch to a Different Network
You could switch over to an alternate wireless network if the currently active one isn't giving out the desirable results. If there's no alternate source, then you could create a hotspot from your mobile device as well. In many instances, this simple network change is enough to rectify most of the network issues, including the aforementioned one.
Fix 4: Disconnect Other Devices Connected to Wi-Fi
Some routers put a cap on the total number of devices that could be connected to it. The best bet, in this case, is to disconnect all the other connected devices to that network to which your Samsung TV is connected. The same rule applies to the hotspot as well. Most devices support up to 5 connected devices to their network, so if more than the said number is connected, it's time to disconnect the other devices.
Fix 5: Reset Samsung TV's Network Settings
If the network settings on your Samsung TV is corrupt, then it wouldn't be able to receive the required data packet. As a result, the connection would stand futile. So in such cases, you should consider resetting the network and then starting off with a fresh connection.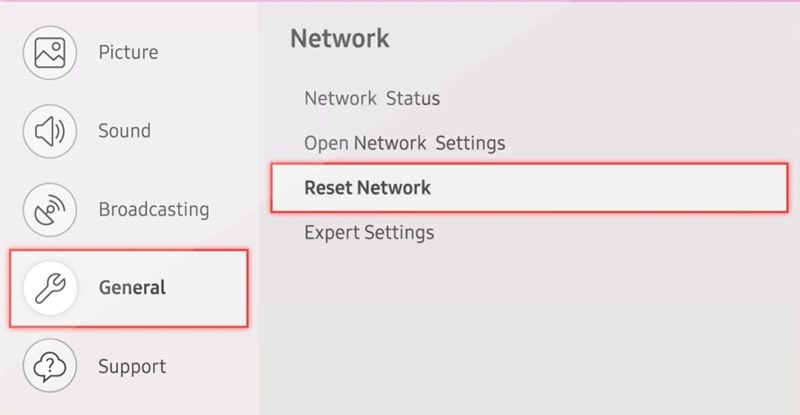 For that, press the Home button on your remote and go to Settings.
Then head over to Settings and go to the General section.
Go to Network and click on Reset Network. Reply Yes in the confirmation dialog box.
Now restart the Samsung TV and retry connecting it to the WiFi, check if the issue gets rectified or not.
Fix 6: Manually Set Samsung TV's DNS Server
While your smart TV automatically picks up the required DNS settings, but in case of incorrect fetching of the Domain Name System settings, it might lead to a few issues. Most noticeable among them would be the inability of your TV to establish a successful network connection. In that regard, we would suggest you manually enter the DNS address. For this guide, we will be using the primary DNS server for Google DNS.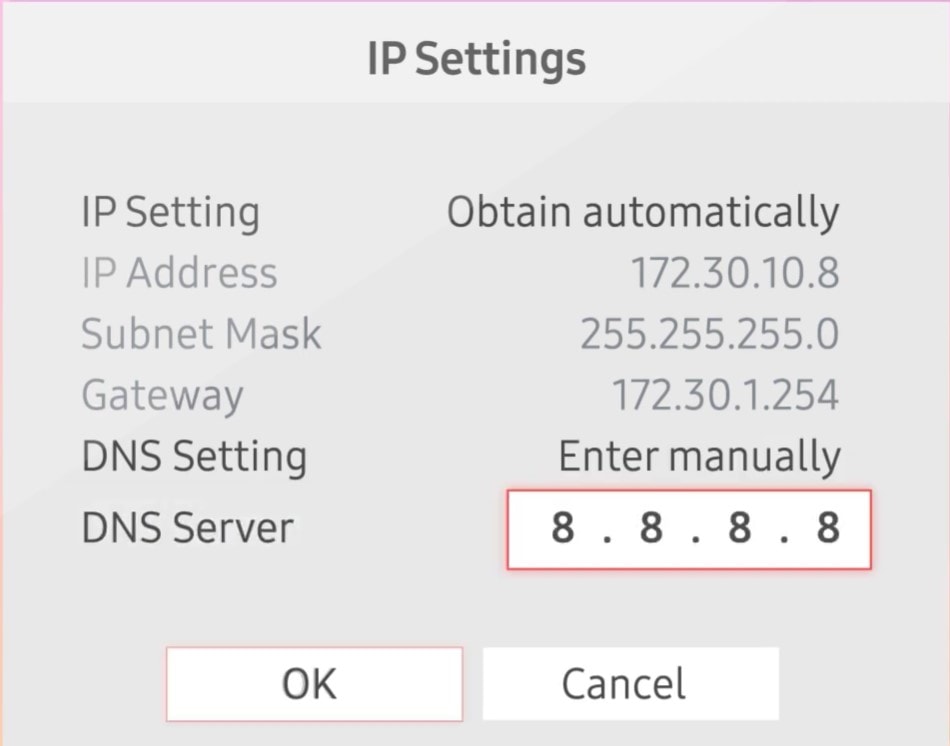 So go to the Settings page followed by General.
Then head over to Network > Network Status and click on IP settings.
Go to the DNS Settings section and select Enter Manually.
Type in 8.8.8.8. and hit Done situated at the bottom.
Now try connecting your Samsung TV to the WiFi and check if no internet issue has been fixed or not.
Fix 7: Check Network Compatibility (2.4/5GHZ)
While many users are now switching over to the much faster 5Ghz spectrum, but it might take some time for the Smart TVs to do so. As of now, there are still quite a few TVs that don't yet support this broadband spectrum. So if your house also has a 5Ghz connection, it's time to bring in a 2.4Ghz one as well. Samsung TVs such as NU6, NU71, NU72, and NU73 don't yet support this higher network band.
So switch over to the 2.4Ghz one and check whether the Samsung TV WiFi not working or no internet issue has been fixed or not. Likewise, you should also check that the hotspot is using the 2.4Ghz AP Band and not the 5GHz band. This could be done by going to Settings > WiFi and Internet > Hotspot > AP Band > 2.4GHz band.
Fix 8: Verify TV's MAC Address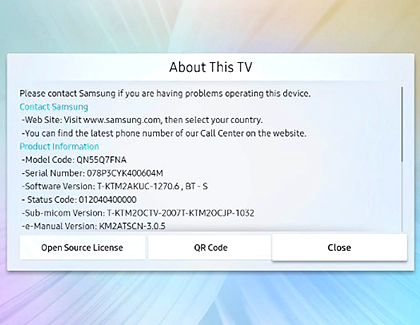 Every device connected to the network has a unique identifier in the form of a MAC Address. However, in some instances, the Mac address might be temporarily suspended or blocked by your Internet Service Provider. The only way out in that case is to get hold of your device Mac Address and contact the ISP to remove this ban at the earliest. To find the Mac Address of your Samsung TV, go to Settings > Support > About This TV and you should see it there. Note it down and then call your ISP to disable the ban.
Fix 9: Update Firmware
Samsung releases a new firmware update for its TV on a regular basis to fix the underlying issues. However, as of now, your TV cannot connect to the internet and hence you wouldn't be to download the latest updates. So you would have to take the manual update approach via a USB Drive. Here's how: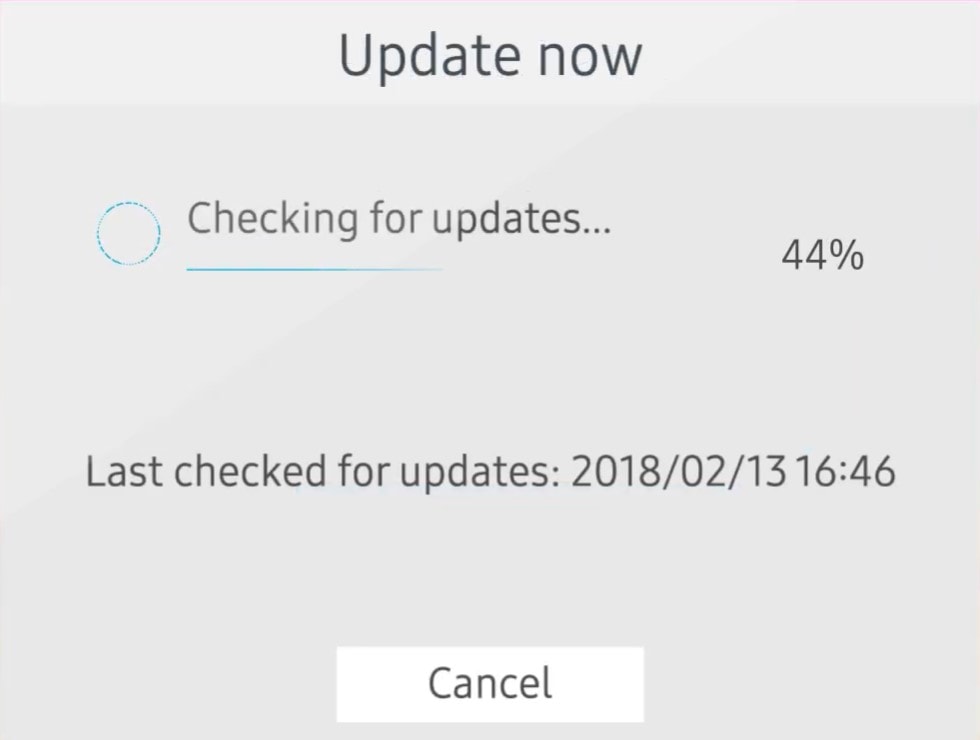 Head over to the Samsung Firmware Download page.
Select your TV model and download the associated firmware package
Once downloaded, transfer this file to the USB stick.
Connect it to your TV and then bring up the menu.
Go to the Support section and select the "Software Upgrade" option.
Then select "By USB" under the update method list.
Hit OK in the confirmation dialog box and wait for the process to finish.
Once done, connect your Samsung TV to the WiFi and see whether no internet issue has been fixed or not.
Fix 10: Factory Reset Samsung TV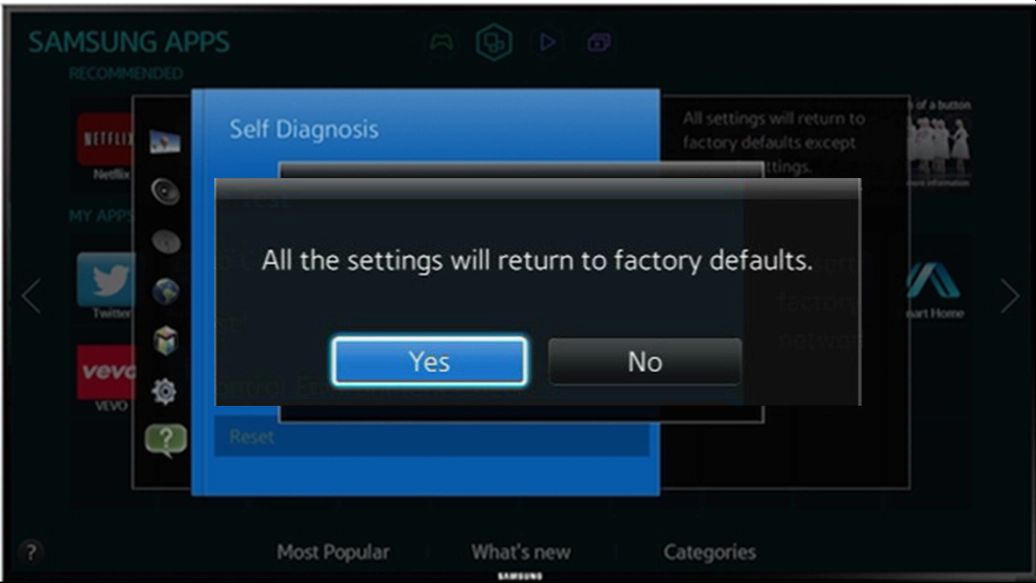 If none of the above methods managed to give our desirable result, then you will have to take the factory reset route. To do so, go to Settings > General and select the Reset option. Finally, type in the PIN to start the process (the default PIN is 0000). Once it's completed, set up your TV and the issue should now have been fixed.
So this was all from this guide on how to fix the Samsung TV WiFi not working or no internet issue. We have shared ten different methods for the same. Do let us know in the comments which one spelled out success in your case. Rounding off, here are some iPhone Tips and Tricks, PC tips and tricks, and Android Tips and Trick that you should check out as well.