Talking about the Remote Access Tool (RAT), it seems that TeamViewer is a quite reliable and popular remote access or remote control software. It basically allows users to easily connect remotely to their mobile or PCs for maintenance. Apart from it, TeamViewer can also be used for file transfer. But somehow users are facing issues like TeamViewer File Transfer Stuck Calculating or Doesn't Start.
Are you one of the victims and want to quickly resolve such an issue? If so, follow this troubleshooting guide completely. Affected users have mentioned that they can't close the session even after trying 3 different hosts. Although this particular issue isn't a common thing for everyone, we've managed to provide you a couple of possible workarounds.
Fix: TeamViewer File Transfer Stuck Calculating or Doesn't Start
Now, without wasting further time, let's jump into the guide below.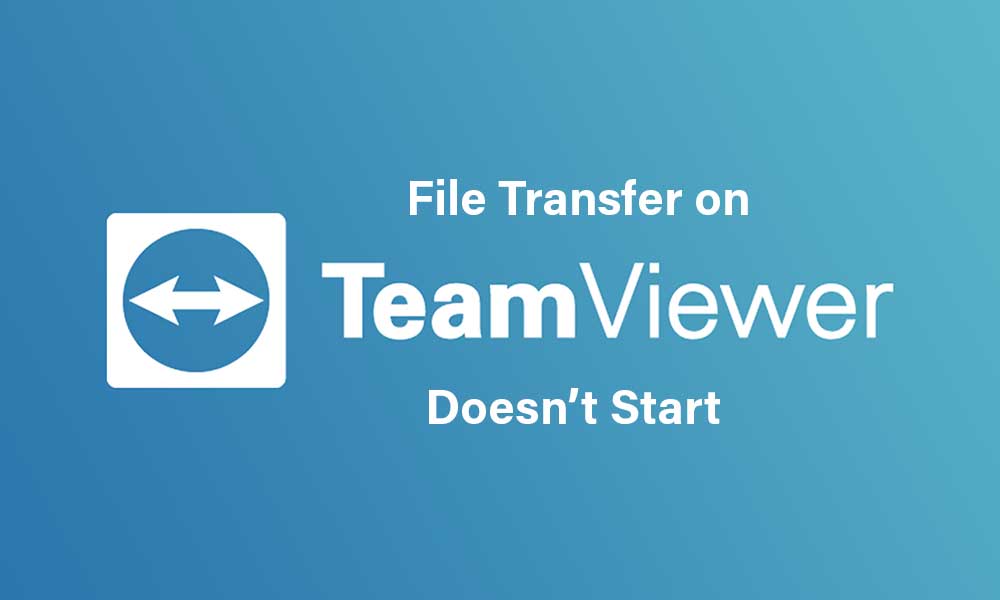 1. Start a New Session
First of all, try starting a new session on your TeamViewer software to check whether the problem has been fixed or not. To do so:
Move your mouse cursor to the top of the screen in your current session on TeamViewer to expand the hidden menu.
Now, go to Actions to expand the list.
Click on End session.
Once the exiting session ended, make sure to start over a new session freshly.
Even if you're connected to a PC of someone else and the TeamViewer file transfer doesn't start properly or stuck calculating, try opening another session. Simply close the current session or exit TeamViewer and open it again.
2. Restart Your PC
Sometimes restarting your computer may also fix several issues with the third-party software performance. To do this:
Click on the Start Menu > Click on the Power icon.
Select Restart > Start TeamViewer again.
This should fix TeamViewer File Transfer Stuck Calculating or Doesn't Start problem. If not, follow the next method.
3. Check Your Internet
TeamViewer doesn't work in a slower or unstable internet connection. If the internet connection has some issues, try cross-checking the network properly. Make sure to contact your ISP for further technical assistance.
Meanwhile, you can try power cycling your Wi-Fi router in order to refresh the networking glitch or system cache data issue. Once done, you can try again to transfer files on TeamViewer properly.
Keep in mind that if any other downloading or uploading process running in the background, pause them temporarily while using the TeamViewer tool.
4. End Background Task
We'll highly recommend you closing the background running task on your system properly before going to any conclusion. Lower free space with the CPU or RAM can obviously trigger performance-related issues like app crashes, not launching, stuck the process, and more. If you want to fix TeamViewer File Transfer Stuck Calculating or Doesn't Start issue, you should end unnecessary background tasks too.
Press Ctrl + Shift + Esc keys to open Task Manager.
Click on the Processes tab > Click to select the respective task from the list.
Now, select End Task to close the process.
Similarly, you should close some other unnecessary background running processes on your computer to free up CPU/Memory space.
5. Check Sharable Files
Well, if you're trying to share or transfer some sort of unknown file types on TeamViewer then the chances are high that TeamViewer can't transfer those files. Sometimes a corrupted or missing or unknown file type can't be shared or opened as well.
In that scenario, make sure to cross-check your sharable files properly before transferring. Additionally, you should try sending or receiving files in a folder or compressed zip file to make it easier.
However, if the TeamViewer tool seems problematic to you, make sure to follow another remote access tool.
6. Try Using Another Remove Access Tool
If none of the methods worked for you, try using another remote access tool just like the TeamViewer to cross-check the issue. There are several popular and reliable remote desktop tools available online but AnyDesk seems a better alternative to TeamViewer.
AnyDesk offers TLS 1.2 encryption for additional safety apart from file transfers, two-factor authentication, remote printing, private remote sessions, etc.
That's it, guys. We assume this guide was helpful to you. For additional queries, let us know in the comment below.