Valorant is an upcoming free to play a video game that is developed by Riot Games and is currently available through closed beta access. Coming to the game, it is a tactical first-person shooter game with the view set in the future. However, the game is beautiful. This is the second game from the house of Riot Games after the complete success of their League of Legends. If you have played League of Legends, then you should know their quality of graphics and enticing gameplay.
Now, as we all know that, the game is in its beta stage, there is quite a lot of error reporting happening around. The beta testers are filling the Riot Games thread with a lot of mistakes and glitches they are facing. Now one such has been reported in which they are being told that they are not allowed to access beta. Then gradually the number increased. Most of the users now are facing this issue. They are unable to enter the game being told that they are not allowed for beta access, even they were already playing. So if you are one of them, then don't worry, we have the solution for you.
What is the Issue?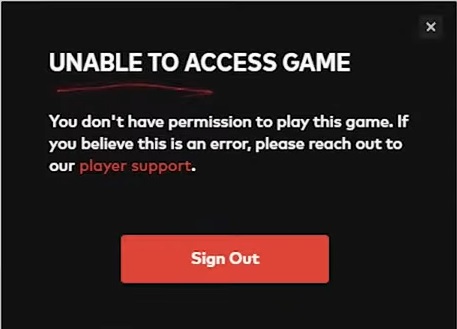 The issue is again, a simple bug that is stoping the Valorant users from entering the game. They are encountering an error that is telling them "Unable to Access Game." After that, they are not allowed to enter. Moreover, they are being told to access the player support center for more info regarding this. However, we all know how much support they are going to provide at the time of this pandemic. So we decided to bring up a fix ourselves, that will help you get out of this issue and enjoy your game as before. So let's get started with our fixes.
How to Fix Error Unable To Access Game?
Now we will discuss the fixes that will help you enter the games, thus solving the error "Unable to Access Game" issue. We recommend sticking to this fix, as this is a tried and tested one, and most of the users have reported this fix to be working. So follow the steps below to fix your issue in Valorant.
Double click on Valorant to run your game.
When the error pops up, click on Player Support.
Then click on Valorant in your browser window.
Now go to "Purchases and Contents."
Then you will enter a page that will ask you to verify your Twitch status, click on that to continue.
Now in the next window, click on "Get Valorant Access."
After you click that, you will be redirected to your game.
Now when you start your game again, you won't face any issue.
Wrap-UP
This guide was to help the players of Valorant who were unable to enter the game due to this error. We hope our guide helped you.  If you have any queries or feedback, feel free to comment down below with your Name and E-mail ID. Likewise, check out our iPhone Tips and Tricks, PC tips and tricks, and Android Tips and Tricks for more such tips and tricks. We urge you to participate in the $100 giveaway by subscribing to our YouTube Channel. Thank You.