Fortnite is a Popular online free-to-play Battle Royal game. It is available across all platforms like PS4, Nintendo Switch, Xbox One, Mac, iOS, and Android devices. Moreover, the gameplay is highly immersive. However, due to its attractive design, this game gains a lot of attention. On the other hand, weekly challenges and updates make it more engaging. Unfortunately, nowadays, Fortnite users suffer a lot after the recent update. They cannot log in to their epic game launcher right now.
As per various users who reported this annoying error, the main factor they fail to log in is Fortnite error AS1041. Yeah! There might be an ongoing server maintenance issue. Meanwhile, if that's the case, you have to wait until servers are back online. Otherwise, let's see whether the below-mentioned steps help you or not.
Also Read: Fix: Fortnite Stuck on Connecting Screen
How to Fix Fortnite Error Code: AS-1041
There might be various reasons behind this error, but we are still clueless about the leading cause of which this occurs. In no way does when a Fornite user is login to the Epic Games launcher, a pop-up with the error code AS-1041 contains "Sign in failed." Now, if you find yourself in the same boat! Then follow the steps given below as these have already proven to fix several users' issues.
Method 1 – Fortnite server Status
Fortnite have more than a 350million registered player and epic games maintain the server of Fortnite as there is always the risk of a crash due to server issues or scheduled maintenance. Moreover, Epic Games has an official website – Epic Game Status Page, to check any server issue that may impact Fortnite or the Epic game store. If any server is not operating, check all sub-services, then wait for the error to rectify automatically.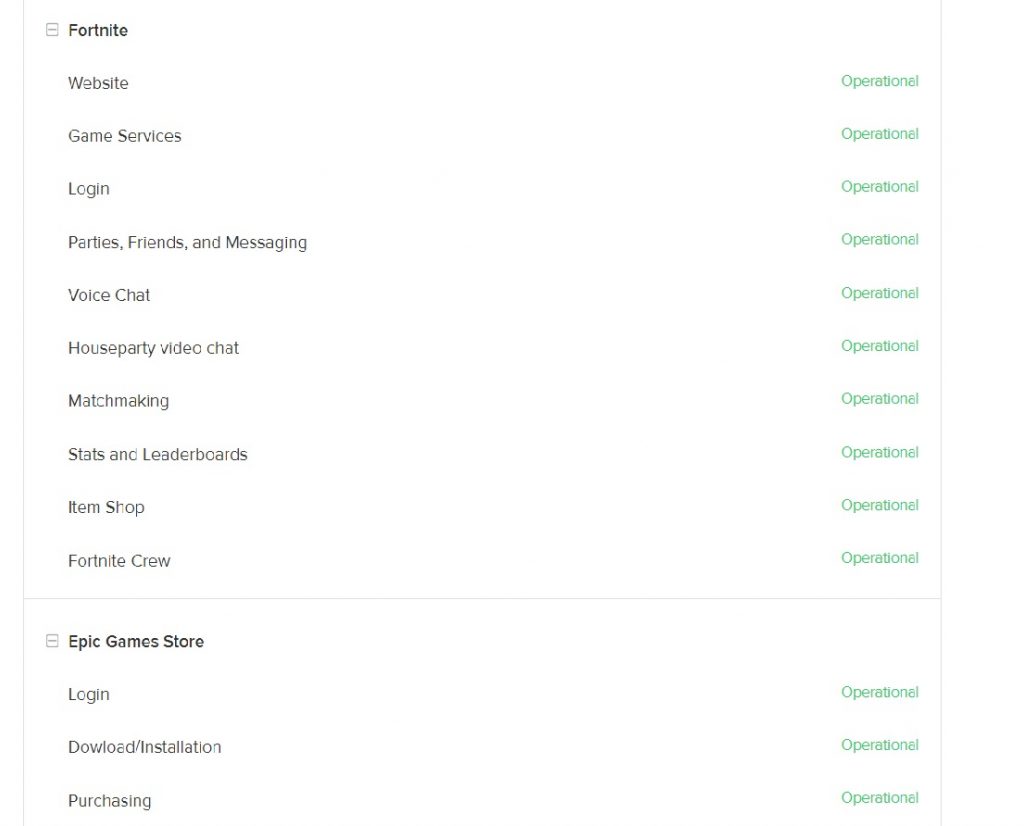 Method 2 – Reset Winsock & Flushing DNS
Many users of Fortnite are reported that after reset Winsock & Flushing DNS, they successfully able to fix this specific error. However, one of the leading causes behind not connecting to the Epic game community is Bad TCP and inconsistent IP. Yes, due to inconsistent IP, your stable internet connection might get disturbed. Anyway, follow the steps to reset Winsock and flushing DNS are:
Click on start or type "Command Prompt" on the search option.
Insert the below command one by one and press enter in the command prompt.
ipconfig /flushdns
netsh int ipv4 reset
netsh int ipv6 reset
netsh winhttp reset proxy
netsh winsock reset
ipconfig /registerdns
After that, check all the commands processed successfully.
Restart the computer to apply the changes.
After completing the process, open Epic games and check if the issue is resolved.
Method 3 – Use Ping Booster
In case if both of the methods are not rectified, the Fortnite error AS-1041. Then, we recommend you try out this solution. As we have already stated, the leading cause of the error is an unstable internet connection that may make barriers to connect with the server. So, if you are getting a low ping issue with your active internet connection, then there's a chance that the game server didn't allow you to join.
So, to get rid of this issue, you must use a ping booster. There are many good ping boosters available in the market. Some are free of cost, and some are paid. Now, as the name sounds, the work of the ping booster is also the same. It will increase the ping while playing Fortnite so that you can able to connect with Epic games.
Conclusion
That's how you can Fortnite error code: AS-1041. You can try each method and if you still find yourself in the same condition. Then, it is for sure a problem from the server's end; you have to wait until it gets fixed automatically. However, it is very disheartening to see that our favourite game is going through this phase, where it faces a lot of criticism due to some unnecessary errors.
Anyways, I hope you find this guide helpful. If you have any issues regarding the error, feel free to reach us in the comment section. Furthermore, if you are new here, then don't forget to check our other latest guides.