It is no news that PDF files are one of the most shared documents across the internet. Whether it's for entertainment, infotainment, documentation, or official use, PDF is the way to go. However, there are many instances where you might need to do more than just read such PDF files. In many instances, you might have to edit PDF files, convert them to other formats or annotate them or leave certain notes. All such actions require you to have dedicated PDF software. Today in this article, we will discuss more about Wondershare PDFelement which is a one-stop destination for all your PDF-related needs.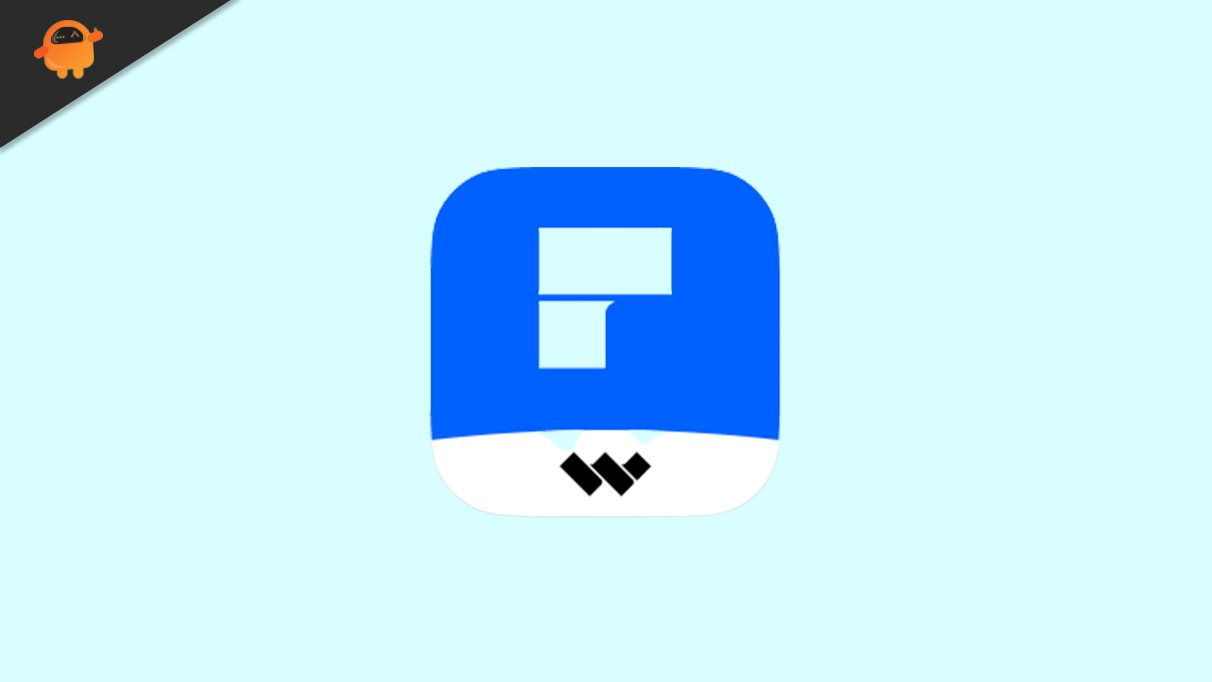 From editing PDF reports and homework to signing official contracts and official letters, PDF reader and editor is what we use most in our daily digital lives. There are a couple of free PDF editor options out there, but none of them seems to be perfect for all users. Many times you might want to convert PDF files to Word or Docx format for each editing or OCR support. Sometimes you might just want to annotate your notes or insights on PDF books or newsletters. All of these needs can be fulfilled with Wondershare PDFelement 9 software.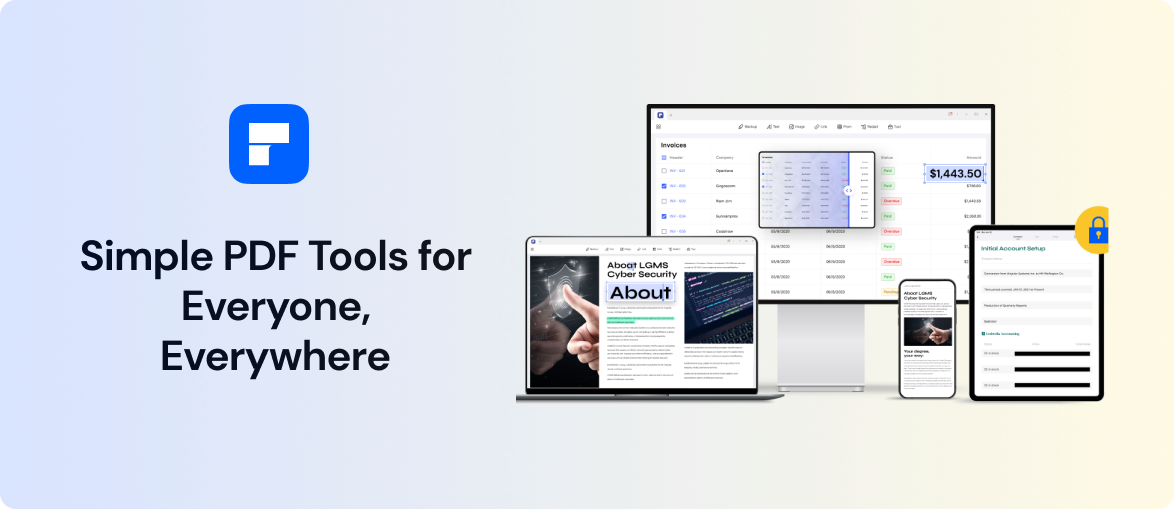 Wondershare is a well-known name in the world of digital software. They have been serving millions of customers across 150+ countries worldwide and giving unique software solutions for day-to-day modern needs. PDFelement 9 is one such software that intends to be a one-stop destination for all your PDF-related needs. From reading PDF files to taking notes, drawing, signing, editing, or converting them to other formats, PDFelement 9 can do it all.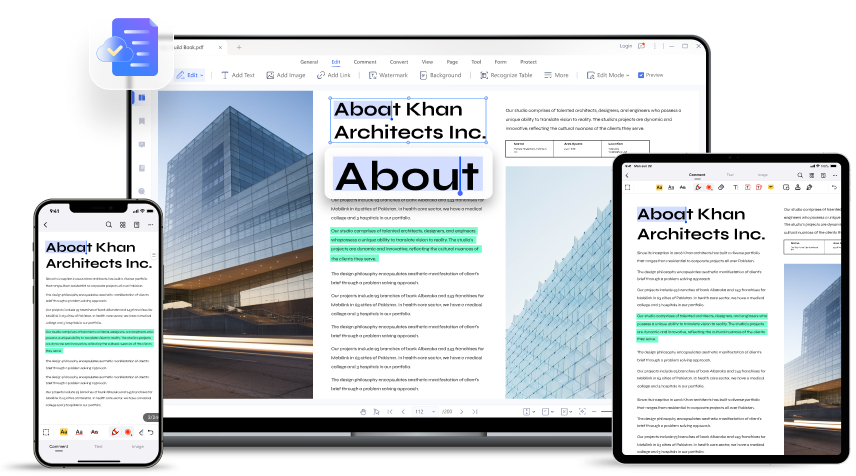 Wondershare PDFelement is an all-in-one PDF solution for multi-platform devices including Windows, Mac, iOS, and Android devices. You can use its services on any smart device with extended cloud support. With the ability of PDF editing, PDF conversion, Annotation & Notes, and Signature features, here are a few more improvements you must know about.
Bottom layer update:

Reading large PDF files is now easy and up to 10% faster than other counterparts.

The multi-terminal flow of documents:

Easily view or edit PDF documents across multiple devices with help of document exchange & cloud sharing.

New advanced features:

New features such as word translation, OCR support, multiple language support, and AI-powered notes generator.

Reading Mode:

Easy and obstruction-free viewing experience which is easy on the eyes.

More batch management functions:

Bulk tasks are easy now with support for bulk PDF conversion & PDF editing support.

UI upgrade:

Now, Wondershare PDFelement 9 is more concise with the same kind of user experience shared across different devices with clear feature navigation and controls.
PDFelement is now in its 9th iteration, and more and more new features are added in each version. A huge range of UI updates, new PDF functionalities, AI-powered OCR, and cloud storage is what makes it a far unique experience. The software gives you complete freedom and tools to perform any kind of PDF-related task whether person or business with multi-batch file processing and OCR support.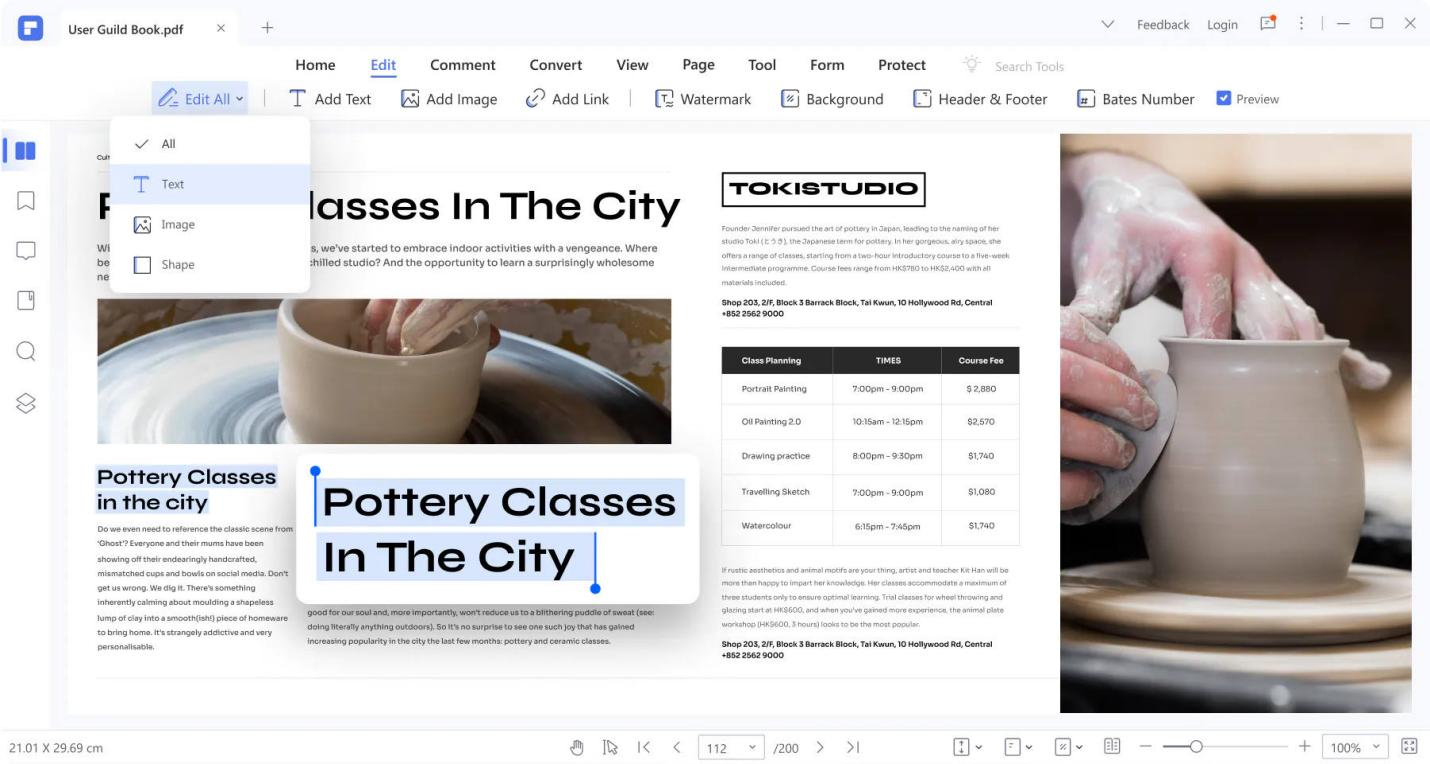 The main advantage point for Wondershare PDFelement is its seamless editing and reading experience. With advanced features such as annotating, notes, pdf filler, and editing, you may easily prepare any kind of PDF document. With the cloud feature, you may save your important projects over cloud space or even share them with others to collaborate.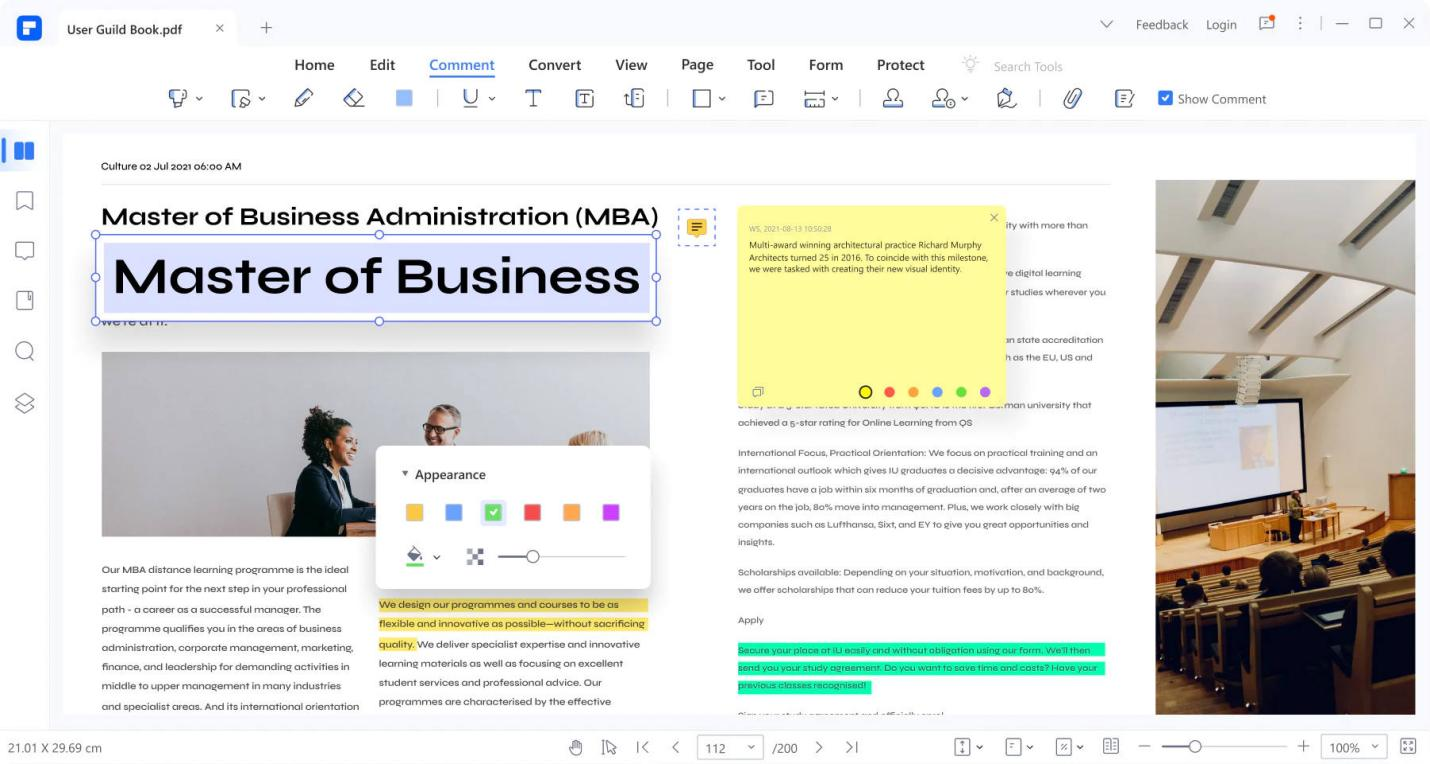 With PDF files ranging from simple applications, letterheads, contractual letters, documentation, or even complete full-fledged books – PDFelement can handle them all. PDFelement has the ability to manage text, graphics, layout, clipart, headers, footer, and background, it will give you an easy yet powerful experience.
PDFelement 9 comes with a lot of features and advantages that make it one of the most reliable PDF software in the market. The good news is that it does not come with an exorbitant price tag. Here is a detailed feature-wise comparison for PDFelement 9 along with other market peer software.
| | | | | |
| --- | --- | --- | --- | --- |
| Comparison Point | PDFelement 9 | Nitro Pro 12 | Adobe Acrobat pro-DC | Foxit Phantom PDF |
| System support | Windows, Mac, iOS, Android, Cloud | Windows, Mac, iOS | Windows, Mac, iOS, Android | Windows, Mac, iOS, Android |
| Convert PDF | Word, Excel, Powerpoint, JPG, PNG, HTML, TEXT, GIF, TIFF, BMP, RTF, EPUB, HWP, HWPX, and many more. | Word, Excel, Powerpoint, JPG, PNG, and text. | Word, Excel, Powerpoint, JPG, PNG, and RTF. | Word, Excel, Powerpoint, HTML, image, and text. |
| Conversion Speed | 100 pages in 45 seconds | 100 pages in 2 minutes | 100 pages in 2 minutes | 100 pages in 2 minutes |
| User Interface | Very Easy | Easy | Bloated & confusing | Bloated |
| Editing PDF | Advance Editing tools | Moderate Editing tools | Advance editing, but difficult-to-learn tools | Advance editing, but difficult-to-learn tools |
| OCR Support | Yes, advanced OCR support | Yes | Yes | Yes |
| Cloud support | Yes | No | No | No |
| Price | $129.99 One time cost | $156.99 One time cost | $179.88 Per year subscription | $159.99 One time cost |
Wondershare PDFelement 9 brings you a lifetime license for just $129.99 with a multitude of editing and other advanced PDF options. That's one of the main advantages of PDFelement 9 over other market competition.
PDFelement 9 Pricing & Plans
When we compare prices of similar PDF software in the market, the prices go incredibly up. However, not everyone has the same needs. So Wondershare PDFelement 9 has different types of plans and pricing options that are suitable for all professional or personal use.
With individual plans starting at just $29.99 per quarter for personal use, it's quite affordable for your day-to-day PDF needs. For those who wish to purchase the software in one go have Perpetual Plan which is currently 18% off for $129.99 where you can use the software forever without worrying about subscription charges.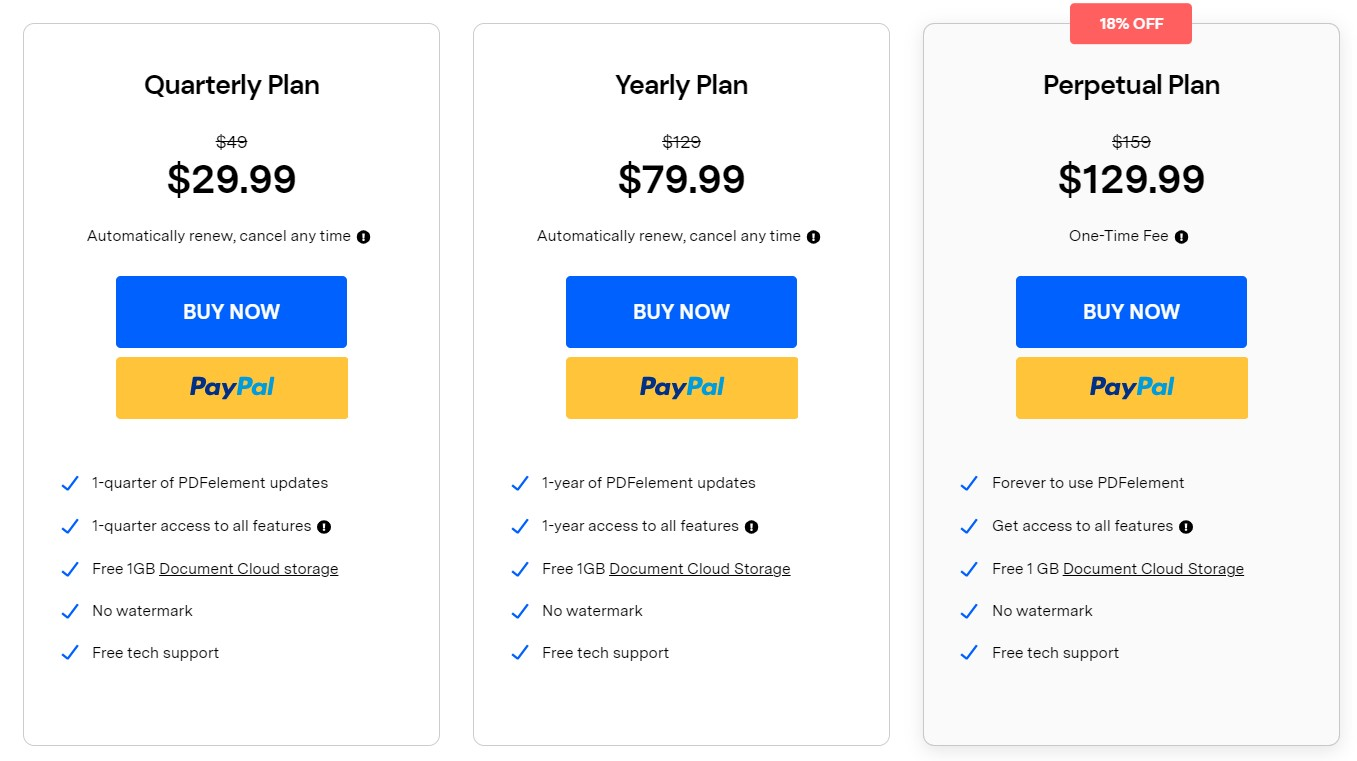 Wondershare PDFelement 9 also comes with Educational & business plans which you can choose based on your needs & requirement. Where the Education plan will cost just $47.99 yearly per student or $99.99 for a perpetual license. For Business needs, the software costs $109 per year or $139 for a one-time perpetual license per user.
Conclusion
Wondershare PDFelement 9 is of kind product which can cater to all your PDF needs from PDF reading, PDF batch processing, and PDF data extraction to PDF editing tasks. It's good to know that PDFelement 9 also has a business and education plan which have amazing batch-processing features. Overall, it is a one-stop destination for all kinds of PDF needs you may want.
I have used Wondershare PDFelement 9 a couple of times for my PDF-related needs where I have to view large PDF files for research or documentation needs along with tasks such as PDF conversion and Signing PDF files. The experience is quite unique, easy, and fast. Altoguh there are many similar PDF software available in the market, given the features and support for educational & business needs, the software is quite promising and incredibly affordable.