Updated on October 2, 2020: With the arrival of Android 11, OEMs started shaping up their version of the Android 11 based custom UI. And coming in as a surprise, Vivo has now officially launched the FuntouchOS 11 custom UI, which will be based on Android 11 for the Indian devices. Yes, you heard it right. The official website of FuntouchOS 11 Android 11 is now live.
It explains all the new features and nifty enhancements that the new FuntouchOS 11 based on Android 11 will bring for the eligible devices. Note that the Vivo iQOO 3 4G, Vivo iQOO 3 5G, and the Vivo NEX 3S are some of the devices from Vivo with ongoing Android 11 programs. Let us take a look at all the new features that the FuntouchOS 11 Android 11 update will bring for the devices:
FuntouchOS 11:
Well, Vivo has taken a more modern and simplistic approach for the development of FuntouchOS 11 which is based on Android 11. Notably, all the key information about the presented at the press of a button making important information available at ease. The new custom UI removes all the unnecessary clutter and brings uniformity to the FuntouchOS for Vivo phones. Moreover, the icons and design elements are now flat giving it a more minimal look. The icons have improved sharpness and there are plenty of new icons and visual changes as well.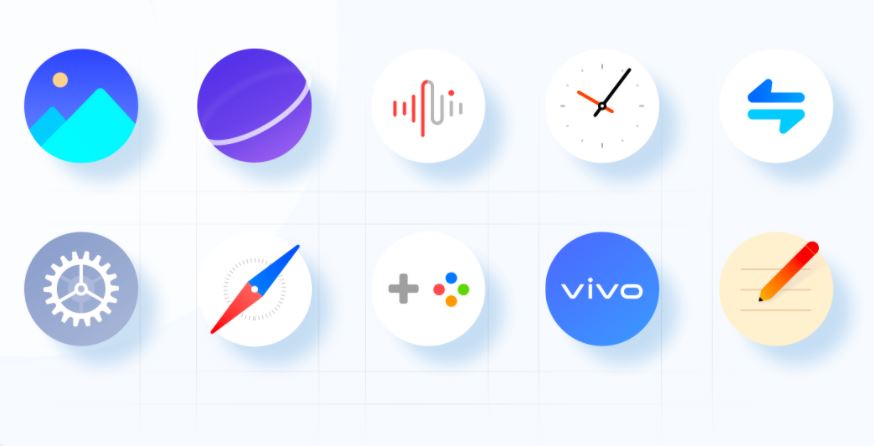 Always On Display: One of the most demanded features from users across OEMs, is the AOD which stands for Always On Display. Well, most of the upper midrange phones are now coming with an OLED panel, and Vivo is also not a stranger to this display. With FuntouchOS 11 Android 11 update, Vivo is taking its AOD level up a notch by bringing in a live Always On Display Halo that shifts the theme of the AOD based on the time i.e. sunrise, daytime, sunset, and moonlight. This elevates the display and gets rid of the boring AOD themes.

JOVI Home: Vivo's personal assistant JOVI is also getting revamped. All the new features introduced to the JOVI AI assistant are now grouped into three sections, Shortcuts, Suggestions, and My Services. The Shortcuts sections provide quick access to apps like space cleanup, calculator, app lock, and more. While the Suggestions zone consists of smart recommendations which the users will find beneficial for the day like weather, flight, train ticket, movie schedule, and online shopping information. My Services is a personalized section that will include details about your favorite teams, digital wellbeing, today's headlines, and much more. Good thing is that all information will be presented in a neat Card format.

Albums: The default Gallery app, Albums on Vivo devices is getting upped with more AI implementation. The features like AI Matting will help the user separate the subject from the background letting you create a broken effect on normal images. There are other creative options as well for the photo editors. HD Restoration is another feature that will take your image editing capabilities to the next level on a Vivo FuntouchOS 11 Android 11 running device. With the help of this feature, you will be able to easily repair and edit blurry, low-definition, or faded images by improving clarity. You can even optimize facial details and tweak the overall color palettes of the image.

AI Editor: Well, there is much in store for the users who love editing images and videos on their Vivo smartphones. The new feature dubbed as AI Editor intelligently lets you identify key characters on the video highlights key moments from a video. You can apply templates and generate a short edited video simply by pressing a button. Sharing clips on social media platforms is much easier now.

iManager: To give you a detailed glance at the performance of your device, Vivo is revamping the iManager application. It gives you clear and precise information related to your device like how much data is used, cleans up junk files, scans for viruses, apps, and notifications, etc.

S-Capture: Vivo has also added some nifty features which were missing from the previous version of the FuntouchOS. From being able to take a long screenshot, rectangle screenshot, lasso, shaped, doodle, etc, you can much much more. Vivo has now embedded an in-built screen recording feature that can also record audio i.e. with the microphone on and system sound or even on mute. This flexibility gives more options to the streamers of educators to do what they want.

Ultra Game Mode: Well, gaming is one of the prominent focus points of many OEMs in their custom UIs. And Vivo also does not lack behind. With the newly improved Ultra Game Mode, you get features like Do not disturb, Game picture in picture, Esports mode, and more. With both the Background call and Ultra Game mode on, you will be able to continue answering your phone call, even with the game on. While, during gameplay, you can simply slide up three fingers and choose from the list of apps to start PIP (picture in picture mode). Esports mode will block all the notifications giving you a more immersive gameplay experience.

---
FuntouchOS 11 is the custom Android skin for the Vivo smartphones which will be based on Android 11. Note that the earlier version of the FuntouchOS 10 was partially based on Android 10. Why do we say that? Well, basically the FuntouchOS 10 was rolled out for devices even running on Android 9 Pie. So, it was not necessary for the Vivo smartphones to run on Android 10 to grab hold of the FuntouchOS 10 custom UI.
However, the majority of the devices received an Android 10 update along with the FuntouchOS 10. Whatever the case may be, now that Android 11 is here, FuntouchOS 11 will be the next thing Vivo smartphone users will be thinking about. In this post, we will give you a complete and dedicated FuntouchOS 11 update tracker. We will also list down all the supported devices along with the features and the download links, when available. So, this post is a one-stop-shop for all Vivo users. With that being said, let us get straight into the article itself: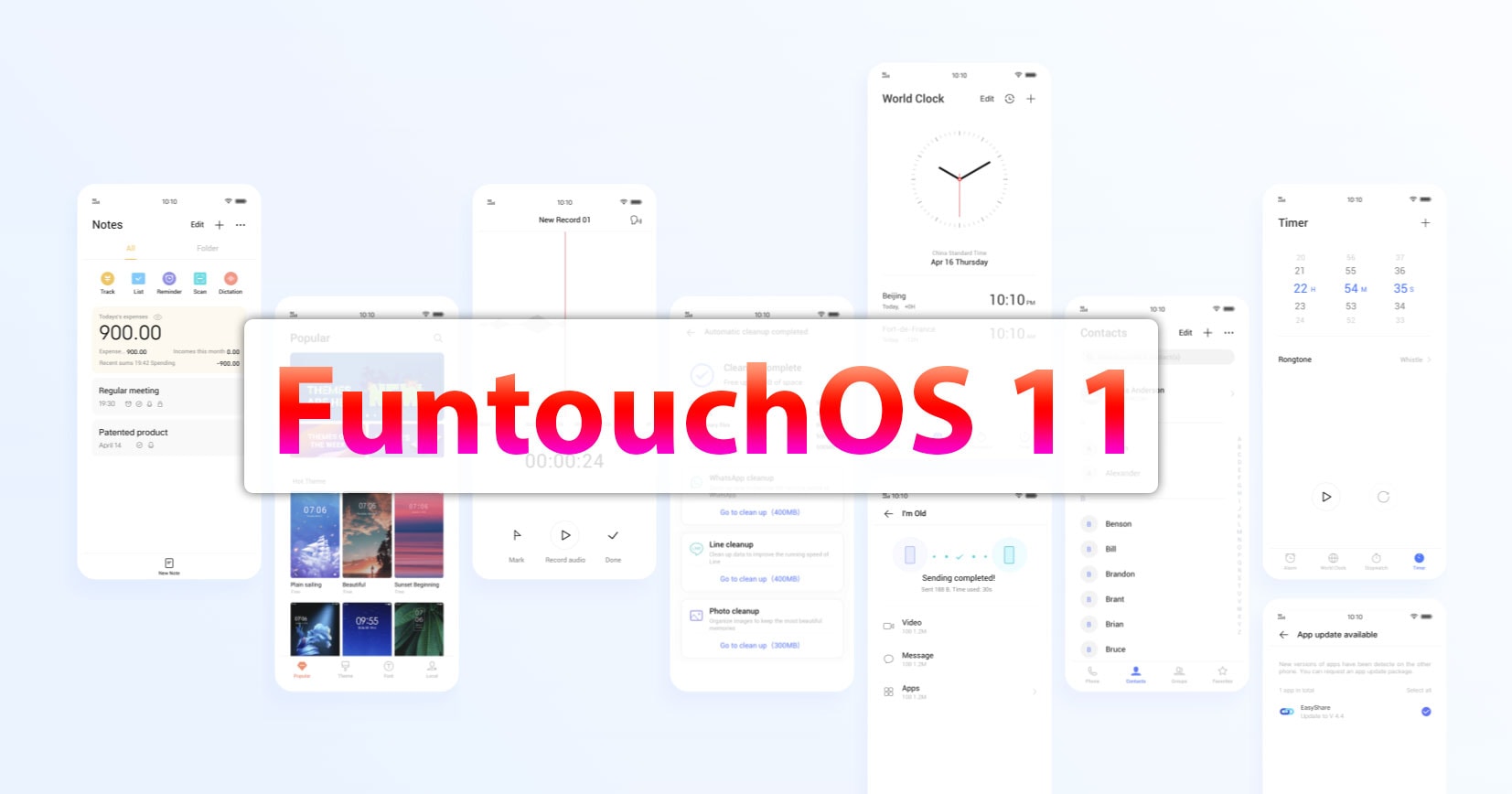 FuntouchOS 11 – Features
Below is the list of features that users of Vivo smartphones should expect from the FuntouchOS 11 which is based on Android 11. It is a no brainer that FuntouchOS 11 will bring all the features of the Android 11 along with some subtle additions of its own.
Revamped user interface with system elements
New App Icons
Smoother Animations
Enhanced Notification Center
Enhanced Privacy & Security
Advanced JOVI Smart Assistant
One-Time App Permission
Enhanced Location Privacy
Improved Quick Shortcut Toggle
Systemwide Dark Theme
Latest Live Wallpapers
Improved Battery and Gaming Mode
In-built Screen Recording Feature
The improved Camera interface and quality
New Chat Bubbles
Easy Share feature with a Data-free upgrade
Multi-file transfer
Album app with AI beauty modes
FuntouchOS 11 – Eligible Devices
Here is the list of Vivo phones that are eligible to receive the Android 11 FuntouchOS 11 update. However, make a note that this is not any official list. And this is a speculated list of devices that should get Android 11 along with FuntouchOS 11.
Vivo NEX 3S 5G
Vivo V19
Vivo Z6 5G
Vivo iQOO 3 4G/5G
Vivo X30 Pro
Vivo X30
Vivo V17
Vivo iQOO Neo 855 Racing
Vivo Y9s
Vivo Z5i
Vivo S1 Pro
Vivo S5
Vivo U20
Vivo Y5s
Vivo Y19
Vivo iQOO Neo 855
Vivo Y11
Vivo U3
Vivo Y3
Vivo NEX 3 5G
Vivo V17 Pro
Vivo NEX 3
Vivo iQOO Pro 5G
Vivo iQOO Pro
Vivo V17 Neo
Vivo Z5
Vivo S1
Vivo Z1 Pro
Vivo iQOO Neo
Vivo Z5x
Vivo Z3x
Vivo Y17
Vivo Y15
Vivo Y12
Vivo X27 Pro
Vivo S1 (China)
Vivo Z1x
Vivo V15
Vivo V15 Pro
Vivo NEX Dual Display
Vivo NEX A
FuntouchOS 11 – Downloads
Here you will find the FuntouchOS 11 Android 11 updates for all the devices that have received it. Note that we wil keep updating this table once a new device gets updated with the update.
As far as the release date of the stable Android 11 FuntouchOS 11 update is concerned, there is no official information available as of yet. Vivo has a tendency of rolling out two major OS updates for its devices. However, there are some exception and the updates are also not very regular. So, without any official update roadmap, it would be too early to say when users should expect the latest updates to arrive on their phones. Since the iQOO 3 4G/5G and Vivo NEX 3S have already received the Android 11 Beta 2 updates, we speculate these devices to pickup the Android 11 FuntouchOS 11 stable updates first as well.
Apparently, looking at the previous track record of rolling out the FuntouchOS updates, users can expect the Android 11 updates to roll out on select devices by December or early 2021. All the updates will be pushed via OTA. We will keep you posted about it once we have more information in this regard.