In the field of Electronics Samsung is very renowned brand and pioneer in Smartphone making industry and known for its flagship series Galaxy S series from its very beginning is always been ahead of the time in terms of technology and Samsung has produced many other series too like J series and Note series and also with each successful launch they are getting their roots stronger in the market. But as known, technologies always have some little flaws and in such cases, we ourselves need to take care and follow up some adjustments. Overheating and battery drain problems are some common problems that smartphones are really known close for but to fix Samsung Galaxy S8 Overheating and Battery Drain Problems follow the below-mentioned methods.
How to Fix Samsung Galaxy S8 Overheating and Battery Drain Problems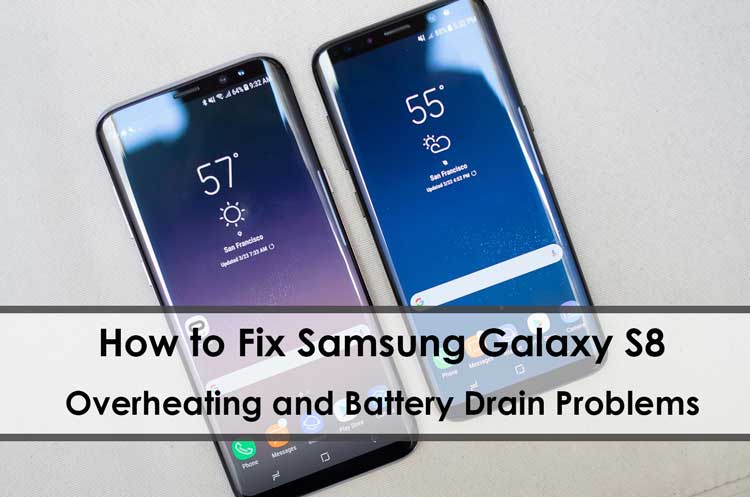 Close Running Apps:
Applications running in the background also uses a good amount of memory and hence power and in this case of the Android operating system, there are numbers of applications running background which we don't need always to prevent the overheating and battery drain problem just close all the unnecessary applications.
Turn off unused Bluetooth, Wi-Fi, and other Service:
Radio services like cellular data, Wi-Fi, Bluetooth etc. uses a very large amount of battery since continuous usage of radio-waves requires power which is drained from the battery but these services are not required always and can be turned off when not in need.
Reduce Brightness Levels and Adjusting Sleep Time:
It is pretty much evident and almost every smartphone user has observed this issue of overheating and battery drainage at faster rates when the device is on full brightness, and also the sleep time of device ought to be at minimal time range as we make our smartphone awake whenever there is a notification sound and with a smartphone there are tonnes of notification each time you have to make the device awake in this way high sleep time will surely drain the battery so one of the precautionary measures is to keep the brightness optimised according to the surrounding environment and lighting and also keep the sleep time in between 15-20 seconds only. This may solve the Samsung Galaxy S8 Overheating and Battery Drain Problems
Check Related Post:
Update Applications From The Play Store:
Programmers and developers are well aware of the battery and heating issue of smartphones and they try to keep their applications upgrading to work properly by using minimum resources and without compromising the functionality of the application. So, with proper upgrades, we can solve make our device efficient. This may solve the Samsung Galaxy S8 Overheating and Battery Drain Problems
Avoid Direct Sunlight:
This may sound very general but yes when we use our smartphone in direct sunlight it also starts heating rapidly and hence lowers the efficiency of the device.
Disable or Uninstall Bloat-ware Apps:
The unnecessary applications provided you for commercial purposes are called bloat-ware applications and they keep running and using all of the resources uselessly and henceforth are responsible for battery drain and over- heating of device, every smartphone company uses this bloat-wares for advertisement purposes mainly. These are sometimes cannot be uninstalled very easily but yes you can disable them under settings>application. This may solve the Samsung Galaxy S8 Overheating and Battery Drain Problems