Fallout 76 is an action role-playing game that is also the first multiplayer game from the house of Bethesda Softworks. The game is available for almost all the platform including Microsoft Windows, Play Station 4, and Xbox One. Earlier when the game was released it did not become that popular. But after the update of Wastelanders, the craze for this game increased. The update introduced new questlines as well as Non-Playing Characters that were most necessary for immersive gameplay.
Now talking about the gameplay, there is a Gauley Mine which is a twisted prison and you need to explore it in the adventure of saving Sol and Polly. Now taking about Gauley Mine, to open and get inside you have to enter a six-digit code. And after opening that, you will find a large supply cage which has many items we will discuss later. So let's start with our guide of opening the Gauley Mine supply cage. If you are here, then probably you are unable to find that code. But don't worry we have it here.
How to Open the Gauley Mine Key Code Lock?
Opening the Gauley Mine door requires a 6-digit code that you need to type in the keypad next to the dungeon door. But the code is immediately not visible since it is pinned to a bulletin board which is difficult to find. However, it is not that difficult and you can find it with the help of our guide.
Finding the Key-Code
If you want the key code to the Gauley Mine then you have to stand facing the supply cage door. Then turn around 180 degrees to facet the opposite direction. Now in front of you, there is a staircase, below that you will see a small light on the opposite wall with a small white page. That small white page will show the key code number.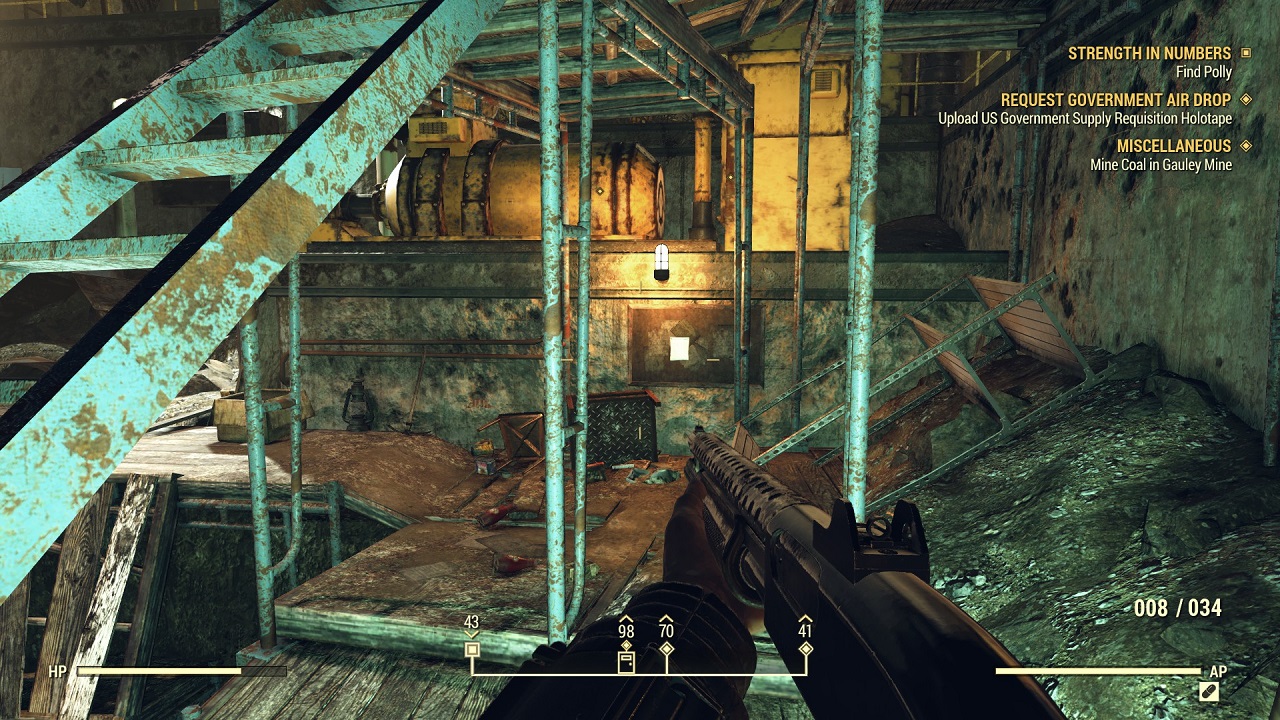 Now punch that code in the keypad to enter the cage.
What is inside the Gauley Mine?
Inside the Gauley Mine, there is a supply cage that contains junk items useful in crafting. There is a raider chest piece as well with some explosives. There is a new ID card locked door system as a part of the new Wastelanders update. However, you cannot access it now. To access it you have to play the quest of the Wayward Bar.
Conclusion
This guide was to help the players who were trying to find the code of the Gauley Mine. After reading this guide they will be able to find the code themselves. We hope our guide helped you. If you have any queries or feedback, feel free to comment down below with your Name and E-mail ID. Likewise, check out our iPhone Tips and Tricks, PC tips and tricks, and Android Tips and Tricks for more such tips and tricks. We urge you to participate in the $100 giveaway by subscribing to our YouTube Channel. Thank You.