Hardcore action genre gamers might already know about the Gears of War game. A new addition to this franchise which was recently introduced is the Gears Tactics. The game was launched very recently in April and has been developed by Splash Damage in conjunction with The Coalition and published by Xbox Game Studios. The Gears Tactics is available on Xbox One and Microsoft Windows platforms and has received quite brilliant reviews from the critics.
It has all the things that any hardcore action gaming fan would want out of an action game. Here you need to fight for survival, security members, and build your squad and lead them to victory against enemies. And if you also happen to be a Gears Tactics player and are looking for an ultimate guide on all of the details about Vanguard Class, then you are at the right place, as in this post, we will be giving you a comprehensive guide on Gears Tactics: Vanguard Class and will explain about the best ability, skills, weapons, and armor mods. If that has got you intrigued, then let us get straight into the article itself: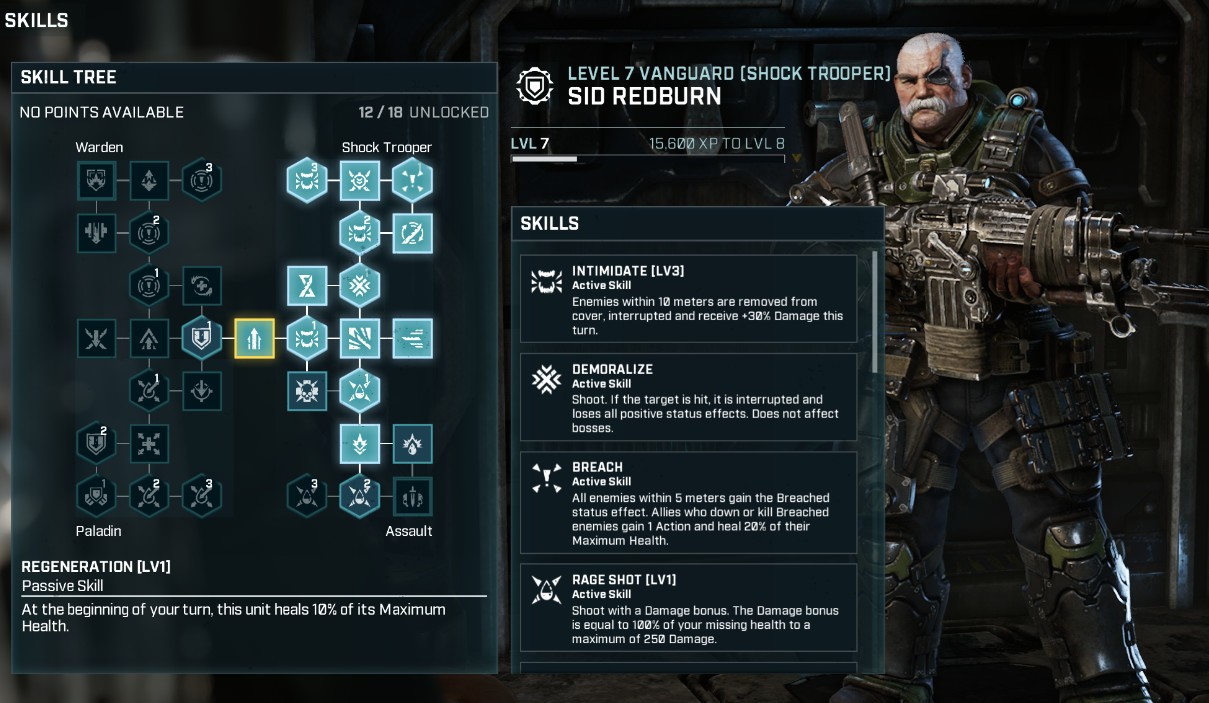 Gears Tactics Vanguard Class – Abilities and Skills
There are a certain class that you can play within the Gears Tactics game. One of which is the Vanguard class. It is the most offensive and most dominated class available in the Gears Tactics game. They have a robust set of weapons and can fight on the frontline while they can also lend support and boost to other classes as well. The vanguard class is unlocked by default once you start the game and they also have the ability to sustain the most amount of damage.
Talking about their default benefit of using them, you get 10% heals of their max HP. This perk is alone enough to use them against your enemies in the frontline. Other abilities of the Vanguard class include damage reduction, self revival, melee rushing, self-healing, push enemies out of their cover, squad regeneration, etc. Here is the complete list of skills you will have with a Vanguard class soldier:
Regeneration: Restores 10% health after each turn.
Leech: Restores your health by the amount of damage done by your bullets.
Warden: It increases damage resistance and allows self-revival.
Assault: This increases damage proportional to health loss.
Intimidate: Gets enemies out of their covers.
Rally: This allows your nearby allies to passively regain health by the amount of damage done (Leech).
Stand Together: This perk allows your nearby allies with increased defense and automatic revival when down.
Weapons and Armor Mods
Well if you have a damaging weapon, then it is surely an icing on the cake when you have armor to compliment your weapon. Here is the list of some of the weapons and armor mods in Gear Tactics:
Weapon Mods
Bloodlust (Stock): Heals the unit on the basis of the damage done.
Flatliner (Magazine): Your kills will increase your critical hit chances for a single turn.
Anticipation (Sight): This helps in reducing the damage.
Disrupt (Barrel): Shots will knock back the targetted enemies.
Armor Mods
Helmet (Hardened): Increased max health.
Chest (Champion): Heals your allies with each of your kills.
Boots (Self-Repair): Heals all your allies and the unit, right at the start of their turn.
So, there you have it from my side in this post. I hope you guys liked this post and were able to learn in-depth about the Vanguard class in the Gear Tactics game. Let us know in the comments below if you want us to add anything more related to the Gear Tactics game. Until the next post…Cheers!