Genshin Impact is the latest phenomenon in the gaming world today. And users are more excited about the new character Klee which has been teased for quite a while. Genshin Impact is a free-to-play action role-playing game that is available across all platforms like Windows, Android, iOS, PS4, and is also planned for Nintendo Switch soon. The game is developed and published by miHoYo. Users can switch characters, use magical elements, and use in-game monetization to up the levels of their characters.
The game takes place in the fictional world of Teyvat, which is home to several nations. Each nation has its own god associated with a particular magical element. Each character has control over one of seven natural elements: Cryo, Dendro, Pyro, Hydro, Anemo, Electro, and Geo. This corresponds to ice, life, fire, water, air, electricity, and earth respectively. There is a multiplayer mode as well. In this post, we will talk about the release date of the new character Klee along with its unlock time. So, with that being said, let us take a look at the article itself: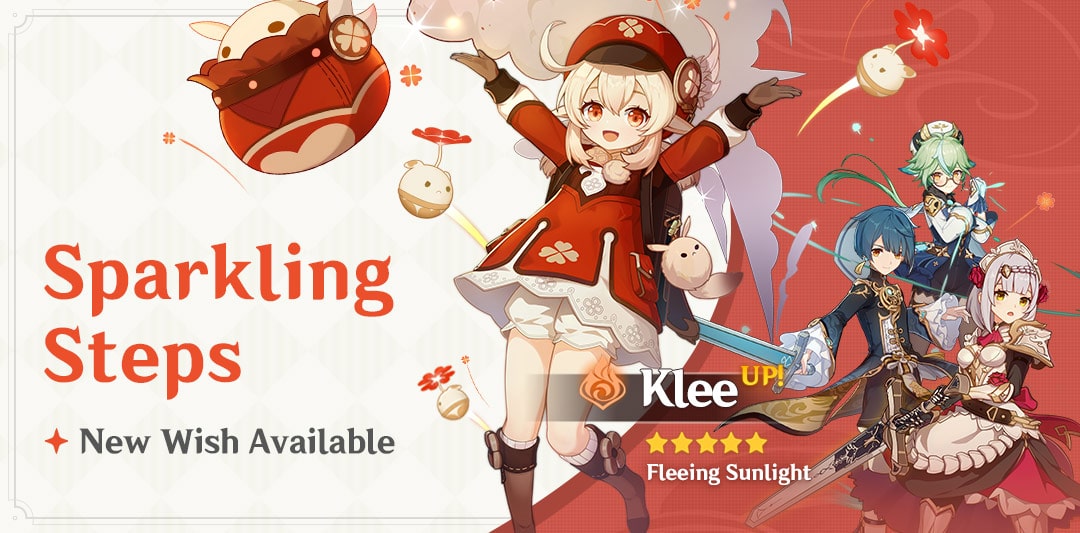 Genshin Impact Klee Release Date and Unlock Time
Good news for the Genshin Impact players. Developer Mihoyo has confirmed the long-rumored Genshin Impact Klee banner. The new character Klee will arrive on October 20, which is today. New characters or DLCs are the most exciting things for today's games. In fact, the developer has now confirmed that the new bombastic new pyromancer, Klee character will go live from October 20 until November 11 via the Sparkling Steps limited-time banner. Its specialties are that Klee throws bombs and shoots lasers.
Dear Travelers:

The new event wish "Sparkling Steps" is about to begin!

〓Start Time〓
2020-10-20 18:00:00 (Server Time)#GenshinImpact pic.twitter.com/H340Q1kPhw

— Paimon (@GenshinImpact) October 18, 2020
Moreover, the Sparkling Steps limited-time banner will be accompanied by the Epitome Invocation weapon banner for the same period, i.e. between October 20 to November 11. Notably, both the banners will expire with the release of the update version 1.1, which will be the first major patch for the Genshin Impact game. The Genshin Impact Klee release date is set for October 20 and unlock time is 6 PM 'Server Time'. This means that the Klee character will be unlocked at 6 PM in the respective time zones of North America, Europe, and Asia.
Dear Travelers:

The new event wish "Epitome Invocation" is about to begin! Time to stock up on weapons and characters to increase your combat readiness!

〓Start Time〓
2020-10-20 18:00:00 (Server Time)#GenshinImpact pic.twitter.com/nwuvjxCRO9

— Paimon (@GenshinImpact) October 18, 2020
Talking about the Klee character banner, it is somewhat similar to the recent Venti banner. Basically, you have to hit 90 wishes, and then you are guaranteed a 5-star character. However, there is a 50% chance of getting Klee. Furthermore, if you hit another 90 wishes then your next 5-star character is guaranteed to be Klee. Four-star characters are guaranteed every 10 wishes and there is a 50% chance your character will be among Sucrose, Noelle, or Xingqiu.
Genshin Impact players will have time till November 11 to try and unlock the new character, Klee. For those who are wondering how they would be able to unlock Klee in Genshin Impact, you can do that by performing gacha pulls. Moreover, the only thing that you can do is to complete more wishes during the Sparkling Steps event. As the unlock of Klee character totally depends on luck, there is only a 0.6% chance of pulling out a 5-star character.
All this information would be available in the "Details" tab of the in-game banner event page. Additionally, if you have used ay Wishes for previous limited-time character or weapon banners, then your Wish count will carry over to this new one. You will be able to track your Wish count via the "HIstory" tab within the Genshin Impact game. Another important thing to note is that Klee and other characters will be available for the test runs via trial missions during the duration of the event. You can make use of your regular characters to complete these test missions to gain some easy loot.
Klee Abilities
Klee was available during the game's beta period, via the in-game trial questline at Adventure Rank 32. Besides, Klee has some different abilities than other characters. Like it throws pyro bombs and shoots a laser that blasts a small area. She has two primary abilities, which allows her to throw a bomb forward. The bomb bounces, explodes and leaves behind traces of fire mines. The ultimate ability of Klee is to cause fire laser rain that comes down on enemies for a short period of time. Users of Genshin Impact can use the Primo Gems earned within the game to buy more Intertwined Fates to make Wishes. Alternatively, players can also spend real cash to Wish for Klee.
Wrap Up!
So, there you have it from my side in this post. I hope you guys liked this post and were able to grasp as much information about the latest character that can be unlocked in the Genshin Impact game. In the meantime, if you liked this content and want to read more content, for more such awesome coverage, you can head over to our check out our Windows Guides, Gaming Guides, Social Media Guides, iPhone, and Android Guides to read more. Make sure to subscribe to our YouTube Channel for awesome videos related to Android, iOS, and Gaming. So, until the next post…Cheers!