Genshin Impact has its currencies that you need in order to unlock weapons and characters. One of the currencies, named Masterless Starglitter, is hard to find in the game. Besides, there is an entirely different pattern to obtain this currency. Moreover, you can not obtain these currencies by completing missions or defeating bosses.
If you, too, find it difficult to collect the Star Glitters, you are in the right place. We will share some of the most important points you should keep in mind if you want to get Masterless Starglitter in Genshin Impact.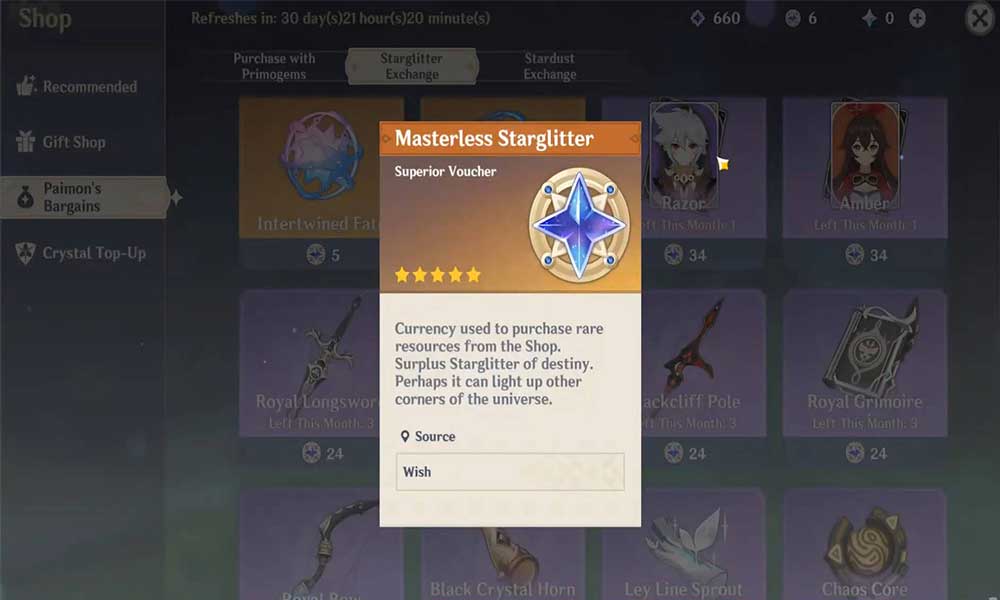 How to get the Masterless Starglitter currency
Unfortunately, there is only one way to obtain Masterless Starglitters. To be very precise, you have to make wishes using Fates in Genshin Impact to obtain this currency. Making a wish is easy, but it will not give you Masterless Starglitters directly in disguise. Making a wish will grant you a character or a weapon. If you are lucky enough to get a character/weapon you already own, you will be awarded a Masterless Starglitter instead of the character.
Moreover, the amount of Starglitters you obtain in exchange depends on the availability of the character/weapon. That being said, getting a 5-star character will give you more currency than a 2-star character. On the other hand, a 4-star weapon will give you two Starglitters, and for a 5-star weapon, you'll get 10 Starglitters.
That's all we got with obtaining Masterless Stargliiter in Genshin Impact, and we hope this guide helped you. Now, check out our Windows Guides, Gaming Guides, Social Media Guides, iPhone, and Android Guides to know more. If you have any queries, comment down with your name & email ID. Moreover, subscribe to our very own YouTube Channel in order to watch awesome videos on gaming and smartphone tips and tricks.