In this tutorial, we will show you how to get the Battletoads Ship Set in Sea of Thieves. Taking the role of a pirate, you will have to take up voyages from different trading companies. Successfully completing them all should be on top of your priority list. This first-person multiplayer action-adventure game has one objective laid out- you have to become the ultimate pirate legend. Available across both the Windows and Xbox platforms, it has managed to attract many gamers due to its unique yet interesting gameplay experience.
Along the same lines, it also gets regularly gets blessed with updates. Most of the time, it brings in the stability improvements and bug fixes. In some cases, however, you might also get to welcome some new and intriguing components to your ships. In this regard, via the latest update, you could now get hold of the Battletoads Ship Set in the Sea of Thieves game. This tutorial will help you out in attaining this ship set. Follow along for the complete instructions.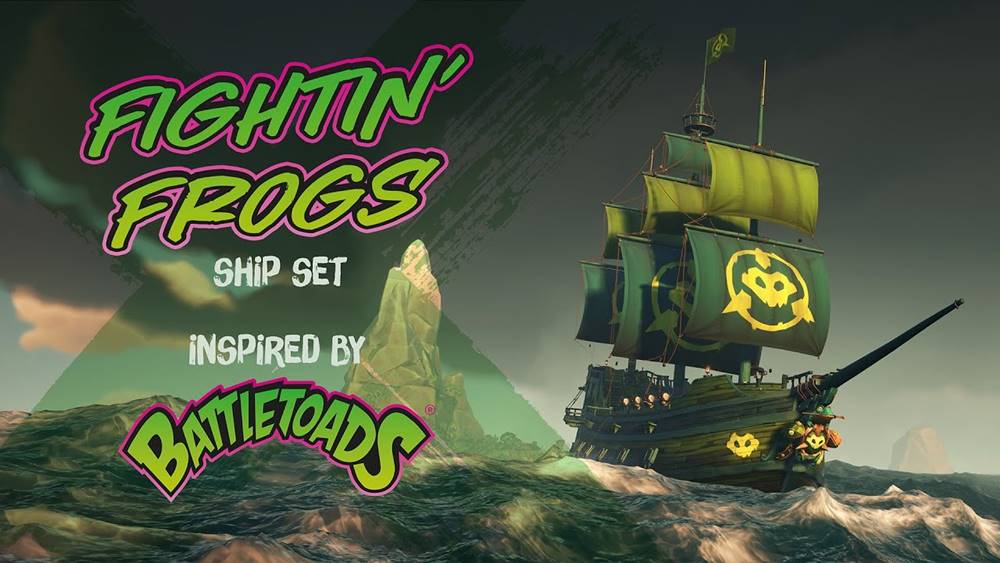 How to Get Battletoads Ship Set in Sea of Thieves
Well, there couldn't have been a better way to celebrate the return of Battletoads than by releasing a brand new ship set. Dubbed as the Fightin' Frogs, you'll get the sails, hull, flag, cannons, wheel, and capstan, all painted in the touch of nostalgic Battle load green colors.
All that is required is to complete Act 1 of Battletoads and you get get your hands on this ship set. As of now, there doesn't seem to be an expiry date for this mission, but still, hardly anyone would waste even an iota of minute considering the goodies that it has to offer. After all, who wouldn't want the Battletoads themed masthead, wheel, and sails?
There is no holding back the hype factor as well. It has already set the gaming community abuzz with this announcement on its official Twitter page:
The Battletoads return tomorrow, August 20th, courtesy of @dlalastudios! To celebrate, anyone who finishes Act One of the raucous multi-genre adventure, at any time, will be able to festoon their ship with a family of fighting frogs! Or are they toads? We hear it's a wart thing. pic.twitter.com/1BRKaglxHE

— Sea of Thieves (@SeaOfThieves) August 19, 2020
Completing Act 1 of Battletoads
Well, the Battletoads Ship Set in Sea of Thieves isn't the only offering. The team behind this game has also released a new arrangement of the Battletoads theme. Now if we talk about how could you get a taste of the same, well it's pretty easy. You could buy the Sea of Thieves from the Microsoft site to play on PC or your Xbox One, or even grab it on Steam. But if you have the Xbox Game pass, then you wouldn't have to spend a dime.
Once downloaded, simply log in with your Microsoft Account and complete Act 1 of Battletoads. Just keep in mind that you are using the same account across both the games. These offerings are non-transferable between two different Microsoft accounts. So it is better to use a single account for both these games or make sure that the secondary account has access to the Sea of Thieves game.
Act One is already live now, so go ahead complete it give yourself a treat in the form of the ship sets. With that, we conclude the guide on how to get the Battletoads Ship Set in Sea of Thieves. If you still have any queries, do let us know in the comments section below. Rounding off, here are some iPhone Tips and Tricks, PC tips and tricks, and Android Tips and Trick that deserve your attention as well.