Rust is a multiplayer survival only video game developed and published by Facepunch Studios. The game was available as early access since 2013, and after five years, it saw the light under public release in 2018 for platforms including Apple iMac and Microsoft Windows. Appreciating the developers, they are even planning to release a version for Play Station 4 and Xbox One in the next year. As we already know, the game is based on survival, so food is required. So our guide deals in the ways how you can get food in this game to survive.
As the game is only available as only multiplayer, the players are required to engage in combats. Moreover, there is a looming danger from wolves and bears in the game. Players get involved in PvP battles and fight using bows, melee weapons, and craftable guns. The game from here looks interesting and even more when you start playing it. So as you need to survive, you will require food, and we hope you are unable to find that, and this brought you here. As you have come to the right place, let's get started with our guide without any further ado.
How to Get Food in Rust Survival Game?
Playing as a beginner in this harsh open-world environment can be quiet strenuous to the newbies in Rust. Although, as we are here, you need not worry at all. We have with us the best ways and tricks that will fetch you life-saving food that will get you through the game. You will get two types of food here. They are Ration Boxes and Food crates. We will discuss them individually.
1. Ration Boxes
Whenever you find barrels, be sure to get ration boxes along with them. They are the best place to find food, water, and even metal fragments that will help to craft guns. If you get a tin of food, you will be even the empty tin upon consuming it. You can later use the tin fragments in the campfire for 15 metal fragments. But for the later game, you will have to avoid them as there will be no need for any items it contains. But in the early game, you can term the ration boxes as the best loot that can save you from starving. We have given below a tabular form of loot data below.
| | | |
| --- | --- | --- |
| Item | Category | Chance of Getting it |
| Apple | Food | 20 % |
| Can of Beans | Food | 20 % |
| Can of Tuna | Food | 21 % |
| Chocolate Bar | Food | 21 % |
| Granola Bar | Food | 21 % |
| Pickles | Food | 15 % |
| Small Water Bottle | Food | 21 % |
| Water Jug | Tool | 25 % |
| Anti-Radiation Pills | Medical | 25 % |
2. Food Crates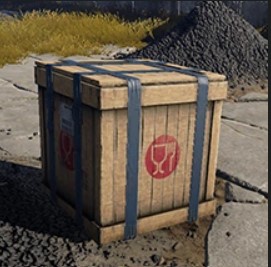 You can find food crates near or inside Radtowns. They are different from ration boxes and contain mid-game loots alongside food. As we have already told that ration boxes are not useful later, but Food crates are always helpful. We have discussed a food crate data in a tabular form below.
| | | | | |
| --- | --- | --- | --- | --- |
| Quantity | Item | Condition | Category | Chance of Getting it |
| ×1-3 | Can of Beans | – | Food | 22 % |
| ×1-3 | Chocolate Bar | – | Food | 22 % |
| ×1-3 | Can of Tuna | – | Food | 21 % |
| ×1-3 | Granola Bar | – | Food | 24 % |
| 800 ml | Water Jug | – | Tool | 22 % |
| ×1-3 | Apple | – | Food | 21 % |
|  – | Black Raspberries | – | Food | 21 % |
|  – | Pumpkin | 100 % | Food | 21 % |
| ×1-3 | Blueberries | – | Food | 21 % |
| 120ml | Small Water Bottel | – | Food | 65% |
3. Naturally Growing Food
The easiest of getting food is by growing them, and one of them is vegetables. Moreover, corn and pumpkin grow along the riverside and usually near the river mouth. Mushrooms do grow in the dirt areas found in the forests. Although you can grow food when you progress at the start, it is not possible.
4. Kill Animals
Killing animals can be tricky sometimes since the majority of them run very fast and are difficult to get hold of. Moreover, they even fight back, and that can prove fatal at the starting of the game. But when you have crafted the weapons, hunting them becomes quite easy. However, you will need a bone knife to cut the flesh, which you can craft for 30 bone fragments. A point to note is killing the animals with weapons can be difficult as the weapons travel in a projectile motion rather than a direct hit.
5. Fishing
You can try out fishing only if all the above once have not worked well for you. This is because fishing requires fish traps that are very expensive and cost around 200 wood and 5 cloths. After crafting, you have to place the trap on a beach and load it with some bait so that the fishes get trapper. If you are having a lucky day, you can get a trout. However, most of the time, you will get only minnows that are worthless.
Wrap-UP
This guide was to help the newbie players of Rust who were having difficulty in finding food. After reading our guide, they will be able to find food and at least will not die due to starving. We hope this guide helped you. If you have any queries or feedback, feel free to comment down below with your Name and E-mail ID. Likewise, check out our iPhone Tips and Tricks, PC tips and tricks, and Android Tips and Tricks for more such tips and tricks. We urge you to participate in the $150 giveaway contest by subscribing to our YouTube Channel.