Google Mail or Gmail is one of the most popular and free email service platforms for everyone across the globe. Both the Android and iOS running devices have the official Gmail app developed by Google. It runs really well mostly and the Gmail app offers a simple and engaging user interface with some useful features for the mobile. However, some times users may face issues with the Gmail app. If you're an iPhone 11 device user then check out steps to fix the issue like Gmail not working on iPhone 11 series.
There may be some issues of the Gmail app not working or keeps crashing such as network connectivity issues, server downtimes, account credential issues, improper settings, account security issues, etc. Meanwhile, the software-related issues, mail server issue, Gmail app update issue, etc are also can be a reason. Some times, the user travels somewhere else and then trying to access their own Gmail account via the app. In that case, Google assumes that some other people are trying to access your account.
So, it's quite necessary to check all of these options at first before heading over any conclusion. Now, let's take a look at some of the possible solutions below.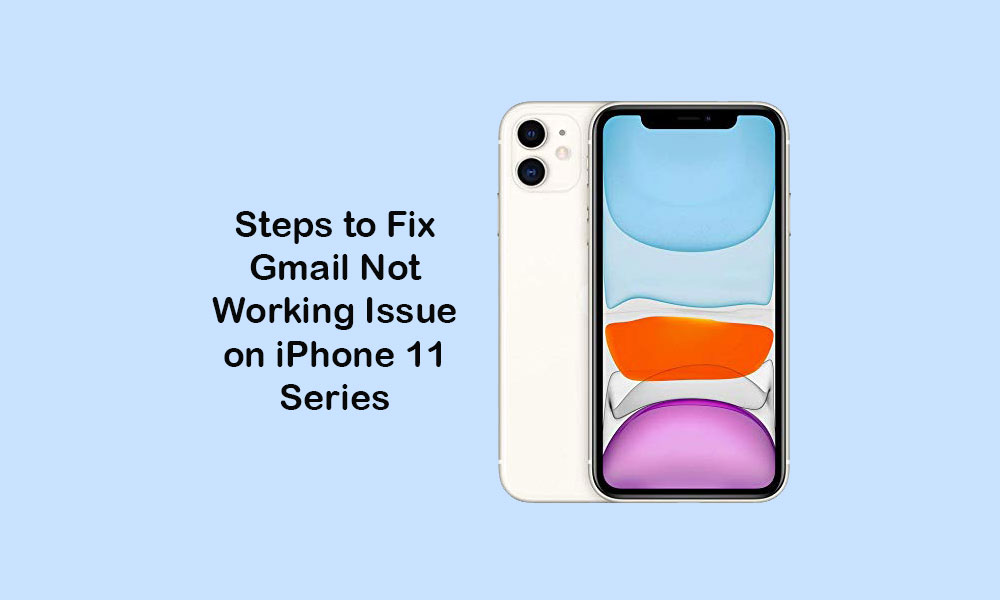 Steps to Fix Gmail not working keeps crashing on iPhone 11, 11 Pro, and 11 Pro Max
First of all, you need to log in to your email account via a mobile browser on your iPhone. Once logged in, check for inbox mail that contains something like "some has your password" or "we blocked a sign-in attempt". If in case, you've received such kind of mail, just go to the provided link in that mail and confirm "that was me" under the review your devices now section. Alternatively, you can view recent devices and go to the Device activity & notifications under My Account section.
Here you will find a list of devices that you've attempted to sign in to your Gmail account. Just give access to that device (i,e iPhone 11/11 Pro/11 Pro Max) and try to sign in again on your iPhone. We hope you will be able to sign in to the Gmail app quite easily. Now, if you don't have any log-in related issues, then you can follow the methods below.
1. Force Close Gmail App and Reboot iPhone
Swipe up from the bottom of the screen and hold midway to open the app preview cards.
Next, navigate to the Gmail app preview from the app switcher.
Swipe up the Gmail app card to force close it.
Now, restart your iPhone by following the steps below.
Press and hold the Volume Up + Side/Power button for a few seconds.
Slide to Power off bar will appear.
Drag the slider to turn off your handset.
Now, press and hold the Power/Side button for a few seconds and the Apple logo will appear.
Then release the button and your device will reboot.
Now, check whether the Gmail app is working or not.
2. Check and Enable IMAP for Gmail
The IMAP (Internet Message Access Protocol) needs to be activated to sync and fetch emails to your iPhone. You need to enable it via a web browser on a PC/Laptop.
Log into your Gmail account using a browser on a computer. Provide the same credentials to log in to your Gmail account.
Once you've logged in, click on the Settings menu (cog icon).
Click on Forwarding and POP/IMAP tab.
Scroll down a bit to the IMAP Access and enable the IMAP status.
Then click on the Save Changes button.
Once done, reboot your iPhone and try to use the Gmail app again to check the issue.
3. Check Gmail App Update to fix Gmail not working on iPhone 11
Head to the App Store >> tap on the User Profile icon on the top-right corner.
Next, you will see the Update option next to the Gmail app name under the Available Updates section (If update available).
Tap on the Update button > you're done.
Finally, open the Gmail app and check whether it's working or not.
4. Delete and Reinstall Gmail App
Long-press the Gmail App icon to open home screen options.
Tap the cross icon (x) on the upper-right corner of the Gmail app icon.
You will get a confirmation prompt and tap on the Delete button again to confirm.
Now, open the App Store and search for Gmail.
Tap on the Get button to install it again.
Then launch the Gmail app, input the credentials and start using the Gmail app.
5. Reset Gmail Account from the iPhone
Go to the iPhone Settings > Tap on Accounts & Passwords.
Head over to the Accounts > Select your Gmail account.
Tap on Delete Account > Select the "Delete from My iPhone" option.
Now, restart your handset for once and add the Gmail account again.
Go to the Settings on your device.
Select Accounts & Passwords > Tap on Add Account.
Select Google from the list.
Now, put your Gmail or Google account details.
Tap to enable mail, contacts, and calendars option.
Tap on the Save button to complete.
Now, you can easily see the Gmail account inbox on your iPhone.
6. Reset Network Settings to fix Gmail not working on iPhone 11
Open the Settings menu > General > Reset.
Select Reset Network Settings.
If prompted, you have to enter the passcode and proceed to confirm it.
When completed, restart your handset.
7. Perform Factory Reset on your iPhone
Open the iPhone Settings > choose General > select Reset.
Choose Erase All Content and Settings.
If prompted, enter the passcode and confirm it.
Your device data and settings will be wiped out completely.
Finally, your device will reboot automatically and it may take some time to boot.
Wait for it and you're done.
Now, set up your iPhone again and set up the Gmail account as well.
Some times, the Gmail server may not work properly due to maintenance or downtime. So, it's better to wait for a couple of hours or you can contact the Gmail Support team to fix your issue via the Gmail app under the Help section.
That's it, guys. We assume that you've found this guide useful and the Gmail is now working on your iPhone 11 or 11 Pro or 11 Pro Max. For any queries, let us know in the comments below.