From this post, you could download the GPG Dragon Box latest v3.53c. There are quite a few chipsets ruling the smartphone industry as of now. The likes of Snapdragon and MediaTek are right there at the top. However, they aren't the only ones out there. Depending on the region to which you belong, you might have heard about NXP, Infineon, Spreadtrum, Silabs, Anyka, ADI, and SKY chipsets as well. While these aren't as popular as the former two, but they still have managed to capture a decent market share.
However, effectively managing these devices might prove to be a little bit challenging for the end-users. One major reason for the same is the lack of support for these chipsets. Likewise, the ones that are available don't provide any common platform to carry out all the important device tasks. Well, you could now put all these doubts to rest, thanks in large parts to the Dragon Box, whose latest version v3.53c is now available to download from this post. But first, let's check out its feature list.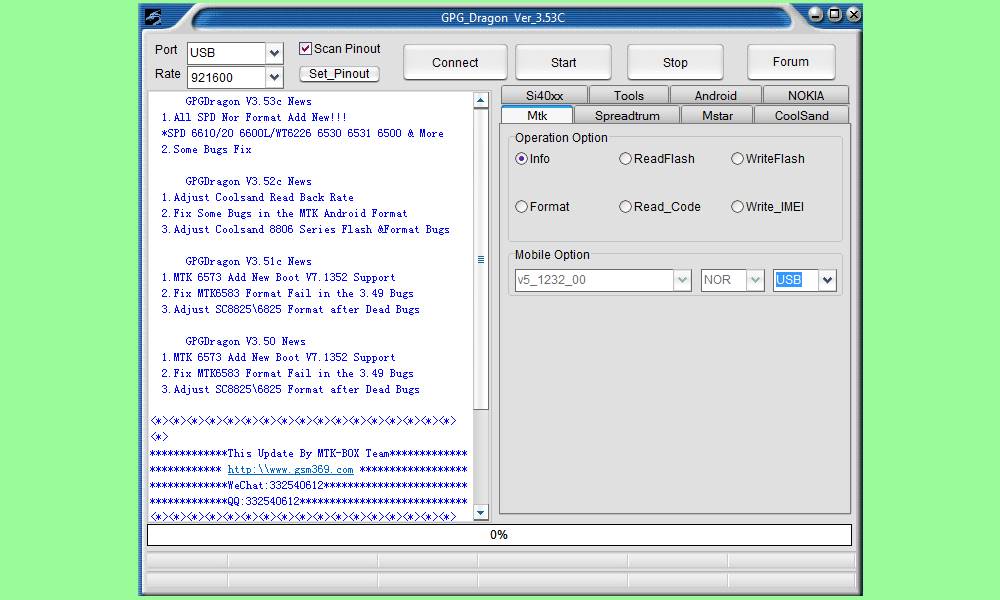 GPG Dragon Box v3.53c: Features
The GPG Dragon Box comes with a plethora of useful functionalities. Be it for reading critical device information or rectifying software side issues, there's a lot it can do. Some of its noteworthy features include:
Read/Write Data
It has the ability to read all the important device information. Likewise, you could also use it to input essential information
Bypass Unlock Code
If you have forgotten the device's PIN/Password or Pattern Lock, then you could easily bypass and remove these locks directly via this tool.
Repair IMEI
Performing any tweaks related to the custom binaries could have unforeseen effects on your device. And the EFS Partition getting corrupted would probably be the last thing that you would wish. But even if that happens, you could easily repair restore your device's IMEI number using the GPG Dragon Box latest v3.53c tool.
Format Device
Erasing all the data from your device might take ages to perform. Furthermore, the option is usually buried deep inside the Settings page and you might have a tough time using it. Well, with the help of this tool, you could perform a factory reset just via a single click.
Multiple Chipset Supported
It also comes with support for various chipsets. Here's the complete list of the same:
MediaTek (MTK): 6205, 6217, 6218, 6219, 6223, 6225, 6226, 6627, 6228, 6229, 6230, 6235, 6238, 6239, 6253, 6255, 6572, 6575, 6577, 6583, 6589, 6252, 6250, 625A, 6251
Spreadtrum (SPD): 6600D, 6600M, 6600E, 6600I, 6600H, 6800D, 8800D, WT6226, 6600L, 6820, 8810
SI: 4901
Infineon: 7870, 7880
Anyka: 3223, 3224
Nxp: All Devices
Adi and Sky
Qualcomm: CDMA mobiles
So with this, you would have got a decent idea of the GPG Dragon Box's latest v3.53c tool. Let's now make you aware of its download link.
Download GPG Dragon Box Latest v3.53c
You could now grab hold of the tool's latest setup file from the below link:
Once you have downloaded the tool, extract it to any convenient location on your PC. Then launch the setup and proceed with the onscreen instructions to install it.
So this was all from this guide. If you have questions regarding this tool, feel free to ask us in the comments. Rounding off, here are some iPhone Tips and Tricks, PC tips and tricks, and Android Tips and Tricks that deserve your attention as well.