The WinX HD Video Converter is one of the brilliant projects carried out by Digiarty Software Development Company. With consistently software upgrades since its launch in 2010, the software has consistently added more features and functionalities. In fact, the software has the largest conversion library compared to all others till now.
It has the answer to all your questions. WinX HD Video Converter Deluxe features over 400 conversions presets, including MP4, UD, UHD, 4k, 8k, and more. Additionally, it also has mobile video solutions too. The world's leading tech publications even recommend it as one of the most reliable video converters. Besides, this small-sized software delivers top-tier service both in terms of performance and usability.
It has over 196 million software installs and is trusted by leading companies all over the world. WinX HD Video Converter Deluxe has a minimal machine requirement found in any normal device nowadays. More importantly, it offers lightning-quick video conversions with no compromises in the video quality. In a nutshell, it can be considered as an all-in-one vigorous multimedia solution.
In the video editing world's needs, a normal user might need the services of converting, resizing, and trimming video files. This could be from a recent vacation or from a birthday party they recently held at their home. Most video converter software does not use GPU to process videos, and that's where WinX HD Video Converter comes into the picture. WinXDVD is holding a special Easter giveaway where you can win a chance to access top software products, including WinX HD Video Converter and other Windows software, including iObit Driver Booster Pro, Ashampoo WinOptimizer 17, COLOR project 5, DoYourData Uninstaller Pro as well.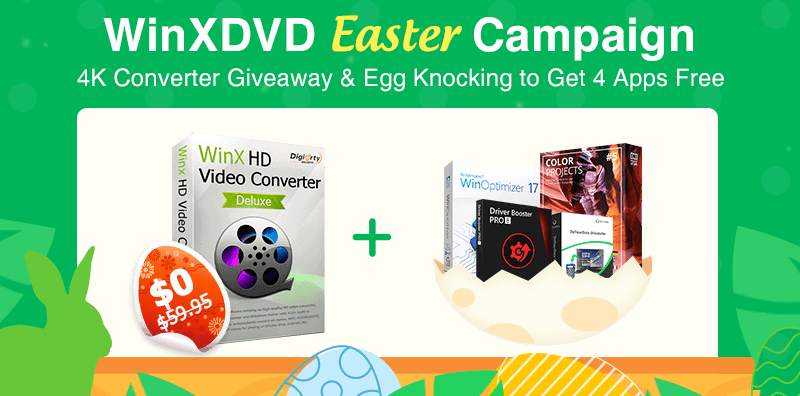 WinX HD Video Converter Deluxe Features
Users who deal with multiple videos frequently got to have this software installed on their PC. This 4k Video Converter is truly a masterpiece and lifesaver software with features including converting videos and compressing without losing quality. Especially for YouTubers and vocational videographers, having this software can help you save a lot of space on your PC and convert video to their favourite format on the go. Some of the prominent features from WinX HD Video Converter Deluxe includes:
Transcode any Video
With new level-3 hardware acceleration in video transcoding, users can enjoy 47 times faster video transcoding to their favourite video formats. It supports various formats, including the popular ones, including High Definition Video, 4K Video, AVCHD Video (*.mts, *.m2ts), H.264/MPEG-4 AVC (*.mp4), HEVC/H.265 (*.mkv) and 370+ formats.
Edit 4K Videos Efficiently
Users can make small videos that need basic editing features such as cutting, trimming, and emerging multiple videos together with simple to use editing tools. It also supports cropping videos and adding subtitles, which can help create YouTube videos or small family gathering videos.
Compress 4K/HD Video without losing quality
Using high definition cameras to record your videos which takes up plenty of valuable storage space? As WinX HD Video Converter can compress your videos up to 90% without sacrificing video quality, no worries.
Import Video from any Device & Source
No matter what device you use, your latest iPhone, a DSLR camera or an old-style sony camcorder. You can easily import videos for editing, transcoding or converting purposes.
Download Videos & Music from 1000+ Sites
Apart from video encoding and editing features, WinX HD Video Converter also supports downloading videos from online platforms. These include the famous ones such as YouTube, Vimeo and Facebook as well. It even supports batch download to download the whole set of playlist from major video streaming websites.
Make Photo Slideshow with Music
For novice users, creating videos and slideshows with the help of photos is much easier now. With simple to understand steps, anybody can make a slideshow of their last family trip or birthday bash party!
90 Million Users trust WinX HD Video Converter Deluxe since 2010 with its video converting services. With the phenomenal unique Level-3 hardware acceleration, users can save an ample amount of time transcoding and saving space by compressive videos without any noticeable quality drop.
How to convert video using Video Converter Deluxe
Here is a walkthrough to convert your videos to any format using the video converter deluxe software. WinX HD also has a trial version which can be great to have a hands-on on the product. Try WinX HD video converter for free and convert videos to any format with ease.
Download and install WinX HD video converter deluxe on your PC.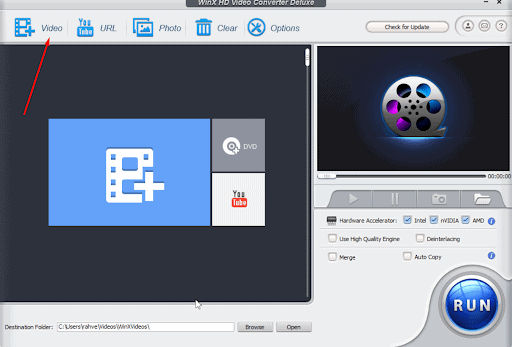 Click on add videos icon to add media files.

Wait for a few minutes to load the video. The waiting time may increase if you're trying to import a large video.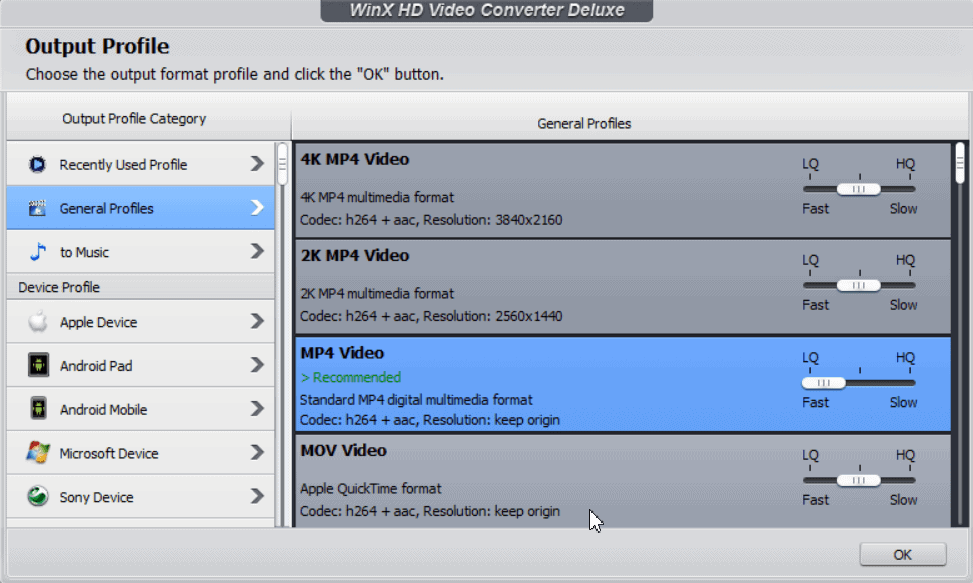 After a successful import, a new menu will appear. You may choose relevantly which video format you wish to convert and click ok.
Note: users can choose LQ- for low-quality output and HQ for high-quality output. HQ video may take longer depending on your PC configurations.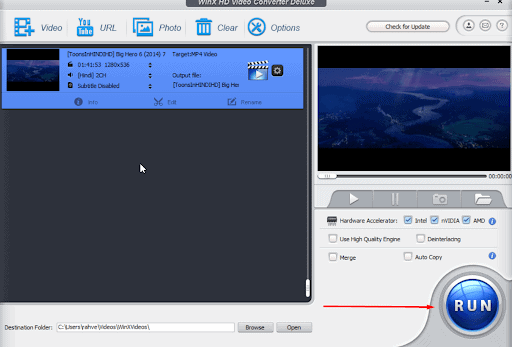 Cross-check all the settings for the output video destination and type. Choose hardware acceleration to take advantage of level-3 acceleration and click on the Run button. The video will convert in a few minutes.
Conclusion
WinX HD video converter deluxe is an amazing software that can be a huge help in day to day editing and video transcoding needs. The original price for a video converter is $59.95, but with their special Easter campaign, you can get this for absolutely free, plus get a chance to win 4 software bundles with their special egg cracking game. I recommend all users to give a try on the WinXDVD Easter giveaway contest and get exciting prizes and video converter software for absolutely free of cost.