Weak signal or lost signal issue becomes an obstacle to the most basic functions of a smartphone which is to make or receive calls and send or receive text messages. This causes a lot of trouble if you are not able to access a Wi-Fi network and you become void of placing any calls or messages. This can be quite frustrating as you would also be not able to access the internet which doesn't allow you to further watch videos, surf the web, browse social media and other tons of things for which you carry a smartphone. When you are outside where you cannot get a reliable Wi-Fi network, weak signal or lost signal issue becomes quite frustrating. The problem occurs often and there are various reasons that cause the issue. Availability of the network, signal strength, device condition, network interference by obstacles and other tons of conditions affect network reception. This issue happens to even the best of us and then, we start to panic without knowing that solutions to such issues are not complex and can be fixed by ourselves. This article would help you analyze the problem and allow you to fix Allview weak signal or lost signal issue by yourself in a few simple steps.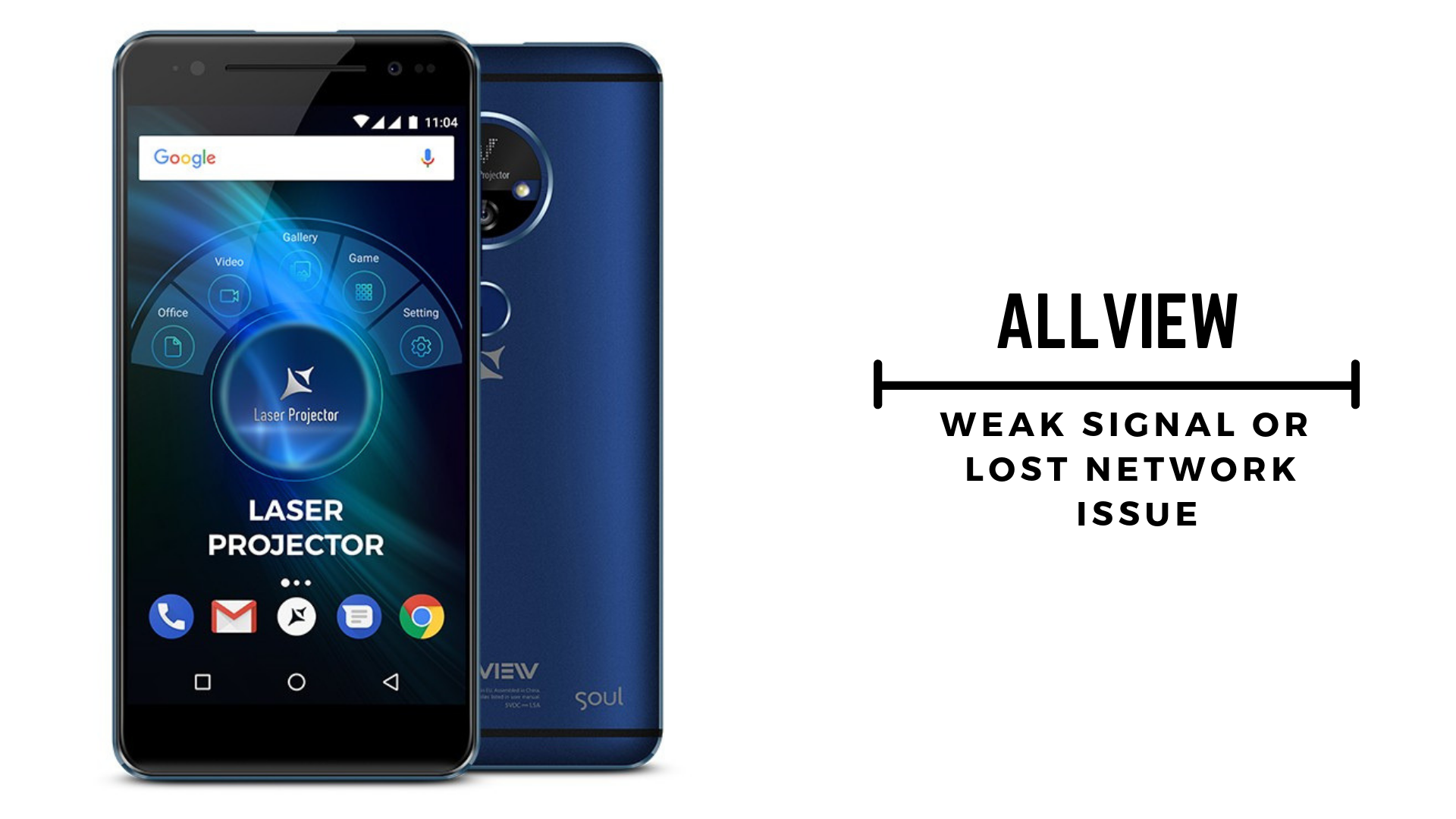 Guide to Fix Allview Weak Signal or Lost Network Issue
Method 1: Enter Airplane/Flight mode
Toggling flight mode helps in reconnection/refreshing the connection to a network. It can be called as a switch to connect/disconnect to the network. When the phone is unable to find a network due to poor coverage, turn ON the airplane mode. Wait for a few seconds or a minute and power it OFF. The device might recognize the networks and hence will show the network.
Method 2: Toggle your SIM
Before contacting the service provider, check if there is an issue on your side. Try reconnecting the SIM by Navigating to 'Settings >> SIM Management (SIM & network). Tap n the SIM on which you are experiencing issues and then turn it OFF. Wait for a few seconds before turning it on.
Method 3: Look for intermittent issues
There could also be an issue with the service provider. Some upgrades in the network or maintenance might be causing bad or no network reception. This could be the issue when you encounter no network service at all. Service providers mostly inform about any such work but you can always contact them to know or resolve any problem on their part.
Method 4: Check for network inhibitors or go outside
Just like Wi-Fi signals get blocked by obstacles, network reception is also interfered by dozens of obstacles. Even other electronic gadgets such as laptops, speakers, microwaves, can interfere with your mobile phone signal, so avoid these if you're struggling to make a call. Remove them if you can or stay away as far as possible. Try holding your phone in a way that doesn't cover the smartphone antennas. It is also recommended to remove thick bulky covers or skin if applied to improve network reception. Mobile signals are also blocked by construction material, such as concrete, steel resulting in poor network reception. If you cannot remove obstructions, try going outside from your home/office.
Method 5: Turn off the phone
Turn OFF the device and turning it on fixes a lot of issues. It may solve any application or software crash that might have occurred earlier. It also refreshes the smartphone memory by closing down all running applications thus improving performance. Power OFF your device. Keep it OFF for a minute. Now when all connections are re-established, check if it worked.
Method 6: Allow manual selection of networks
All smartphones are set to choose the best network automatically. A bad network reception can be the cause of an issue with the carrier. You can always manually select the network that is suited in your area or the one which you observe working better than others. This will allow you to use the network with better reception and the one which is more reliable. Open Settings >> Mobile Networks >> Network Operators. Select network operators and then tap the desired SIM. Tap on 'Select manually'.
Method 7: Check for damages in SIM card or the SIM card tray
If your smartphone condition is not good or you are using an old smartphone, the chances of wear and tear of the SIM tray are high. The SIM card too gets damaged or loses its efficiency over regular use. You can also insert the SIM in another device and check for issues with the SIM tray or the SIM itself. A new SIM card can be purchased/replaced from the carrier whereas the tray can be purchased from third-party centers or from authorized service centers.
Method 8: Swap SIM cards
If you are using a dual-SIM smartphone, you can remove the SIM card and re-insert your SIM in another slot if you think that is gonna work. Many times, the first SIM slot has 4G support while the second slot could support only 3G so you need to check with that too.
Method 9: Switch bands and frequency
The higher the frequency the faster the data transmission. All 4G-enabled phones support 2G, 3G as well. Go to Settings >> SIM & network. Select the preferred network type. Here you can choose the band from 4G to 3G to 2G. Switching to lower bands gives you more range but a weaker signal. Although you would sacrifice on network speed, you would still get a better network reception than before.
Method 10: Update the applications and OS
All applications, whether preinstalled or download must be updated. Update pending applications accumulates bugs and issues that hamper system performance. It can slow down the phone and can cause conflicts in the working of a particular service. Update the apps by navigating to Google Play Store >> My apps and games >> Update all. You also need to update the OS of your smartphone. Developers often send OS updates to add new features and to remove any bugs or for resolving other issues due to the software. Check if there is any software update available for your smartphone. Updates should be checked and performed from time to time for seamless smartphone performance without any issues.
Method 11: Perform a hard reset
Hard reset fixes tons of issues in your smartphone. Unfortunately, if your phone is still not performing correctly, you may need to perform a hard reset of your phone. It will delete all applications and restore system settings to default which gives your smartphone a new start. Be sure to back up all important user data. Turn off the phone. Press and hold the Power key and Volume Up key simultaneously until the Android logo flashes on the screen and you enter the recovery mode screen. Use volume keys as navigator and power button to highlight and select the "wipe data/factory reset" option. After completing the procedure, your phone will be rebooted and you can set it up as if it was new.
Method 12: Consult a technician or visit a service center
If you cannot resolve the weak signal or lost network issue by yourself, the problem could lie in the hardware of the device. There could also be an issue with the antennas or the network ICs which cannot be repaired by ourselves. We recommend you to approach our service center and get assisted. Avoid going to third-party service centers as that may void your warranty
Method 13: Invest in a signal booster
If you encounter weak signal or lost network issues frequently, it is recommended to invest in a network booster which is a bit of investment but it will improve the network reception.