The phone is connected to a cell tower that facilitates calling and messaging and other services. But what if you are facing BQ Mobile weak signal or lost network issue? If the network on your phone is poor, it could cause disruption when you are making calls or messaging someone or browsing the internet because either the signal will be choppy and irritating and on the other side, if there's no signal at all, you wouldn't be able to do any of the said services unless you have a working WiFi connection. So, let's see what are the ways you can actually fix the weak signal or lost network issue on your device using this troubleshooting guide.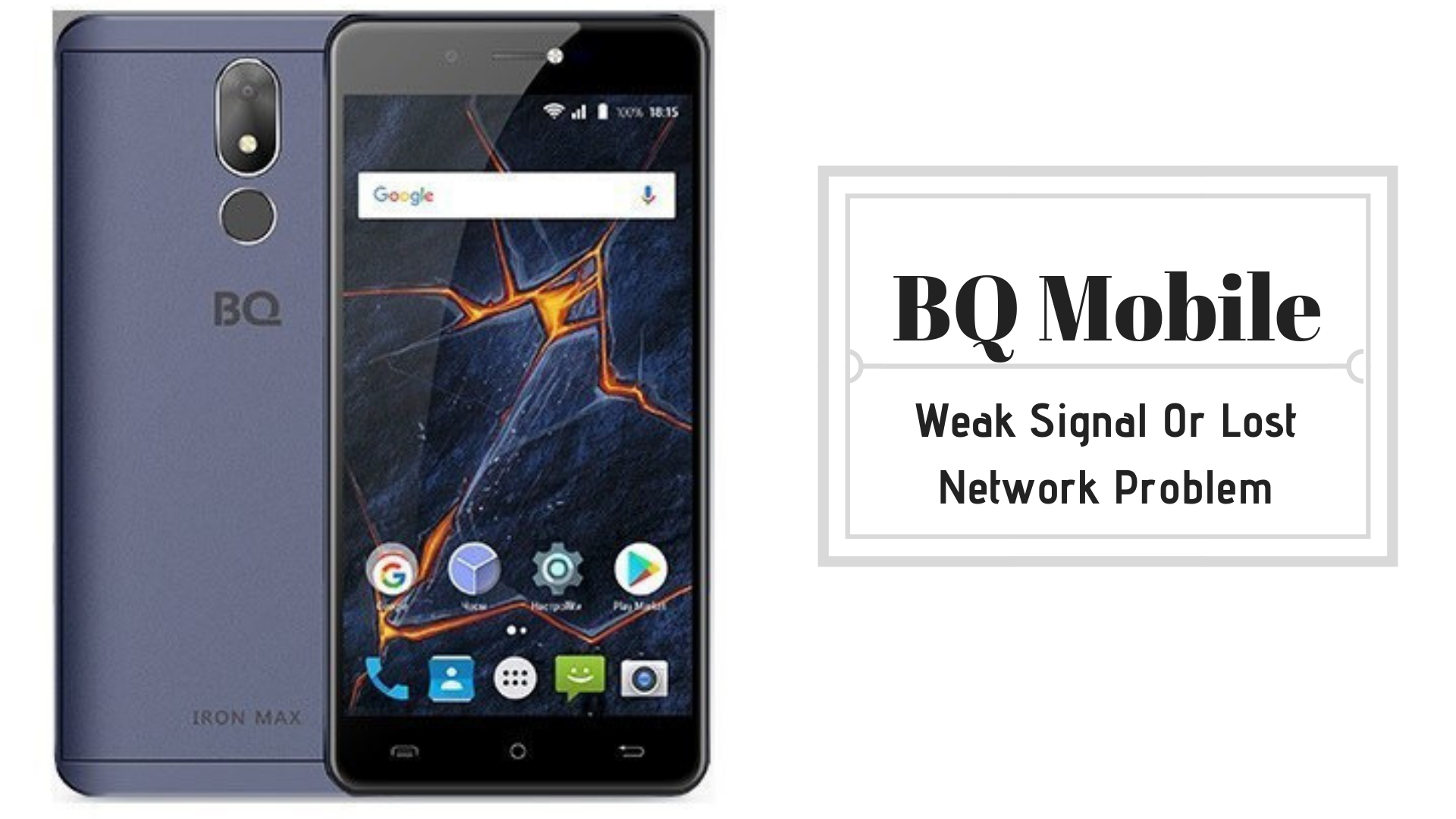 Guide To Fix BQ Mobile Weak Signal Or Lost Network Issue
Network outage
Verify the weak signal or lost network issue with a friend or someone using the same carrier as you. If you still have doubt about it, you can walk-in to a carrier (Google to know the address) or call their customer service helpline to analyze the root cause and find a solution from the carrier's end.
SIM card issues
A SIM card is a minimalist piece of plastic with a chip embedded on it. Constant wear and tear caused due to removing and inserting the card repeatedly can cause scratches on the chip rendering it difficult for the system to read it. This will create no signal issue a lot often than the weak signal which is why you need to check if the SIM card is damaged or dislodged. Remove the card, check and reinsert on a different phone to verify or ask for a SIM replacement.
Have you blocked the antenna?
Your phone is wirelessly connected to a nearby cell tower using radio signals that enables you can call, browse, message, and more without any issue. But what if the antenna mounted on your device is blocked? Well, although modern smartphones are made keeping user's profile about how they hold their phone in various situations so that the antenna is not blocked, it is possible that somehow the antenna is blocked. For this, I would recommend you to check the antenna location and avoid using the phone in the same.
Other hardware issues
Well, it is not just the SIM card but the SIM Card tray could be the cause of the issue. It might be damaged or dislodged as well or it might have haywire in any case whereby it isn't able to detect a SIM card, etc. Other possible hardware issues are water or liquid damage to the device causing damage to the SIM card tray or other related components, etc. A physical card could cause a lot of disturbance within the internal framework of the phone by disconnecting a soldered wire or connection or anything causing the components related to SIM card useless.
How to fix BQ Mobile weak signal or lost network issue?
Here are the possible solutions and workarounds that you would use to fix the BQ Mobile weak signal or lost network issue.
Restart the device
Reboot the device when any problem or issue strikes your phone, as simple as that. This is because rebooting the device shuts all apps and operations right away and releases all the resources consumed by actual apps and might be the bugs that are causing a resource crunch. Anyhow, this is one of the effective solutions to resolve possible network issues.
Turn on airplane mode
Another workaround but without the need to spend a few minutes rebooting the device is the airplane mode. Activating it will actually block off all cellular network but in turn, would allow the system to get rid of any temporary network-related glitch. Thus, when you turn off the airplane mode, there is a chance that the BQ Mobile weak signal or lost network is gone although it might be applicable to some if not all devices.
Clear cache memory from the device
Although cache memory isn't directly associated with the weak signal or lost network issue, it is still a major concern that can open a lot of opportunities for bugs and glitches, viruses, to penetrate the system. Ideally, you can install apps to clear cache memory from your device or you can do it manually by deleting app cache (Settings >> Apps >> Downloaded), storage cache (Settings >> Storage >> Cache Memory) and cache partition (recovery mode).
Update the apps
Software glitches are common across apps that are updated as often as they should. Thus, the important priority must be to update the apps when an update is available.
Upgrade to the latest OS version
Your phone has a firmware that enables interaction between hardware and software installed on your phone. But outdated firmware can introduce a string of errors due to the frequent hacking attempts and breaches that are spread on the internet exploiting user information or other resources. Thus, it is crucial to get the OS updated too.
Switch from 4G to 3G to 2G
When you are in your home network, you can use 2G or 3G or 4G depending upon what SIM and smartphone you use although it will be probably a 3G or 4G network that a majority of people use. So, back to the workaround here. If you are out of your home network or at a place where the network isn't that good in the higher bands like 4G, you can always retreat back to 3G or even 2G. Because the network penetration in the lower bands is higher and widely available. Thus, you can switch to a lower band to get the network on your device.
Toggle between network selection modes
Your phone operates in two network selection modes i.e. manual and automatic. As the name suggests, an automatic mode will allow the phone to automatically detect and register to a supported network. On the contrary, manual mode requires manual intervention to register to a network. This is where you can use this feature wherein you can switch between automatic mode when the network is widely available in cities while manual mode is helpful when in a village or town or traveling or any place where the network isn't right away accessible.
Install a network booster
This is a solution to the affected or damaged antenna or it can be utilized when the network in the vicinity is just too weak. Network or signal booster can be used to amplify the signal that will be broadcasted over a specific area allowing quality network without the hassle or clinging to the window to get a better signal strength but this method needs a small expenditure i.e. the network booster such as the LintraTek Triband that supports various bands.
Get help from the device manufacturer
For all other sorts of issues that cannot be fixed using the given troubleshooting guide, you need to report the BQ Mobile weak signal or lost network issue to an authorized service center to get the problem analyzed and fixed right away. It is possible that the replacement or repair of the issue that you are facing would be covered under the warranty or maybe not. But this will ensure that the warranty is intact and not void if repaired by an unauthorized technician.
Let us know which method helped you to solve the BQ Mobile weak signal or lost network issue. Also, mention if you have used any other methods to bypass the issue and that has worked so that we can make further amendments to the blog.