Not being able to use your mobile phone, even in your own home, because of a poor mobile phone signal can be frustrating. This calls for a weak signal or lost network issue. This can cause a lot of trouble since you can't make any calls or message someone unless you have a Wi-Fi network enabled which isn't the case when you are in the move or currently at an unknown neighborhood where you can't get hold of a Wi-Fi network. This problem is quite general and depends on the availability of the network, signal strength, device and SIM compatibility. Network Section in a mobile phone is the section that controls the incoming and outgoing phone calls.
A weak signal isn't always just a result of how far you are from the nearest mobile phone mast. Buildings, the landscape around you and even your handset itself can affect a mobile signal. So, don't let a bad mobile phone reception frustrate you. This article will give you a solution to fix a weak signal or lost network issue on your smartphone.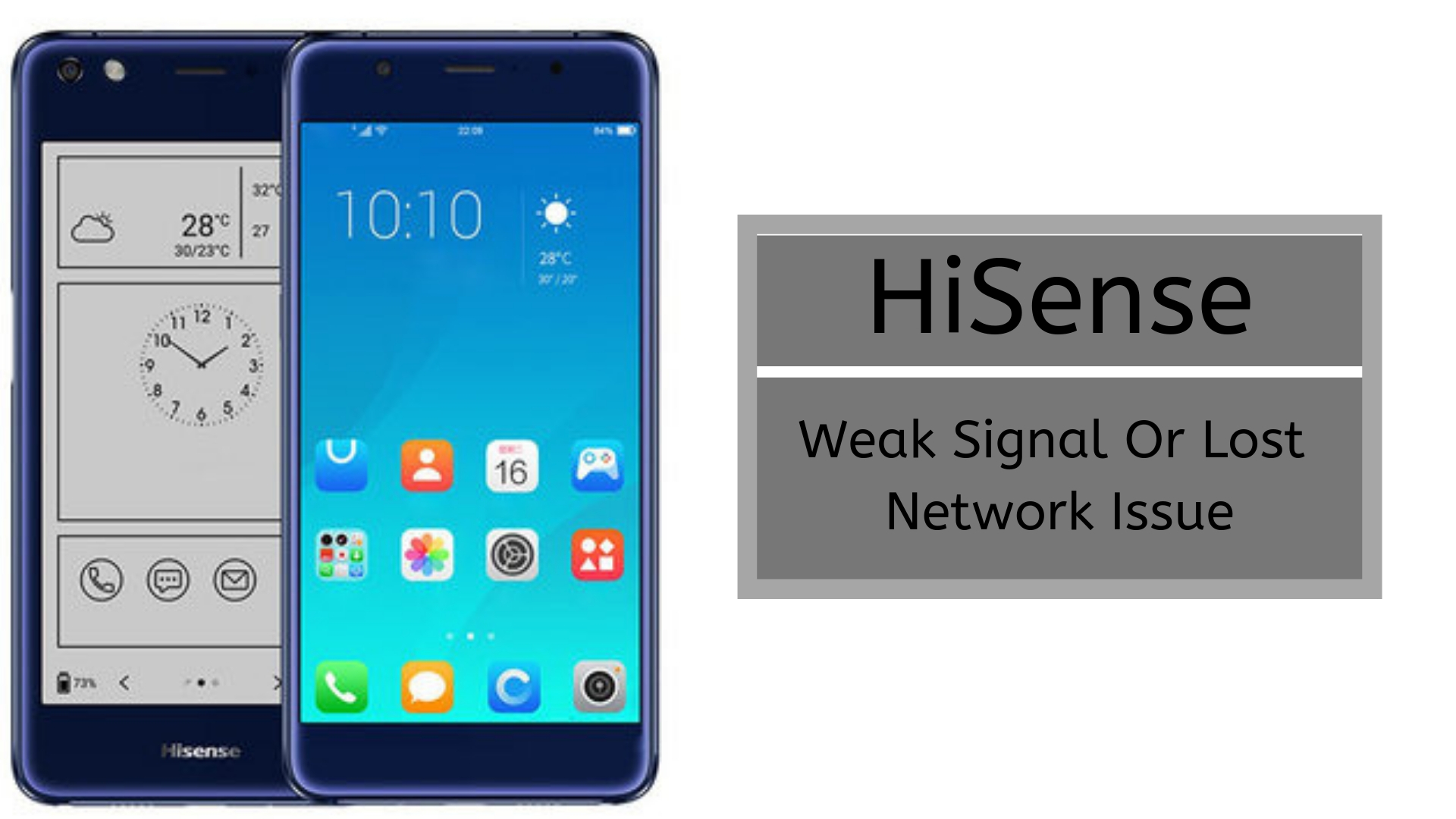 Guide To Fix HiSense Weak Signal Or Lost Network Issue
Method 1: Enter Airplane/Flight mode
Flight mode is kind of a mini switch for the network. It basically inhibits the phone's ability to stay connected to any incoming or outgoing cellular network. When again turned ON, the device will recognize the SIM networks and hence will show the network.
Method 2: Switch network provider
If you are experiencing a terrible network reception, it could be the carrier or service provider the cause of the issue. Some mobile providers offer better coverage than others, especially in rural areas where there are fewer phone masts. Instead of switching the carrier, you can also reconnect the SIM by Navigating to 'Settings >> SIM Management (SIM & network) > Click on the affected SIM >> Toggle it Off and wait for few seconds before turning it on.
Method 3: Swap SIM cards
Remove the SIM card and re-insert your SIM in other slot or swap between SIM slots for dual SIM devices. You can also insert the SIM in another device and check for signal availability.
Method 4: Check for damages in SIM card or the SIM card tray
The chances of these component damaging itself are fairly high as cards are easily susceptible to wear and tear. The same goes for the SIM tray which holds the SIM which could've damaged itself. A damaged SIM card can be replaced from the carrier. The tray, on the other hand, can be purchased from third-party centers or retailers or from authorized service centers.
Method 5: Turn off the phone
Rebooting the device can fix a lot of issues. If no other option left then just power OFF your device keep it OFF for a minute and Restart your device. This should fix the problem.
Method 6: Hold your phone correctly
For some, it may sound strange, but the way you hold your phone can interfere with the mobile signal, with Apple iPhones heavily criticized for this is the past such as the 'Antenna-gate' issue iPhone users found on their phones a few years ago. Avoid covering your phone's antenna when gripping the smartphone to ensure the signal isn't blocked. You can also use a hands-free headset to take calls.
Method 7: Check for other network inhibitors
Just like the case mentioned above, there can be various other things that can hinder with the reception. Electronic devices, such as laptops, iPads, and microwaves, can interfere with your mobile phone signal, so avoid these if you're struggling to make a call. A smartphone case or using a smartphone skin can also cover the antenna resulting in poor network reception. You must get rid of any phone case or any accessory blocking the antenna before you know, you'll continue to experience a terrible network reception if you continue as it is.
Method 8: Go outside
Making calls from deep inside, basements and underground garages are also tough as mobile signals are blocked by construction material, such as concrete and steel, as well as earth. Similar to how a phone case or your hand can cover the antenna resulting in poor network reception, a lot of things can hinder with the reception. They can be damaged antenna, the walls, windows, glass, etc.
Method 9: Update the OS
Check if there is any software update available for your smartphone. The update might fix bugs related to weak signal or lost network issue. Apps can have a dire result on the phone's performance. It can slow down the phone or apps can cause conflicts in the working of a particular app or service. Update the apps by navigating to Google Play Store >> My apps and games >> Update all.
Method 10: Switch bands and frequency
One method to fix a weak signal or lost network issue in smartphones is to toggle network bands. If you have a 4G-enabled phone, it supports 2G, 3G, 4G and if you have a 3G-enabled phone, it supports both 2G and 3G. Go to Settings >> SIM & network >> Preferred network type and dial-down the band from 4G to 3G to 2G that'll give you a decent network coverage although not as fast as 4G.
Method 11: Toggle between network selection modes
All the smartphones have two network selection modes i.e. either it can do the same automatically or manually. Now, when you set it at automatic, the phone will register to the preferred network when available automatically. On the other hand, when you set it on manual, you'll have to search, register to a preferred network. The former mode works in cities, towns, and villages with the abundant network while the later works when you are unable to find network coverage such as while traveling.
Method 12: Factory Reset
The last potential solution that you can try is factory reset. This will help to fix some issues that affected from malware and other threats. Navigate to 'Settings', select Backup and Reset option and click on Factory Data Reset. Before you wipe your phone, be sure to back important user data. There is a hard reset method that you can utilize in this case where firstly, you need to opt into the recovery mode using power plus volume down buttons. Once you log into the recovery mode, you need to select 'wipe data/factory reset' from the given menu and then, confirm by selecting 'yes — delete all user data' to conclude the method.
Method 13: Try a signal booster
If you find yourself often in basements or rural areas with weak or little mobile coverage, you can always purchase a network booster which is a bit of investment but you'll get returns in the form of quality network reception. Signal booster is a piece of hardware or software that uses your home wi-fi connection to strengthen your mobile phone's reception and ability to make calls. If you still encounter weak signal or lost network issues, approach the nearest service center of your smartphone and get assisted.
Method 14: Get help!
Finally, the last thing you can do with the HiSense weak signal or lost network issue is to walk-in to a nearby authorized service center or a third-party one based on your preference and get the phone analyzed for issues. The technicians will be able to detect the problem and prescribe resolution in terms of repair or replacment.