Without signal, a smartphone is left with the basic functions like to draft a note or take pictures or play offline games. As there is no signal or it is too weak, you cannot complete calls to anyone and let leave the messages and the web which need a quality network. But the question is, what could you possibly do if your phone is facing a weak signal or lost network issue and how to fix it. Note that first, you'll have to zero in as to if the hardware or the software is causing the problem or the final resort, reporting the issue to a service center and wait. Let's see what are the things that you can do from your end to fix it.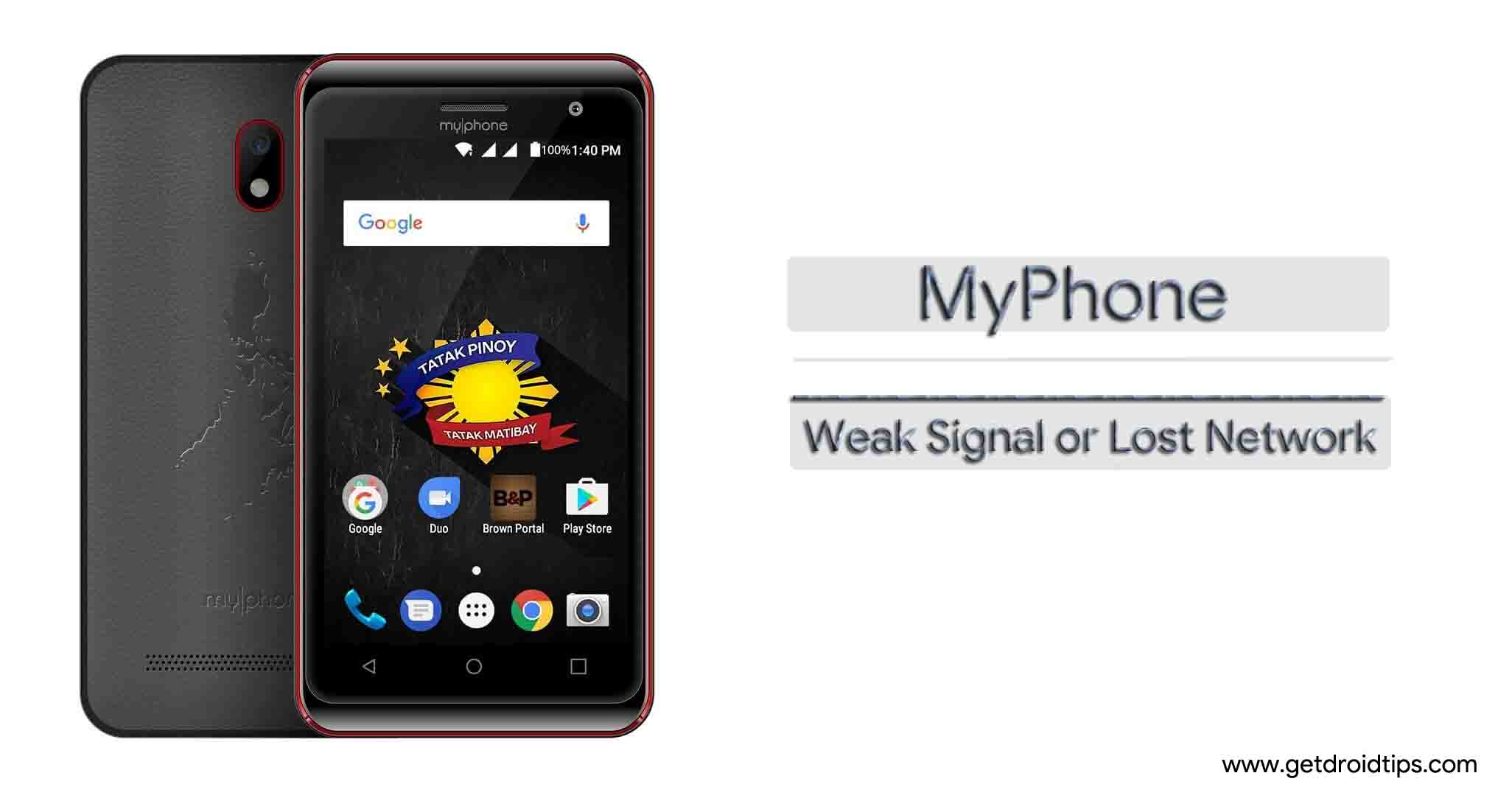 Reboot the phone
Smartphones have become powerful than ever but since they are an example of hardware and software components that work together, there are errors where some might be irreversible or permanent hardware errors and on the contrary, some are easy to fix software glitch although sometimes, the 'fixes' do fail. So, no matter how much the system is performing under pressure or with a resource crunch, rebooting the device comes handy as it literally closes all the apps and processes at once and relieves the system while also, fixing the minor software glitches that might have occurred.
Turn on Airplane mode
MyPhone weak signal or lost network issue is pretty rare thanks to the best-in-class components that support the network feature, it is an electronic device and tends to develop glitches and errors at times. The moment you realize that the network on your phone which is depicted by the network bar on the top of the screen, is acting weird, you need to turn on airplane mode and wait for few seconds. This must resolve any network-related issue including wifi problems.
Check if the power saving mode is enabled
Power saving mode restricts apps and processes to consume excess battery power and help elongate the battery life further. Although power saving mode doesn't affect the network capability of a smartphone, it could be possible that it is causing issues on your phone. Thus, check if the power saving mode is interfering with the network capability of the phone or not. You can verify the same by disabling it and then, check for the network bars to response.
Check if the SIM card is working properly
A lot can go wrong with the SIM card which is a physical component. Now, you need to check if you have inserted the SIM card properly or not. The second thing to look for if the SIM card has scratches and abrasions or not which is commonly caused when a user inserts and removes the card often although nano-SIM card trays won't see this issues mostly. You can verify if the SIM card has damaged due to abrasions by inserting it in another phone to check if it works or not. If not, report the issue to the gallery or service center of the carrier and they must replace it with a new one.
Inspect the SIM card slot
As said, most of the problem related to SIM cards do not affect those smartphones which have nano-SIM cards. In general, the SIM card slot takes the SIM and reads it using other components and software pieces that are intertwined to perform the functions which allow calling, browsing, messaging, etc using the SIM card. It is possible that the weak signal or lost network issue that you are facing is due to a partially or fully damaged SIM card slot or tray. For this, you'll have to either report to a manufacturer's service center or at carrier's.
Check for intermittent issues with the carrier
It is one of the most common, especially in developing countries. Even if you are living in developed countries, you can notice that the network isn't uniform while moving or when there are interferences like buildings, walls, etc. If there's no network at all or if the signal is simply too weak, have a look at someone's else phone using the same carrier and that must give you an idea if the problem is from your end or from carriers. Call the service provider and check if there are any intermittent issues because of which, the network is too shady on your device.
Set 'Preferred Networks'
4G isn't wide-spread yet. Similarly, 3G is wide-spread but not as penetrated as 2G. You can use this fact to your benefits. In case the 4G network isn't available, switch to 3G and if it is also not available, you can still downgrade to 2G that would allow you to call and message someone but the internet will be extremely slow but it will surely give you a broader spectrum of network coverage.
Adjust the 'Network Selection' Mode
When you are still and at the home or office, the phone is automatically on 'Automatically' network selection mode but when you move, the phone will not change the settings by its own. This causes issues since when you are moving between cities or out of the home network, the phone loses connection to the network and has to find another cell tower to connect to. In this case, setting the network selection mode to 'manually' is ideal since you can search for available networks and register on it all by yourself.
Check for app crash and conflicts
It happens a lot that an existing app is causing the system to crash which either could be a preinstalled or downloaded one. You can diagnose which section of apps is causing the issue by booting into the safe mode where either the problem could be because of pre-installed apps or due to downloaded apps.
Update the apps
Apps are susceptible to bugs and must be updated whenever the updates are available. You can check out if there are any updates available either by checking the notifications that come or you can proceed to the Google Play Store >> My apps and games >> Installed and check for apps with 'Updates'.
Upgrade the firmware
The firmware is the backbone of hardware and software components on a smartphone and therefore, has to work a lot to get things done. Remember that the firmware needs to be updated since it is a piece of software, susceptible to bugs and issues, and thus when you update the firmware, it strengthens the system architecture and shields against any incoming or upcoming bugs while fixing those that were already discovered and yes, it introduces new features. But there is a problem. Android OS updates aren't frequent and in fact, many of the devices wait for years to receive an update but they don't receive it. If you are one of 'em, you can install a custom ROM to get rid of the issues.
Wipeout cache files
It's obvious that corrupted cache files are the result of one or the other issues and that's the reason why experts advise users to remove cache files from their system to prevent issues and here's how you can do about.
Method #1: Tap on Settings and go to Storage and proceed to Cache Memory.
Method #2: Select Settings tool and select Apps and navigate yourself to the Downloaded. You need to tap on an app and press on the two buttons i.e. 'Clear Data' and 'Clear Cache' to get rid of it.
Method #3: Proceed to the recovery mode and tap on 'wipe cache partition >> yes' and that's all.
Method #4: This is an easy alternative where you can download apps like CCleaner to get rid of cache files in total and mostly, it is a one-tap process.
Reset the device
Tell me which problem couldn't be solved with 'hard reset' or say, 'factory reset' because it is actually driving the smartphone to its original factory settings and ensures that majority of issues are resolved right there. Before commencing, you need to take a backup of the data that you want to save since performing a factory reset would delete all the data.
Commence by turning off the phone.
Now, you need to tap on power button plus volume up buttons simultaneously and hold it for some time.
Notice that the screen lights up and shows an Android logo on the screen which is when you need to release the keys and let the phone boot into the recovery mode.
The touch screen feature doesn't work in the recovery mode and therefore, you need to press volume up/down buttons to toggle around the menu items and press power button to select an option.
You need to select 'wipe data/factory reset >> yes — delete all user data' that must commence the hard reset procedure by itself.
Get help from the manufacturer
Still stuck with the same MyPhone weak signal or lost network issue? You can get help from the manufacturer by reporting the issue to an authorized service center where the warranty of your device will stay intact and might cover the cost of fixing the problem. On the flip side, third-party service centers are cheaper and there is always a risk of voiding the warranty period and thus, it must be avoided.