The power button and volume rocker are the only mechanical buttons that you will see on a smartphone. But the power button is of paramount importance because it has a lot of functions right from booting, rebooting, screen turn on and off, lock, booting into other partitions and sectors, etc. Thus, it would be difficult in case if you are experiencing a power button not working problem. A lot of Panasonic users have asked us to provide a guide to fix it and seems like this problem is not just limited to Panasonic because you can check out guides for OnePlus, Realme, Oppo, and other brands on GetDroidTips too. Anywho, let's dive into this explicit guide and check how you can fix a broken button.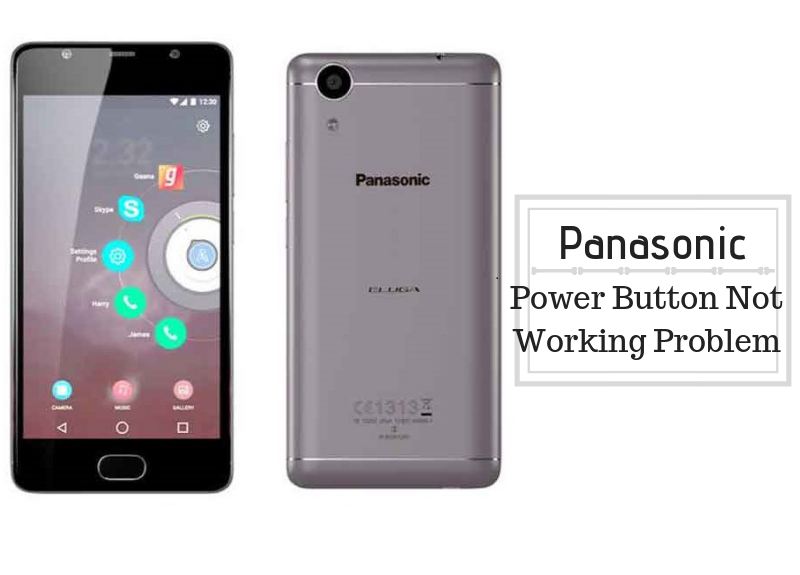 Guide To Fix Panasonic Power Button Not Working Problem
Reboot the device
Just by reading this method, you'll think of me as someone insane but hear me out. Since you are a power button not working problem on your device, you cannot actually reboot the system since it requires pressing the power button to initiate the procedure. But since the problem can be either hardware or software, you'll need to reboot the phone to know what's on the other side. If it's a minor software glitch, it will resolve right away or after taking one or a few other methods stated below. If its hardware related, you'll need something permanent to fix it up.
Purge all cache files
A lot of issues are due to the corrupted cache which is the reason why every guide on GDT or any other website that you'll find on smartphones will feature it. You need to clear the cache files either automatically by downloading apps like CCleaner, Power Cleanup, Avast Cleanup, etc. Or you can go the manual way by following the said procedure 'Settings → Storage → Cache Files → Delete'. Then, you need to purge app cache where you'll find the said options via 'Settings → Apps → Downloaded → Click on apps individually → Clear Data & Clear Cache'. Since the power button is not working, you cannot go through clearing cache partition, however, it would be enough if you had followed the two methods. Verify the issue or proceed with other methods.
How to use the phone with broken power key but unlocked?
When you say that you are facing a power button not working problem, there are many probabilities such as the phone is turned on and unlock, turned on but locked, or turned off. With each progressing probability, the chances of doing something to squeeze the phone out of the problem becomes bleak. Let's tackle what you can do to use a phone when it is unlocked.
Enable USB Debugging
As a precautionary measure, you need to enable USB debugging mode because there are chances that you might out of battery or you need to reboot the phone at some point. This is where this particular method will allow you to operate the phone using your PC although a PC suit or some kind of software will be required. You need to enable it by navigating to the Settings → About Device → Build Number (tap several times to enable developer mode) → Back up a bit and tap on Developer Mode → Toggle USB Debugging.
Extent stay awake feature
Now that your phone has no working power button, you need to extend or use methods to turn on the screen when needed. The Stay Awake or Stay Alive feature accessible from within 'Settings → Display' allows the user to extend the duration the screen will stay awake from the last stimuli. The max duration is half an hour where you need to project stimuli like touch on the touchscreen or press volume rocker once to extend the period 30 minutes. Although this is a recurring task, it is worth if you want to keep the phone functioning but without a power button.
Turn on Screen Always-on
If you have a feature called Screen Always-On or Always-On Screen, etc, you can use to your favor. Now that the phone will lock itself but won't turn off the screen entirely wherein either the screen will show time at all time or it will show timing when a movement is detected, you'll be able to double tap and light up the screen and use the phone right away.
Enable Double-Tap
Since your phone's screen is active but the power button is not working, you need to enable double-tap lock/unlock feature or download a third-party app to instill the feature. This will allow you to use the phone even when it is locked since you need to double tap and the phone will unlock or provide the password or PIN screen.
As aforementioned, the situation is dire when the phone is locked and the screen is turned off. But yes, even if you are facing this situation, we have a few ways you can get out of it although temporarily if the problem is not permanently fixed.
Set up a call or message
Ask a friend to call or message you or if you have a spare phone, do it yourself. Your primary phone will receive the call, the screen with light up and you disconnect the call. You are now free to use the phone since the screen is lit and you can easily unlock the phone and all that without any power button.
Set up alarms
Alarms are common but they can be used to do a lot more things that it is intended to do. You can harness the feature to use doubling as a potential power button. You can set up the alarms at different times and wait for it to go off and use the phone without any further ado.
Enable Scheduled ON/OFF
I always use this feature during the night when I don't expect calls or messages and want to save the battery power. I usually set up scheduled ON early morning when the phone will turn on automatically. This will help reboot the phone when needed but you'll need to couple with another method if your phone is locked at the moment.
Using power to turn on the phone
You know that when you connect the phone to a charger connected to a power source, the phone's screen lights up right away. You can harness it to use during the hay days of your power button not working problem. There are various ways you can do it though so follow each one specified below.
Plug into a power source
You have the charger, you are at home or office or anywhere you can find a power source, simply connect the phone to the charging adapter and the power source and bingo, the screen is turned on.
Plug into a computer
This is a rather portable option since you might be having your laptop frequently with you but not always. Simply connect the one end of the USB cable to the laptop, another end to the phone and voila, the screen is lit yet again.
Plug into a power bank
Now, this is what I can a portable and handy method. As you need to turn up the screen and use the phone but with the underlying issue of a broken power button, you can use the power bank to turn up the screen and then, you won't ever feel that the battery is draining too quickly or the phone is not functional without a power button. But yes, this isn't a permanent solution to the problem to move towards a permanent solution.
Google Play Store is all-powerful when it comes to availability of apps for any and every situation or condition you ask for. Since we are tackling the power button not working problem, here are few apps that'll help you swap the problem for good.
Power Button to Volume Button
As the name suggests, this app which is available free on Play Store is actually handy as it will change the functionality of a power button and hand it over to the volume button where you can lock and unlock the phone using it or through the option available under the notification tray. Download it here!
Gravity Screen
The app works with gravity sensors where it takes inputs from the user and executes actions according to the phone's orientation. If you have set the orientation to unlock the phone at 180°, the phone will actually unlock at the said orientation. Download it here!
Proximity Actions
Another example of using sensors is this app that works closely with proximity sensors. This will enable the user to set up hand gestures and waves to open any apps or processes or lock/unlock the device and others that you can configure. All and all, you can use any of the three apps to temporarily fix the power button not working problem but you'll eventually have to move towards a permanent solution to it. Download it here!
The permanent solution
You probably know where I am going with it. The permanent solution to a Panasonic power button not working problem is to visit a Panasonic authorized service center to report and get the button repaired or replaced. Yes, this will cost you a few bucks but it is at the end, crucial to keeping a phone worth hundreds (dollars) or thousands (rupees) stay in working condition.