'No Signal', 'No network' or whatever you may call it, cellular network issues are prominent in smartphones thanks to the ever-changing infrastructure and what not. Weak signal or lost network issue is one of the few problems on Panasonic smartphones that people have reported about on GDT and forums like Reddit, Quora, etc. We decided to tackle a few of the issues on Panasonic smartphones such as screen freezing, wifi and GPS problems, etc and the cellular network issue that we aforementioned is one of 'em.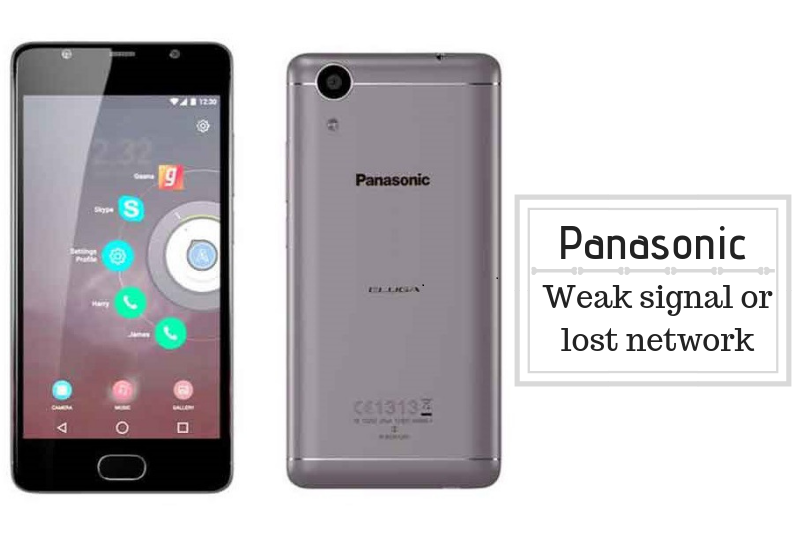 Guide To Fix Panasonic Weak Signal Or Lost Network Issue
Are you holding the phone right?
That's a question you need to ask and verify beforehand. Ever heard of Apple AntennaGate? It was an issue that iPhone 6 suffered due to the position of the antenna wherein holding the phone is a particular position would block off the antenna and deplete the signal. Although antennas in smartphones nowadays are placed at a convenient location, a phone case that covered the periphery of the phone could block off the antenna from receiving radio signals from cell towers. So, check if this is the case.
Verify for any potential intermediate issues
It is possible that the weak signal or lost network issue you are discussing is actually due to an intermediate issue. Because we are in this ever-evolving phase of technology, upgrades, maintenance is ongoing processes that'll keep on loop for years to come and that cause disruption in the connectivity. For zero in if this is the cause, check with the carrier or use a different phone to call and inquire about the lack of connectivity. Later, you can choose to stay or port out to a different carrier depending upon the country you live in and the services offered by the carrier you are utilizing.
Reboot the phone
This is the supreme and numero uno when it comes to any network or software-related problem. Because rebooting the device shuts down all processes and apps both in fore and background and wipes out any and every bit of temporary and cache files, this is considered as one of the effective methods to solve a slew of problem. You can reboot the phone to check if it works with this problem too.
Toggle airplane mode
How a feature that connects any incoming and outgoing cellular network will help in this case, you may ask? Well, toggling airplane mode will disconnect the phone from any cellular network temporarily. This is often an effective method as the system tends to get rid of any temporary glitch or issue that might have kicked in with the phone's networking capability. There can be a number of definition about how airplane mode would help you but to cut it short, turn it on and wait for few seconds before turning it off.
Check for any interference?
You can't expect a uniform network while moving somewhere or the place where a lot of construction is going on because in both cases, it is either difficult for the phone to intercept radio signals from the cell towers or the booming infrastructure is causing hurdle for radio signals to penetrate through and introducing poor or no signal issue on your device but there can be a number of issues contributing to it. Thus, check for any interference in the place where you get the most signal woes. But there's little we can do to avoid all interference at once but you can always use a network booster.
Purchase a signal/network booster
Although it might not work while moving because it is not portable but you can always install it at your home or office to get an amplified signal. This will eradicate poor signal since this instrument will actually amplify the signal and provide a quality network so that you can make calls, send messages, and browse the web, etc.
Switch between network selection mode
There are a number of features you can toggle on a smartphone to get the phone connected to a cellular network. One of the features is the network selection mode wherein you can switch between two modes i.e manual and automatic. To simplify it, you'll have to search and register for an available network on manual mode while automatic mode works just it sounds, automatically. The best thing about the manual mode is it is much more responsive while you are in roaming. You can switch to manual mode by diving into the Settings >> SIM >> Network Selection Mode >> Toggle to Manual.
Hover between frequency bands
You know about 2G, 3G, 4G and depending upon the model and its capability, you can connect to the maximum supported frequency. Let's assume it is 4G which is almost every smartphone now. Since you can bump up to 4G if you feel as if the network is poor, you can retreat to 3G which is far more common and available widely. Still can't get a steady network? Dial it down to 2G and you'll experience a much wide-range network coverage. Note that the internet browsing speeds will be severely affected but hey, you can still make calls and send messages and receive 'em.
Clear all types of cache files
These are temporarily created and stored files by the courtesy of the system. Although cache files speed up retrieval time by minimizing overheads, it is susceptible to get corrupt and that's when errors and bugs cause the system to slow down or even crash at some instance. Apparently, it is ideal to get rid of all cache files at least once a week to stay clear of any potential performance issues.
Method 01: Navigate to the Settings app on your phone and tap on Storage. You'll see 'Cache Memory' and that's what you need to delete right away.
Method 02: Proceed to the Settings app on your device and click on 'Apps >> Downloaded'. Now, you need to tap on all the apps individually and press 'Clear Data' and 'Clear Cache' for each one of 'em to finish the process.
Method 03: This particular method requires you to boot into the recovery mode for which, you'll find the guide under the title 'Restore the phone to its factory settings'. Remember that you need to select 'wipe cache partition' once you are in the recovery mode.
Restore the phone to its factory settings
The numero uno method when it comes to solving any kind of software issues. If there's anything from the software's end causing weak signal or lost network issue on your Panasonic smartphone, this must resolve the issue once and for all. Here is a guide that you need to follow to workaround.
Step 01: Power off the phone.
Step 02: Press power + volume up + down buttons together for 10 to 15 seconds.
Step 03: Release the buttons when you see an Android logo or when the phone vibrates.
Step 04: Use the volume rocker to move around in recovery mode and a power button that helps to select an item from the menu.
Step 05: Spot 'clear data/factory reset' and select the same.
Step 06: On the next window, confirm the action made on 'Step 05' by selecting 'yes — delete all user data'.
Step 07: Reboot the device and set it up once the restore factory is done.
Seek help from professionals
Still figuring out how you can find a workaround or fix the issue completely? The answer is, it could be more than what you think. A totally different piece of software or hardware might be causing the problem and since you are targeting a few 'network-related' features and components here, you would never know. This is why GDT recommends reporting to an authorized service center because your warranty would nullify if you get the phone fixed from a third-party.