In the era of smartphones, where physical buttons are becoming less prevalent, the power button remains one of the most crucial. Unfortunately, power button issues are not uncommon, and users may find their phones partially or completely unresponsive when attempting to use it. There are many potential causes for power button malfunctions, but GetDroidTips offers a simple guide to troubleshooting and fixing the issue. We will explore the common reasons why power button issues occur, provide alternative solutions, and ultimately offer a permanent fix to the problem.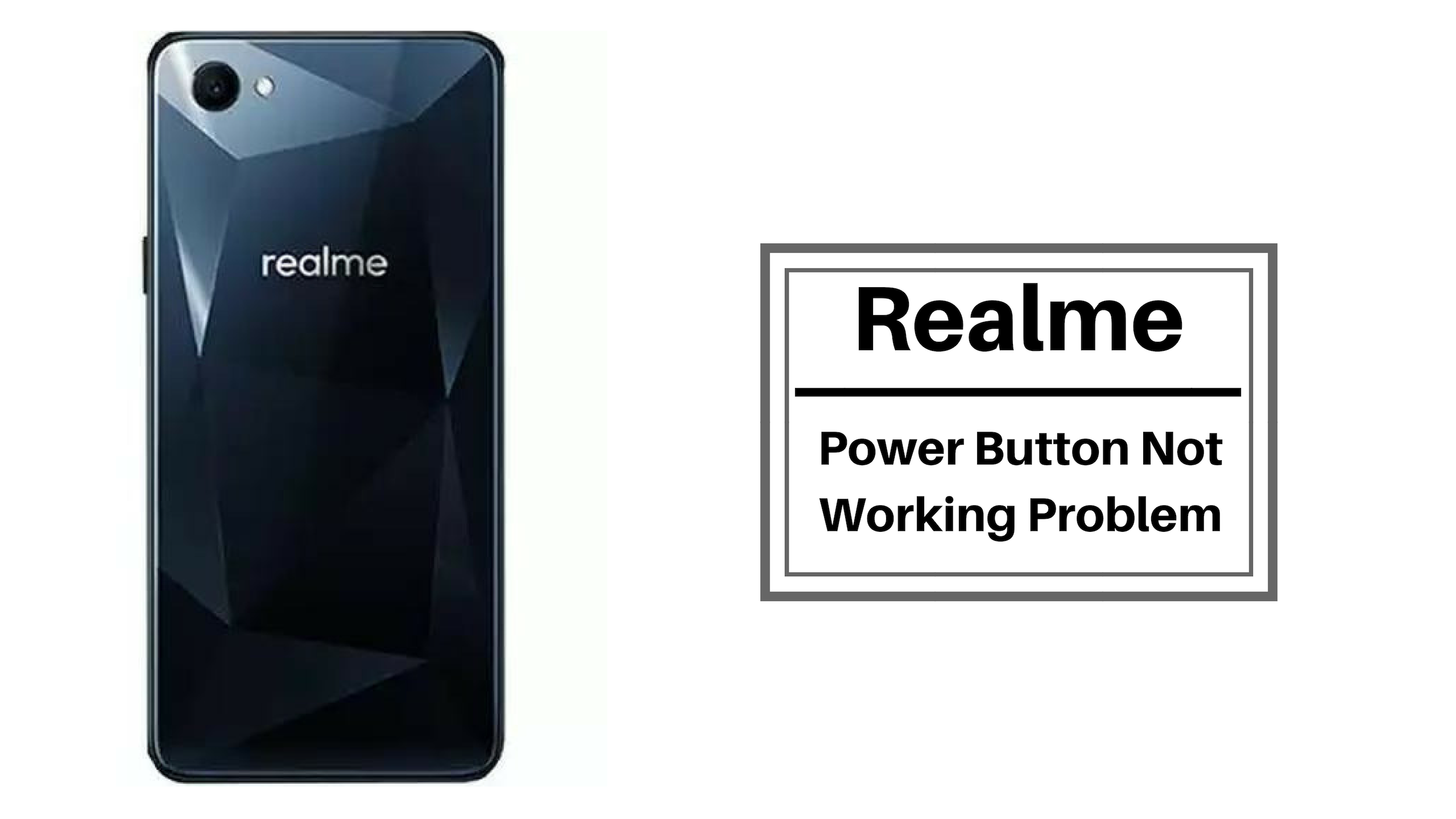 Reason Why Power Button Not Working
There can be several reasons why a power button on a smartphone may not be working, including physical damage or wear and tear to the button, software glitches, outdated software or firmware, liquid damage, and even battery issues. In some cases, the issue may also be related to a faulty motherboard or other hardware problems. It is important to identify the root cause of the problem in order to effectively troubleshoot and resolve the issue.
How to fix Realme Power Button Not Working Problem?
Let's see how we can eradicate the problem by targeting the common deterrents that cause such a problem.
Reboot the system
Why? You may ask. The answer is rather simple. When you tap on the power button, it goes through a number of processes to get the task done within microseconds. Now, it is possible that when you pressed the button, a bug or a temporary glitch occurred causing the power button not to respond. Thus, rebooting the system has a number of benefits.
Airplane Mode
This might sound strange but people have found out that airplane mode works similar to reboots in some cases and that's why you'll find this included in the how-to-fix guides on almost every topic.
Update all the applications & the firmware
Updating the apps both pre-installed and downloaded is imperative because it keeps the system away from any bugs that might infect the system. The same goes for the firmware which is at the end, an ultimate piece of software program that enables interaction between hardware and software components and thus, it is crucial to keep updated as well. But here, updating the apps is a piece of cake because it literally takes just a few steps to do it i.e. Menu >> Google Play Store >> My apps and games and then click on apps that have received updates.
Updating the firmware is on the hand a little complicated since you won't get an update always. You need to navigate to Settings > About Device > Software Updates > Check for Updates. If you aren't getting any updates anymore, try searching for custom ROMs from the web that suits you well and install the same.
Clear out any cache files
To put things into context, cache files are temporary files generated and stored by the system to ease the startup of apps and services by reducing the processing time it takes to open an app. Cache files are good but it gets corrupted easily and accumulation of cache files can render it slow and therefore, must get rid of it. There are several ways to clear cache files which are prescribed below and hopefully, these methods would help get rid of the power button not working problem.
Method 01:
Apps like CCleaner, Cache Cleaner from DU Apps, Super Cleaner from Hawk App can help get rid of cache files on a tap. Simply install these apps and run the process and delete the cache files which is an aggregate of all app cache, storage cache and it is lightning fast.
Method 02:
This particular method has to be done manually and I would recommend doing it at least twice a week. You need to clear app cache which is accumulated over time and lowers the performance of the device considerably and thus, clearing it doesn't harm the system but instead, allows it to speed up eventually.
You need to proceed to the Settings tool on your device and direct to Apps >> Downloaded. Here, you'll see a list of all the downloaded apps that you can clear but refrain from those apps for which you don't remember the credentials. You need to tap on apps individually and press 'Clear Cache' and 'Clear Data'.
Method 03:
To clear storage cache, proceed to 'Settings >> Storage >> Cache Storage' and clear the same.
Assuming that the power button has gone haywire, what could you possibly do to bypass it without using any app as an alternative or without fixing the broken button as well although these methods aren't reliable always.
Keep the screen alive for longer
Whenever you notice the power button not working problem on your phone, the phone is either turn on or turned off. Considering the phone is turned on and the screen is alive as well, you can proceed to the Settings tool on your phone and tap on Display where you must get an option to tweak 'Screen Alive' or 'keep display alive' where you need to select the highest available value (ideally 30 minutes). This will keep the phone's screen alive for half an hour without any external stimuli, however, if you fail to provide the stimuli within the stipulated duration, the screen will turn off and so are the hopes to use a phone with the broken power button if you haven't made any other arrangements.
Set alarms
We all have alarms set to wake us up in the morning or as a reminder to do an important task. Well, you can leverage this feature towards providing a stimulus that would eventually wake up the screen when the alarm goes off. If the screen is off but an alarm is set and ready to go off, this would give you an ease with the power button not working problem. But if the screen is on, you can set several alarms that will go off when needed so that you don't have to keep the screen on by tapping it again and again. But again, if you haven't set an alarm and the screen is off, you'll have to employ any of the three methods prescribed below to work in conjunction.
Ask a friend to missed call or message
If you forgot to set an alarm before noticing the broken power button because who would plan it in advance. You can actually ask a friend or use an alternative smartphone to call yourself. This would turn on the screen assuming that the phone is turned on. But again, there are a number of alternatives you can employ to get things done when you notice power button not working problem of which, some are listed below. Yes, you can ask a friend to call you or message or use another phone to ring so that the screen could turn on and you can use the phone at will.
Plug the phone into a charger or power bank
If you don't have another phone or a friend, you can actually use a power bank or a charger that you can plug in. This will light up the screen and voila! You can now use the phone at your will. Note that you need a power bank if you want to make this whole process portable or else a charger would satisfy the requirement.
Plug the phone into a computer
This is a rather restrictive method where you need a USB cable and a computer to connect it to. Upon connecting the phone, the screen will light up and show options where you use charging only mode or data transfer but since you only wanted to turn up the screen, you have it now and you can disconnect the phone from the computer if required.
Use apps as an alternative
If you are fed up of trying to keep the phone afloat by not letting it turn off the screen, there are certain alternatives that would provide an easy to use alternative although depending upon which method you take and there are few apps that you can use.
Gravity Screen
The app detects the phone's orientation and produces output accordingly. You can tweak the various parameters within the app to provide different outputs when required.
Proximity Actions
It uses the proximity sensors installed on your phone to detect if the user is present or not. There are plenty of parameters such as various waves and holds that the user can set up according to which, the user can respond. You can set a 1000ms hold to turn on the screen and it will do the same.
As the title suggests, this particular app shifts the function to turn on and turn off the screen from the power button to the volume button. This is the basic lightweight app that you can use with a minimal functionality. You can get it from the Google Play Store.
Seek help!
That's the last thing you would do if you are unable to resolve the power button not working problem. Reporting the issue to an authorized service center or partnered service center will fix the problem upon payment of certain charges which will be levied if the button is not covered under warranty.
This guide is supported to all device models mentioned here
Device Model Name
Realme GT Explorer Master
Realme GT Master
Realme C21Y
Realme C11 (2021)
Realme C25s
Realme X7 Max 5G
Realme Narzo 30 5G
Realme Q3 Pro Carnival
Realme Q3 Pro 5G
Realme Q3 5G
Realme Q3i 5G
Realme GT Neo Flash
Realme GT Neo
Realme V13 5G
Realme 8
Realme 8 Pro
Realme 8 5G
Realme C20A
Realme C25
Realme 1
Realme 2
Realme C1
Realme C2
Realme C2 2020
Realme X
Realme 2 Pro
Realme 3
Realme 3 Pro
Realme U1
Realme C1 2019
Realme C2s
Realme C3
Realme X2 Pro
Realme X50 Pro 5G
Realme X50 5G
Realme X2
Realme XT
Realme XT 730G
Realme Q
Realme 5 Pro
Realme 5
Realme 5s
Realme 5i
Realme 3i
Realme X
Realme C11
Realme C15
Realme 6i
Realme 6S
Realme X3
Realme C3i
Realme Narzo
Realme Narzo 10A
Realme Narzo 10
Realme X3 Superzoom
Realme X50 Pro Player
Realme X50m 5G
Realme 6
Realme 6 Pro
Realme 7 Pro
Realme 7
Realme X7 Pro Ultra
Realme X7 Pro
Realme X7
Realme V3
Realme C12
Realme V5 5G
Realme Narzo 20
Realme Narzo 20A
Realme Narzo 20 Pro
Realme Q2i
Realme Q2
Realme Q2 Pro
Realme 7 5G
Realme C15
Realme 7 5G
Realme 7i
Realme V15 5G
Realme C20
Realme C20
Realme V11 5G
Realme Narzo 30A
Realme Narzo 30 Pro 5G
Realme GT 5G
Realme C21
Realme C35
Realme 9i
Realme GT2 Pro
Realme GT2
Realme Q3t
Realme GT Neo 2T
Realme Q3s
Realme Narzo 50A
Realme Narzo 50i
Realme V11s 5G
Realme GT Neo 2
Realme C25Y
Realme 8s 5G
Realme 8i
Realme Pad
Realme Q5 Pro
Realme Q5
Realme Q5i
Realme 9
Realme Pad Mini
Realme C31
Realme GT Neo3
Realme Narzo 50A Prime
Realme 9 5G
Realme 9 5G Speed (Speed Edition)
Realme V25
Realme Narzo 50
Realme 9 Pro+
Realme 9 Pro
Realme Narzo 50 Pro
Realme Narzo 50 5G
Realme V23
Realme V23i
Realme Pad X
Realme GT Neo 3T
Realme C30
Realme Narzo 50i Prime
Realme GT2 Explorer Master
Realme 9i 5G
Realme C33
Realme C30s
Realme 10
Realme 10 5G
Realme 10 Pro
Realme 10 Pro+
Realme V20
Realme 10s
Realme V30
Realme GT Neo 5
Realme GT Neo 5 240W
Realme Watch 3 Pro
Realme TechLife Watch R100
Realme Watch 3
Realme Watch T1