You all know that a power button is numero uno as it performs a variety of functions. This causes a lot of problems if the power button is not working on your device right. It is basically known as power button not working problem and you'll see millions of complaints and queries on forums like Reddit, Quora, etc where users across different smartphones have posted about the issue and Tecno is no exception. Tecno users have their own share of problems when it comes to their smartphones and since there could be a lot of things that could have gone wrong, we at GetDroidTips have prepared a series of blogs on Tecno problems that would allow users to check out if their problem is listed on the website and retrieve possible ways to fix it.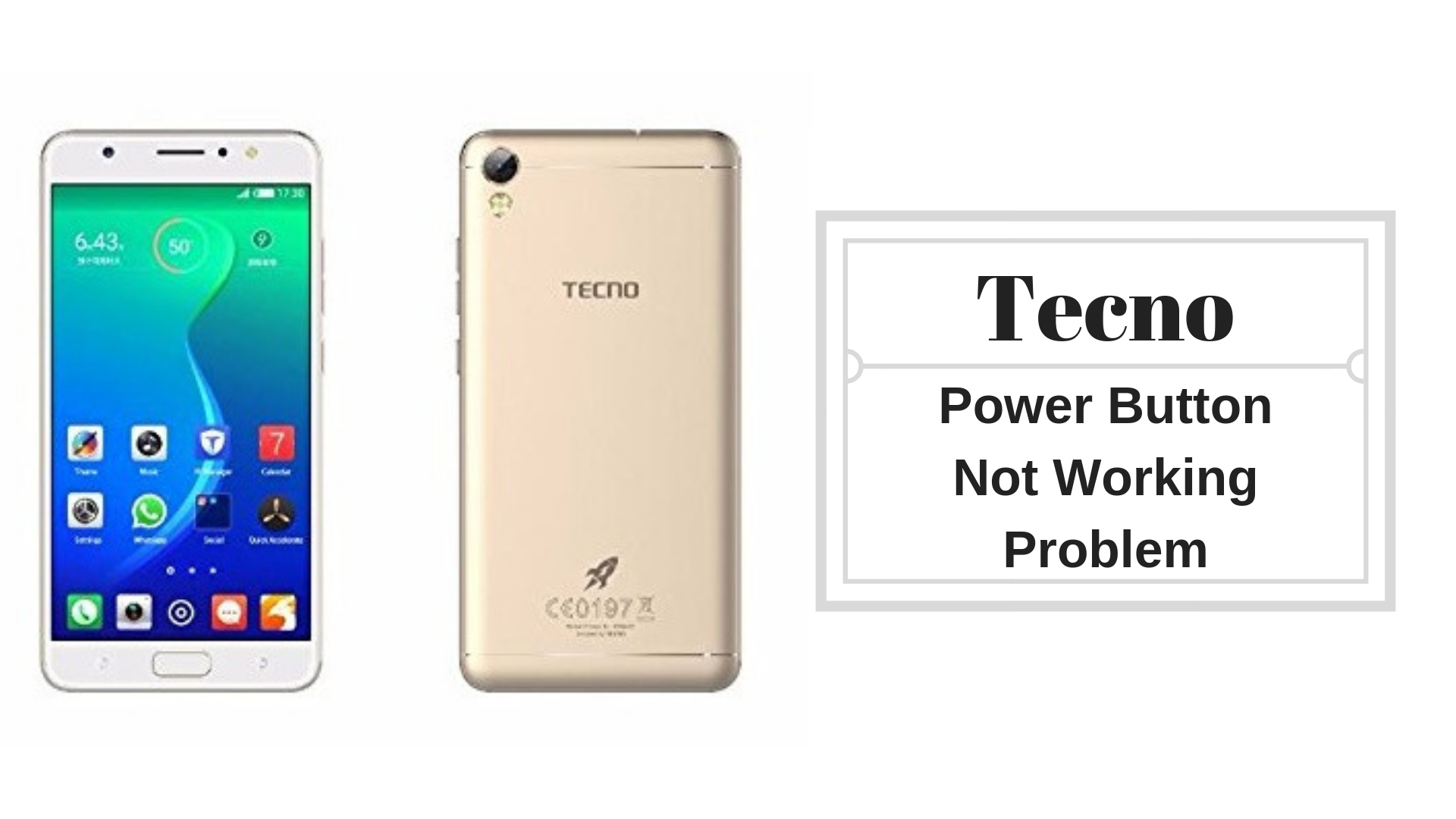 How to fix Tecno Power Button Not Working Problem?
Firstly, it could be a hardware or software issue which means there are several methods that you'll need to deploy to narrow down the culprit and fix the accuse. Let's see what are the methods involved in the "software section".
Clear Cache files
Cache files are among the greatest reason why a smartphone encounters software-related issues such as the power button not working problem. This is why we usually recommend clearing cache files at least once a day or on alternate days to stay clear of any performance and other issues. You can clear the cache files using the said methods.
Method 01: Clearing app cache
Tap on the Settings app.
Scroll and tap on Apps and slide to Downloaded section.
Tap on apps individually and press the buttons 'Clear Data' and 'Clear Cache'.
Do the same with other downloaded apps.
Method 02: Clearing storage cache
Tap on Settings and navigate to Storage.
Scroll down to find 'Cache Memory' and tap on it to get a prompt asking you to delete it. Confirm and it's done.
Uninstall unwanted apps
Another way too big irritant on a smartphone is the apps. Since there are millions of apps available on Play Store, there's everything for anything you want. This creates a situation piling off unwanted apps that you would barely use or even not in life but they still take a sizable space on your phone while consuming other resources as well. You can navigate to 'Settings >> Apps >> Downloaded' to find those apps that you downloaded and aren't required now. You need to clear apps that usually crash or cause other apps to crash which is known as app conflicts. Further, go to 'Settings >> Apps >> All' to find all bloatware and disable when not required.
Update all the apps
Outdated apps or the firmware that you are using could potentially cause the power button to cease. To take a preventive measure and to narrow down the culprit, go to the Play Store and navigate to 'My apps and games' section to find out if any apps require any updates and if yes, do it.
Now that you know that your power button is broken, what needs to be done. Well, here are several tips that you can deploy on your Tecno smartphone trying to use a phone with a broken power button without a permanent resolution. Note that there are various situations such as the phone's screen is on, the screen is off and the phone is locked and the phone is turned off where there's very little we can do to fix the last one without a permanent solution. Meanwhile, check for the rest two.
How to use a phone with a broken power key when the screen is on?
Extend stay alive duration
Have you seen this feature under 'Settings >> Display' on your phone. You can set the duration to a maximum of 30 mins which is by default the maximum. Note that you need to provide a touch or stimuli to extend the duration before 30 mins end since the screen will turn off after the said duration. I would recommend coupling it with other methods listed here.
Keep Screen/Display Always-On
All flagship and a few midrange smartphones have this feature that allows the display to stay active always showing just time and date which is pretty much minimalist. You can double tap to turn up the screen and unlock the phone.
Set alarms when needed
This is an effective method if you don't want to drain the battery keeping the screen alive for a longer duration but yes, there is a little control on when the phone's screen will light up after you have set an alarm to go off. You can set up alarms at a different time when you need to use the phone such as during lunch time when in office, etc. Don't forget to lower the alarm volume to avoid it going off at the maximum volume.
How to use a phone with a broken power key when the screen is off?
Ask someone to call/message
As the phone's screen is off and the phone is probably locked, it is difficult to turn it on without a working power button. Simply ask a friend or acquaintance or relative to call or drop a message that will light up the screen right there unless you have an operational cellular network. You can use another phone to ping yourself too.
Plug into a charger
Can't find someone to call you back? Take your phone, the charger and plug it to a power source and see for yourself. The screen will light up allowing you to use the phone without any hassle.
Plugin to a power bank/computer
Connecting the phone to a power bank is a portable option since you cannot have a wall-mounted power source everywhere you go. Although if you are at an office or someplace where you can get your hands to a computer or laptop, plugging into the phone to a charger and connecting it to a computer could do the magic too.
Use USB debugging mode to reboot
Note that this method requires you to have USB debugging enabled before the power button could go haywire. For reference, you can enable the mode simply by navigating 'Settings >> About Device >> Build Number >> Tap several times and back up to About Device >> Developer Mode' and tap on the USB debugging mode to enable it. This would provide ease of using a computer to reboot the phone using ADB tools.
There are plenty of apps available on Google Play Store that can help avert using a broken power button. On GetDroidTips, we have tried a number of apps itself and recommend these three apps as an alternative to a broken power button that you can utilize.
Gravity Screen
This app seems futuristic since it relies on the gravity and other sensors to detect the orientation of the phone and unlock or lock it when needed. There are plenty of sensors such as pocket mode and tablet mode where the phone will stay locked when kept in a pre-defined orientation which makes it easier to use a phone when actually needed and not by mistakenly when it is in the pocket.
Proximity Actions
Another app that relies on the proximity sensor, the app lets the user set waves and holds on the sensor. Simply hold for a set duration such as 10ms in front of the sensor and the phone will unlock or lock. Similarly, it has a number of functionalities wherein different duration of waves and holds will initiate different apps and services.
Power Button to Volume Button
As the name suggests, this app transfers the functionality of a power button to a volume button which means, when you press that volume rocker, the phone's screen will either turn up and turn off. Although it won't reboot the device since its usage is pretty basic.
Or pick this permanent resort
Can't find it handy to use these techniques or methods to fix a hardware-related power button not working problem, it's time to move towards an authorized service center where you can get the problem fixed. Note that I am recommending an authorized center because a third-party center would offer you a cheap deal but it will surely cost the warranty of the phone to take care of it.