Smartphones manufacturers spent millions of dollars on their research and development to make their phones innovative, smaller, faster, and reliable with high-end specifications and more. But it is highly unlikely that the most used button on your smartphone – the power button – will vanish soon. It is the most widely used button on the phone and also, subjected to perform various functions as well. This can create problems with Power button not working which is among the most reported issue with smartphones now. A power button is no longer used to lock the phone but it is used to switch off the phone, switch On, access to safe mode, fastboot mode, recovery mode and others as well, it is also used in disconnecting calls and various other functions that indeed increases its chances of malfunction due to its over usage.
Why did we take up this topic? It is because there are only seldom posts on how to solve Xiaomi Mi Power Button not working issue on Google and that is why we decided to provide a thorough guide on how to fix it. Most of the websites have one or maximum two methods but at GetDroidTips, you can expect multiple methods along with more that will be updating further if asked by our readers. Power button or any other button on your smartphone irrespective of make or model can malfunction due to a number of reasons. But with these methods, you can fix these issues with counteracts that are highly usable.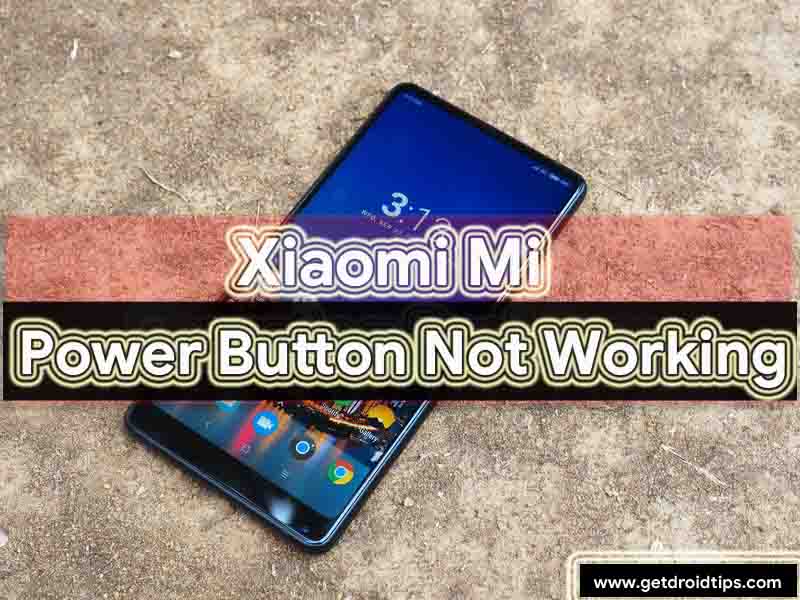 Guide To Fix Xiaomi Mi Power Button Not Working Problem
Method 01 – Restart The Phone
Most of the time, the issue is temporary and the power button is presently not working due to a minor malfunction. When you observe that the Power button is not working on the phone, what you need to do is to restart the phone from scratch. If it has a removable battery, then, it will consume few seconds to do it. Simple rock the Power button to see if it is working or not.
In another scenario, if the button isn't working at all and your phone has a non-removable battery, you can connect it to a charger that will pop up its screen. Another method is to connect it to the PC from where, you can instruct the phone to reboot via Recovery mode or if available, directly from the 'Power OFF' option if available.
Method 02 – Check For Debris
So debris like dust particles, tiniest piece of paper or anything that stuck between the button and the conductor plate beneath which restrict the button from working appropriately. You can blow at the button or take a vacuum cleaner to suck in anything that might have stuck between the buttons, however, I do not recommend removing the button and then placing it again it can turn the issue fatal. Take a sharp piece of paper or something which both sharp and slim enough to make its way between the buttons to get the dust particles out. Doing carelessly will harm the hardware itself, thus, precaution is needed.
Method 03 – Opt For Third-Party Applications As Alternatives
In a scenario when you don't have the time or you don't want to go to an authorized center to get rid of the hardware issue, there is an alternative available. These are a bunch of apps available on Play Store that provides basic functions like Power ON/OFF, Lock ON/OFF functionalities to volume buttons in case the actual 'Power button' isn't responding. There are few apps that are available on the play store.
1. Volume Unlock
This is one of the software alternatives that you can use to replace physical power button in certain conditions. Once you download it and install it, it will allow you to configure its settings. Once done, the game is on. To lock the phone, simply drag down the notification bar and click on the Power Off button and its off. To unlock the phone, tap on the screen and it will come alive again. What's more? You can tweak the settings available in the app to perform various functions with onscreen buttons, taps and gestures and more.
2. Smart Screen On Off
This is an intuitive app that lets the user utilize the proximity sensor which is a sensor located near front-cam. It allows you to Turn Off and ON the phone automatically with a tap. It can detect the presence and the time in delay to power ON that allows avoid accidental power ON. You can set it up for all android devices since it is a universally compatible Android app. It takes a small size of just 5MB RAM making it light and quick enough.
3. Proximity Actions
Proximity sensors are an alternative to use the physical power button. The app 'Proximity Actions' works on the same principle as these sensors which can control the behavior of the phone on gestures. You can set it up on the Android devices that will enable you to do gestures to turn the phone ON or OFF. This will completely replace the 'Power' button. There are a bunch of other settings available that you can tweak to fit your bill such as separate delay time to lock and unlock the phone as well as power On and Power Off the phone with gestures or taps. The application is light thus, it won't use more memory then merely few MBs, it makes it light, quick, and reliable.
4. Gravity Screen
Doesn't matter if your power button isn't working or you don't want to press that button everything you lock or unlock the screen, you can employ alternatives to do the same with ease. Gravity Screen uses accelerometer sensor that senses the movement and keeps the phone OFF when it detects any obstruction like if it is in the pocket or kept of a table, etc. Once the user takes it in his hand, it senses the eyesight and powers On automatically without even doing any required gestures.
Google Play Store has millions of apps available for every task you can think of. While downloading the apps mentioned above, read about its requirements to check if it is compatible with your Xiaomi Mi phones or not. These apps can replace power button to fix the issue like power button not working, however, it is seldom a temporary fix and not a permanent one.
Method 04 – Visit An Authorized Service Center
No doubt the 'Power' button is important because you can't keep the phone alive forever. The 'Power' button has its pros and cons which makes it an important aspect of hardware in a smartphone and therefore, it needs a fix. If you are someone who likes to rock an actual button over an on-time feature to lock and unlock or reboot the phone, you can try the first two methods but what if it failed, what is the next thing you can do to get rid of it.
Well, the answer is simply to walk-in at an authorized service center, report the issue and bang. The technicians will get the hold of the problem and will deliver your phone with the button fixed or replaced at minimal costs over a time of 3 to 4 business days depending upon in which country you reside. GetDroidTips has been recommending going to an authorized center because it tends to preserve the warranty that the smartphone manufacturer provides which covers some aspects and expenses of damage or leak within the warranty period. It means if the 'Power Button Not Working' issue is in the list of covered items in the warranty, you'll get it fixed even for free. Moreover, if you plan to keep the warranty period intact, you'll have to report any and every issue to an authorized center unless you want to void it.
Read More: