UI is a conduit between human and computer interaction and communication. This includes the screen, keyboard, mouse, and appearance of the desktop. Not only Computer requires User Interface, even Websites and Application also have User Interface. Smartphone manufacturers also focus on giving great UI in their devices. MIUI is one such UI interface for Xiaomi devices and is very popular among Indian Users. And now, MIUI 11 comes with new Focus modes, which will enhance your productivity to a great level. Today we will guide you about this new feature and how to enable the latest MIUI 11 focus mode.
Xiaomi is a trendy smartphone brand in India with thousands of customers. It was time when Xiaomi launches new features in MIUI 11 interface. MIUI 11 is very similar to Android 10 and brings some productivity features such as focus mode. If you own a Xiaomi smartpen, then you can easily enable Focus mode on MIUI 11 device. Stock android already had these features from long ago, now Xiaomi users can also enjoy the same in their latest smartphones.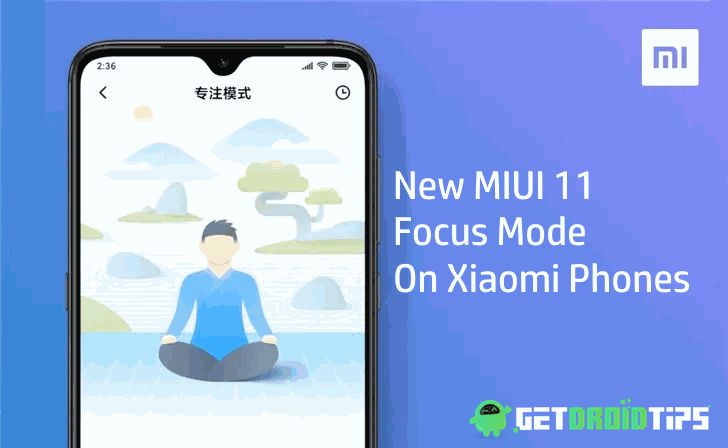 What is MIUI 11 Focus Mode?
The leading company in gadget market MI (Xiaomi) is trying to make its MIUI 11 as similar to Android 10 in terms of feature, and said to bring Focus Mode for users. Still, they haven't released the features officially. Some devices of Mi which runs on stock android already have this feature and Mi is trying to put this feature in its own User face MIUI also. If you want to enable MIUI 11 Focus Mode on any device: Here's how to do it.
Also read: How to get Android Q Focus Mode on any Android Device
Focus mode is one of the best features of Android 10, which Google introduced a few months. In this feature, while using your device, you can pause a particular app without accessing Disable App, and it will stop the notifications as well. But this feature of MIUI 11 is slightly different from the Google one. In MIUI, there are pre-defined time limits of 20 minutes, 30 minutes, 45 minutes, 60 minutes, and 90 minutes. After choosing one of them, you cannot use your device until the time duration is completed.
You will be able to use some of the features like Camera, Emergency Call, and Screenshot features in between the time duration after your phone get locked. Before in MIUI, we have seen a feature called "Digital Wellbeing," now it will be replaced by "Screen Time" and Focus Mode is the part of MIUI 11 Screen Time. This feature provides more privacy to you and your device as no one can access a particular app you have paused for a specific duration of time. And it is a great option to use when you have to give your device to small kids.
How to Enable MIUI 11 Focus Mode in Xiaomi
Focus Mode is only available in the latest Xiaomi devices with MIUI 11 pre-installed. This feature works only on MIUI 11, so make sure to update your Xiaomi phone to the latest MIUI 11 stable build. Also, this feature is still is in the testing phase. So, there are chances that you might face some bugs and problems. But these will be fixed soon with software updates. To enable MIUI 11 focus Mode, you have to go through the following steps:
Download and install the latest version of the Mi Setting app.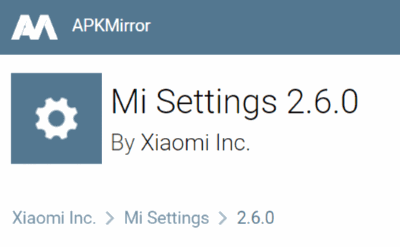 Open Activity Launcher and type "UsageStatsMainActivity" in the search bar.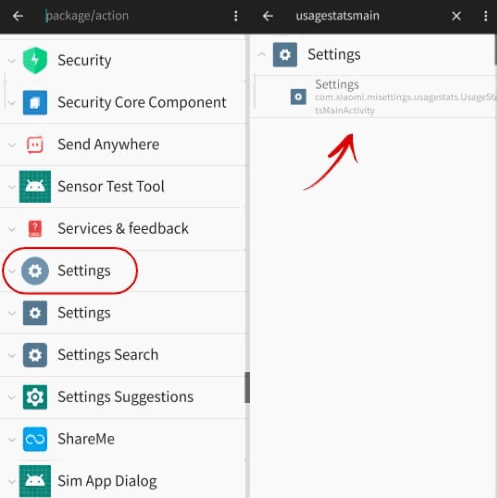 Tap on Usage Statistics under the Setting tab. This will take you to the MIUI 11 "Screen Time." Here in the bottom, you will find the Focus Mode.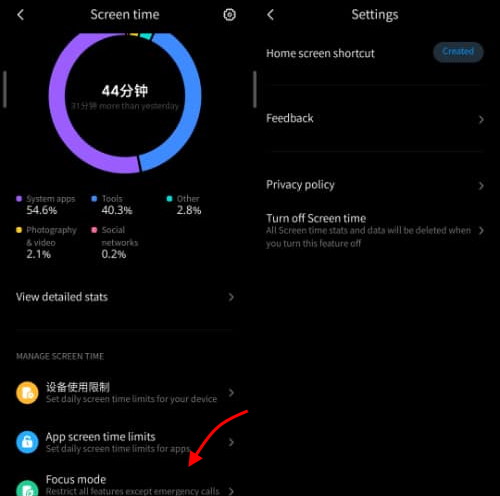 Create a shortcut of the Screen Time before using this feature. To create the shortcut, Tap on the settings icon in the Screen Time screen, then tap on the "Create" adjacent to "Home screen shortcut."
Note: Xiaomi is still testing out this new feature, so you might notice some bugs while using this feature
Conclusion
Temporarily disabling some apps from working and sending notification will help a person to focus on only one task. These unusual or unwanted notifications annoy you, and the new MIUI 11 feature lets you control these apps and notifications. Some of the settings in this feature are in the Chinese Language, and this is the biggest issue you will face while using MIUI 11 Focus Mode. And we suggest not to change the settings of this feature because as a result, you might face more issues.