Your smartphone allows you to do a lot of things in a jiffy may it be calling someone or making a million dollar transaction, etc. However, if it is facing battery draining problems, although it will be able to do all the jobs without any hassle, the battery backup will be compromised which means you'll have to keep it plugged to a charger every time it starts draining. The problem could occur due to a number of reasons for sure that could be overuse due to addiction or work-related stuff or there could be a number of things contributing to the problem. Anywho, you need concrete and detailed troubleshooting guide in order to fix the problem and here's what you need to do to curb the problem on your device.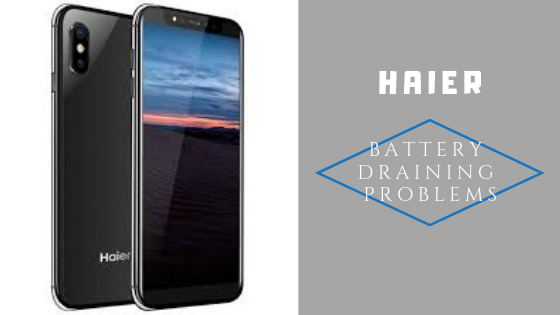 How Fix Haier Battery Draining Problems?
Reboot
I know that you will have tonnes of the question as to why you need to reboot the system but here's the thing, once you do it, you'll see an incredible change in performance for sure. Also, this method might be able to curb any software issue or failure causing the system to hog on battery more than before and hopefully, it works in your case.
Check out for power-hogging apps
Now that your phone is able to handle plenty of apps without any glitch, there are apps that are just heavy on the system such as Adobe Premiere or Photoshop or games like Fortnite, Apex Legends, Asphalt 8 or live video streaming apps like Netflix, etc. These apps consume a good amount of battery life to make things happen. The fix for such apps causing battery draining problems is to simply use it in short bursts or snippets or delete it if you don't want it.
But hey, there's a whole section of apps that consume higher battery quotient without any knowledge to the user. This includes apps infected with bugs or viruses that exploit the phone by consuming more than average battery life. Other reasons include apps that work in the background using GPS or WiFi which means you won't be able to track which app is consuming the battery without actually checking out the consumption in Settings >> Battery >> View Battery Usage. Here, you will be able to track down all the apps running at any given time and the amount of battery they consume so that you can take required actions such as disable it, uninstall it, etc.
But there's more. Unless your phone doesn't have an app drawer, Android smartphones like Haier have plenty of widgets that you can set up on the home screen. Although these might not seem to be a great deal widgets do consume battery life and a number of widgets can contribute to larger battery consumption and thus, you must reduce the number of the widgets to a bare minimum.
Turn off apps & services
Next method that I recommend you must follow is to turn off all the apps and services when not required. Since your Haier smartphone supports multitasking, you can use several apps at once simply by switching between the tabs, however, it is a common practice for people to leave apps stranded when their work is done. This means that the app is running in the background consuming battery and waiting for the user to reopen it. This sounds like a power-hogging choice that you have made and that's what you should avoid. You can start by exiting recently used apps and using the Force Stop method to stop apps that keep popping up again. Next thing that you need to keep in mind is the services including WiFi, GPS, NFC, Bluetooth, etc that you must keep in check.
Enable power saving mode
Every smartphone has it or you can download a competent power saving mode app from the Google Play Store. These apps restrict some of the functionalities on your phone thereby squeezing the battery to extend and provide an extended cover. Note that some smartphones can even have ultra power saving mode which in turns restricts more functionalities and saves more battery as well.
Replace your battery
A number of things could go wrong with a battery. First up, it could have gotten damaged due to liquid or physical damage or has developed faults due to a number of issues. But perhaps the most obvious explanation is if the battery is old, it could be near its natural death since batteries have a specific life cycle to perform before going blind. This is why you need to gauge if the battery is charging at its maximum 100% or not. You can keep a track on the battery backup that would explain if it has degraded compared to the time when you used the phone for the first time that must give you an idea if the battery has degraded or not.
Replace the charger
Your charger is not just a fancy blob of the plastic box but a unit that transforms incoming current into the outgoing current as per the requirements of your smartphone. Also, the charger has a number of components involved and any damage to any of these components can have a resonating impact on its capability to charge the battery. If it is damaged somewhere, it might not be performing at its optimum capability thereby triggering battery draining problems. You can verify it simply by changing the charger that must give you a fair idea for sure.
Toggle Display settings
OLED displays consume battery greater than LCD and other display technologies. However, here's a uniform method to toggle display settings that would relieve the battery of the stress causing it to constantly drain. First up is to reduce the brightness settings which you can do via Settings >> Display or simply by dragging the notification panel and drawing the brightness to low when you are not able to view the screen. Next, you also need to reduce the Keep Screen ON to a minute or so. Next step is to turn off Always-ON display and that must keep the battery healthy. Also, you need to avoid using videos or live wallpapers on the home screen as it consumes battery and having a photo reduces the battery consumption without any further ado.
Get rid of cache files
Next method is to get rid of cache files. To put things into context, cache files are useful but they get corrupted very easily and that is a problem. Viruses, malware, bugs are other foreign stimuli that cause the cache files to work adversely. Here's how you can get rid of cache files.
Firstly, clearing cache partition is easy since you need to boot into the recovery mode and select 'wipe cache partition' and that's it. The second method is to clear the app-level cache which you can access via Settings >> Apps >> Downloaded where you need to select apps individually and press the two buttons i.e. "Clear Data" and "Clear Cache" and repeat the same for all the other apps. Finally, the third step revolves around clearing storage cache that you can access via 'Settings >> Storage >> Cache Memory' and that must resolve the battery draining problems.
Update & Upgrade Apps
Outdated apps can ever be rewarding and the same goes for outdated firmware. You must feel that the phone is not performing at its optimum speed when bought compared to today when you are not able to keep the firmware updated unless you have a midrange or flagship smartphones introduced in the period of last one year or so. This is because Google updates firmware non-uniformly where it goes through several layers before reaching the user that could take months or sometimes, the phone doesn't even support any update as well. In that case, you can either search for any firmware update or rollback to a previous firmware or install a custom ROM such as LineageOS.
On the other hand, to update apps, you can simply visit Google Play Store >> My apps and games. Here, a list of all the apps that are waiting for updates must appear that you must update. Next is to simply tap the 'auto-update' feature so that you don't have to manually do it.
Restore factory
Finally, the method that must get you off the grid of battery draining problems if indeed it is caused due to faulty firmware or viruses, bugs, outdated apps and whatever related to software.
Step 01: Press the power button to turn it off.
Step 02: Now, press volume up and power button together using two fingers simultaneously and keep it pressed for a few moments.
Step 03: Next is to check if the screen shows an Android logo and that is when you can release the buttons.
Step 04: In recovery mode, touchscreen won't work so you will be needing to press volume rockers to scroll around and power button to select an option.
Step 05: You need to select 'wipe data/factory reset' from amidst the menu that will set the ball in motion.
Step 06: Select 'yes — delete all user data' to give your consent to the procedure and wait for a few seconds to finish it.
Seek professional' help
Unless you are able to fix the Haier battery draining problems, you need to visit a nearby authorized service center to get a resolution. This could mean a flash to the Android OS or repairing hardware components or replacing the battery if damaged but you can be assured that once you get the phone back, you will be relieved that the problem is long gone.