Almost everyone is a smartphone addict and rely on the tech heavily to get around the day and night. But what's annoying is that smartphones suffer from battery draining problems and Panasonic smartphones are no exception. Since phones have a lithium-ion battery, there's a lot that can go wrong bringing down the battery capacity while there is a hoard of other software and hardware-related issues that can cause complications to a battery causing it to suffer from battery draining issues. But if you are experiencing a similar issue on your Panasonic smartphone, you have come to the right place as GetDroidTips has listed an explicit guide to fix it down under.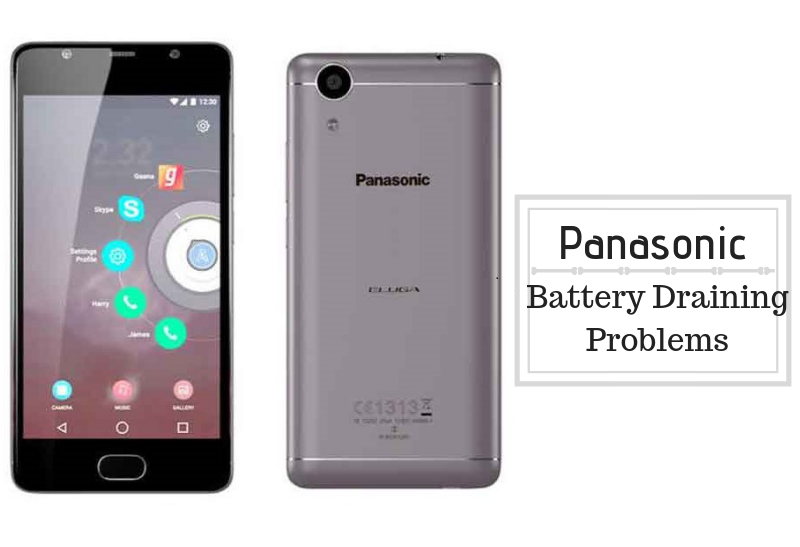 Reboot the phone
Well, you already knew that this method will be available. Irrespective of what is the problem, rebooting the phone can fix a lot of issues. Smartphones work with numerous components both hardware and software and thus, phones are bound to attract issues too. This is where rebooting the system works in this matter wherein it will fix any temporary software glitch that might have occurred whilst using a smartphone. Simply press the 'power button' and turn it off. Next, wait for a few seconds and reboot the phone and that's all.
Check for battery hungry apps
Since you are experiencing battery draining problems, let's take a moment to define that battery hungry apps can consume a lot of battery. It could be a graphic-intensive game or camera app or those apps that require heavy resources like Adobe Photoshop, etc. This is why it is crucial to check for these apps via Settings >> Battery >> Usage and restrict their use or uninstall if not needed. This will definitely help save a good chunk of battery power that would otherwise be spent heavily of these apps.
Get rid of unwanted apps
That's pretty crucial since there are a lot of apps installed on your phone. Of which, some might be used daily, some occasionally while there is a group of apps we barely use but think about it. These apps still consume storage space and just too many unwanted apps can spike up the power requirements of your device since few of the apps might be running in the background without your knowledge. The conclusion of this definition is to uninstall unwanted apps. If you want to get rid of bloatware, you can actually disable it via Settings >> Apps >> All >> Click on bloatware >> Disable.
Turn off connectivity services
We use Wi-Fi a lot and similarly, location, Bluetooth, NFC are other connectivity services that people use but these services consume battery while some might consume more than others. Thus, it is ideal to turn off those services which are not in use to reduce battery consumption.
Clear Google Play Store Services Data
No, it doesn't cause any harm clearing the data and cache files on your phone whatsoever. So Google Play Store Services stored a wide range of data for which, you can view the size by proceeding to the Settings >> Apps >> All >> Google Play Store Services. To get rid of the data, simply tap on 'Clear Data' and bingo, its as simple as that.
Purge all cache files
Deleting cache files doesn't cause any problem on a smartphone but the only problem would be that the user will have to enter the required credentials on apps like Instagram, Facebook since you delete cache files and it contained login credentials. To delete cache files, you need to follow the procedure 'Settings >> Storage >> Cache Memory' and clear it. On the other hand, you need to clear app cache too which is also found in the Settings tool where you can navigate to 'Apps >> Downloaded'. Simply tap on apps that you want to clear cache files for and tap on 'Clear Data' and 'Clear Cache' and hopefully, the Panasonic battery draining problems must fix right away.
Utilize power saving modes
There can be a number of reasons why you are facing battery draining problems on your Panasonic smartphone and trust me, it is uniform across all the phones of any make and model you choose. As of now, you can try to minimize the power consumption simply by using power saving modes. Almost all the smartphones have it or either Android provides a version of it such as Adaptive Battery on Android Pie. Most of the smartphones such as Samsung allow booting into ultra power saving mode in crucial times when you need that last bit of battery until you reach home or anywhere you can plug in and charge the phone. You can also download power saving apps from the Google Play Store in case if the internal ones aren't available or are not satisfying.
Alter display settings
When it comes to displaying settings, there are plenty of features such as brightness, keep awake duration, etc that you can alter and bring down the battery consumption.
Battery maintenance is paramount
It is way too important to gauge the battery's performance and maintain it accordingly. There is an app called Ampere on Play Store that allows the user to check if the battery is charging and discharging properly or not. Also, it is ideal to keep the phone at 90:10 or 80:20 proportion wherein you need to charge the phone to 90% and 80% based on which proportion you select. You need to use the phone and discharge it to the lower limit that is 10% and 20% respectively.
Check if the battery is damaged
Since you are talking about the Panasonic battery draining problems, it is quite possible that the battery itself is damaged or has surpassed its life cycle. Lithium-Ion batteries tend to deplete with every progressing life cycle which is why it is ideal to replace the battery once it ceases to perform optimally. Replacing the battery will fix any draining problems which are a handy solution.
Perform a restore factory on your phone
This is particularly a major step that you can take since it will completely delete all data saved on a phone ever. Further, you need a specific protocol to boot into the recovery mode wherein you'll get the option to restore the phone.
Firstly, start by switching off the phone.
Now, press power + volume up + volume down key together for few seconds until it vibrates.
As soon as an Android logo is visible on the screen, you can let go the buttons.
Once you are in the recovery mode, you'll need to use the volume buttons to move around and power key to select or otherwise denoted on the top of the screen.
Tap on 'clear cache/factory reset >> yes — delete all user data'.
Reboot the device and set it up as a new phone.
It is the last method you can employ to fix the Panasonic battery draining problems. Simply report the issue to a service center (authorized) to get the problem fixed.