If you're an Apple fanboy or loves to be in the Apple ecosystem then definitely the chances are high enough that you're using multiple Apple devices as your daily driver. Whereas if you want a seamless user experience within Apple devices, you'll be keen to transfer files between your devices quite often. Here we've shared with you possible ways on How to Access Others' iPhone Files on PC or Mac Without iTunes?
Now, that should be done from iPhone to iPhone, iPad to iPad, iPhone to Mac, or iPad to Mac most probably. In order to get a smoother file transferring experience without even using iTunes on your Windows PC or Mac, ClevGuard KidsGuard for iOS should be your right choice. You should ask what's the benefit or extra features you'll get in this tool. Well, go through this full review to know more.
Additionally, this tool also allows users to access someone's iOS device files on the Windows PC or Mac without even touching the official iTunes software. That's a great advantage if you want to keep track of your kids or if you're interested to transfer/share files between your friends or family members or even for official works with employees. We've provided all the useful and highlighted features of ClevGuard KidsGuard for iOS below.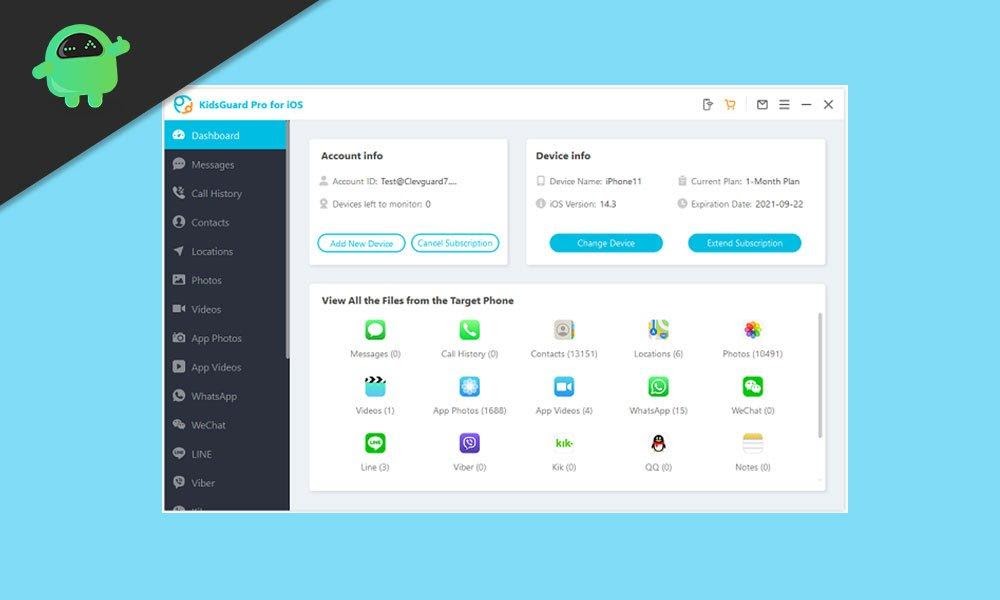 ClevGuard KidsGuard for iOS Features
This tool is an advanced iPhone monitoring app or software that runs on both the Windows PC and Mac computer to usually keep an eye on your children. It's also worth mentioning that this application will work on iOS 9.0 – iOS 14 running iPhones to get access to all files that are stored on the device. Now, let's take a quick look at the features of this application.
It offers more than 20 features for iOS monitoring of social apps (SMS, calls, WhatsApp, etc.)

You don't need to jailbreak your iPhone.

It's 100% safe to use and easy to set up.

You can read text messages, check call details, check media files, view text files, check Safari browser history & bookmarks.

You can even check and monitor deleted files on your iPhone.

Sync data over Wi-Fi without connecting to the USB.

Check the location history of the target iOS device.

View the targeted iCloud data without having the targeted iPhone.
How to Access Others' iPhone Files on PC or Mac Without iTunes?
Before jumping into the in-depth guide to set up and use the KidsGuard Pro for the iOS app, you should perform some requirements that are mentioned below.
Steps to Use ClevGuard KidsGuard Pro for iOS
First of all, you'll have to sign up for a valid KidsGuard Pro account.

Second, make sure to download and install the ClevGuard KidsGuard Pro iOS software on your Windows/Mac computer.

You'll need to access the targeted iPhone/iPad device to back up the data before using the ClevGuard KidGuard Pro for the iOS application.
Create a KidsGuard Pro Account
First, you'll need to register (Sign Up) for a KidsGuard Pro account with a valid email address from the official website.

Next, make sure to choose and go with your preferred plan.

Then proceed to secure online payment and complete the purchase.
Download and Setup the Software
Now, head over to the

"My Products"

and the

"Orders Management"

page on the respective website.

Here you'll find out the respective order that you've just purchased.

Next, you can click on the

Setup Guide

and go through the full on-screen instructions to know more about how to get started to monitor iPhone.

Make sure to download and install the ClevGuard KidsGuard Pro for iOS program on your computer (Win/Mac) from the given link.
Please Note: If in case, you're getting a pop-up message that says "Windows protected your PC" on the screen while installing the program then make sure to click on the "More info" button and select the "Run anyway" button to install the program on the computer easily.
Now, if you want to take a backup and analyze the targeted device to access iPhone data then follow any one of the methods given below.
Keep in mind that there are two possible ways to scan the target device and get data from there such as via a USB connection or a Wi-Fi connection. Whatever seems easy and accessible to you, just go for it. However, we'll recommend you to use Wi-Fi if you're already using a wireless network. This will definitely come in handy and reduce so much hassle.
Method 1: Get Data via USB Connection
If you're gonna use this method then the iPhone should be connected to the computer which has been installed the software and you'll get the updated data.
In this method, KidsGuard Pro for iOS monitors the iPhone by backing up its data via the USB cable connection to the device and computer.

You can choose any of the backups of the iPhone to extract the data easily.
However, if the backup data is already available on your computer then this software will easily detect and display them. In that scene, make sure to select the backup file of the target device that you want to monitor and start scanning it.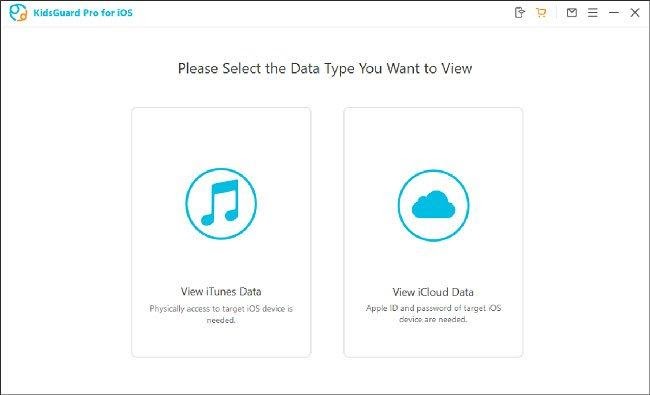 Image Credit: ClevGuard
Additionally, you can go for the "View iTunes Data" option and start scanning. From the next time, whoever connects the targeted iOS device to the computer, this program will automatically record the most recent data and show you.
Meanwhile, if you're unable to find out the latest backup file then you'll need to connect the targeted device again with the computer on which the KidsGuard Pro for iOS app is installed and start scanning the data again.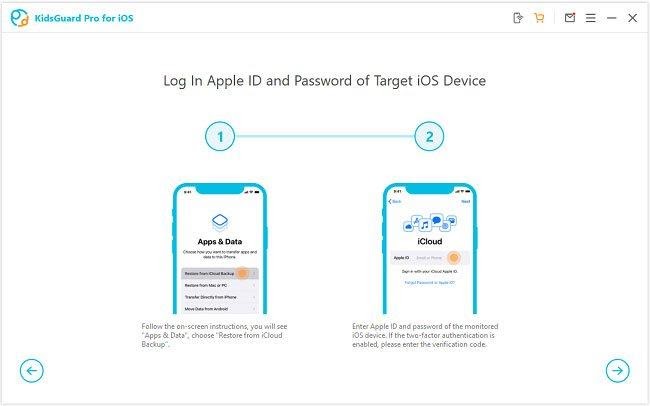 Image Credit: ClevGuard
To do so, click on

"View iCloud Data"

> Follow the on-screen instructions.

Once you see

"Apps and Data"

on your phone.

Click on

"Restore from iCloud Backup"

.

Now, sign into the iCloud Apple ID whose you want to monitor.
Method 2: Use Wi-Fi to Get Data
This is the easiest way to scan the targeted iPhone remote even without using the USB connection to get the data. But make sure that the device and the computer are connected to the same Wi-Fi network at that moment. Cool, isn't it?
In the latest version of the KidsGuard Pro for iOS app, you'll get support to backup data and analyze data remotely using a Wi-Fi network.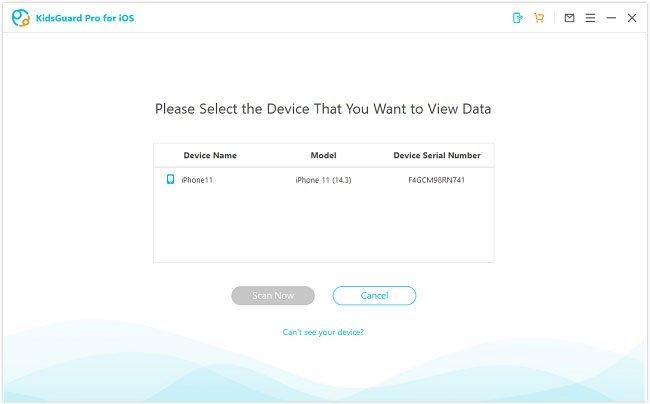 Image Credit: ClevGuard
Please Note: Keep in mind that you've connected the targeted iPhone with the computer for once and both the devices are connected under the same Wi-Fi network at the same time while backing up or analyzing the data. If in case, the targeted device is not found then make sure to wake up the iPhone screen and try again. Additionally, you can click on "Scan Device Remotely" to initiate the Wi-Fi data backup.
Now, click on the

first icon at the top-right corner

of the KidsGuard Pro for iOS software on the computer.

Here you'll have to click on the

"Sync Now"

button to start the process.

Once the device is successfully detected, the device name, serial number, and system version number will be displayed in the list so that you can easily understand it.

Next, select the device to start scanning the data.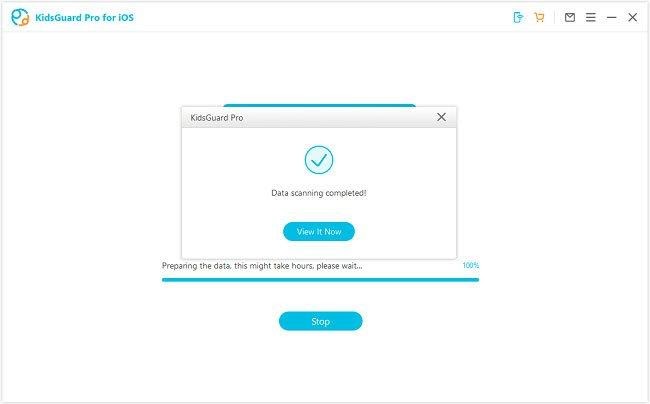 Image Credit: ClevGuard
Wait for the scanning process to complete and then click on the

"View It Now"

button to analyze the data and check the data that you want to monitor.
Start Monitoring on Your Computer
The final step is to start monitoring the other's iPhone data on your computer very easily that can be your children, family members, employees, friends, etc.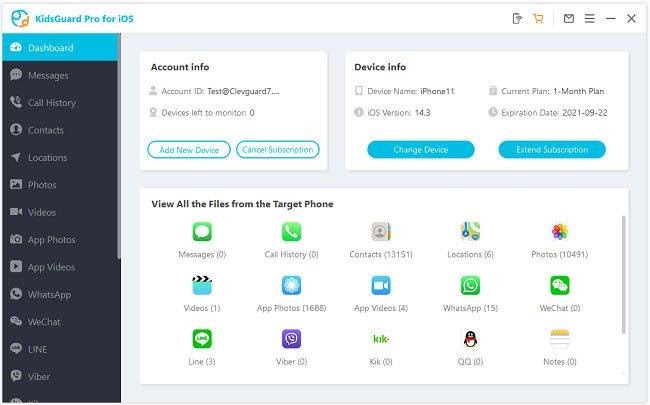 Image Credit: ClevGuard
So, once the data scanning process is completed, you can go to different file types and view details of them. As we've already mentioned in the advantages section, you can also view all the deleted data from the connected iPhone which is a plus point.
Whereas if you want a complete insight of all the monitored data such as chat history or media files then you can click on the "Export" button to save it and view them on your computer whenever you want.
Conclusion
ClevGuard KidsGuard Pro for iOS application for Windows and Mac is by far one of the best in class software that will help you to easily keep track of your kids, family members, employees, etc as a monitoring tool. The pricing for this tool is really affordable and competitive too that you should definitely be worth checking out according to your preference.
That's it, guys. We hope you've found this article helpful. For further queries, you can comment below.