Whether you are switching to a new laptop with no Optical disk drive or you want to get rid of the DVD pile sitting in your closet, your one-stop solution is to digitize those old DVDs for easier access, backup, archive, and sharing. The easy-to-use and perfect software to convert your old DVDs to ISO Image, MP4, AVI, WMV, FLV, MOV, MP3, etc and even backup your DVDs to a hard drive or USB is the WinX DVD Ripper.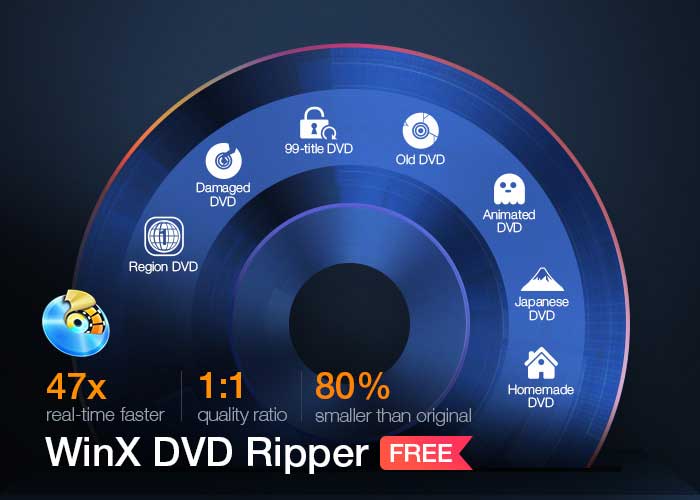 Why Backup your DVDs to ISO/MP4?
In the race of making the user experience better, faster, and smoother, manufacturers started removing the components that were acting as a hurdle. Just like back in 2016, Apple removed every single port on the MacBook Pro and replaced them with Thunderbolt 3 ports that support USB-C 3.1 because it offers transfer speeds up to 10Gbps. Almost all smartphones manufacturer have removed the headphone jack, which allows them to give a slightly bigger battery, and there are fewer chances for a liquid to enter the device. Since we are on the topic of removing components, there was a time when laptops used to come with Optical disk drives, but now it's quite uncommon to find one that comes with it preinstalled.
In the late '90s and early '20s, CDs and DVDs were the most popular means to store and share files. Then USB drives took over the market as they were pocketable and unlike CDs and DVDs, you don't need to protect them from scratches. As USB drives became more reliable, faster, and cheaper, people started switching to them. DVDs can store data up to 15.9 GB while a USB drives can have a storage of around a 512GB or even a Terabyte.
Why WinX DVD Ripper is Best?
WinX DVD Ripper helps to digitize your DVDs and put an end to all the common problems like drive crashing, not reading, not supporting, incomplete rip, and more. You can backup any DVDs including newly released ones, old DVDs, badly structured DVDs, damaged DVDs, regional DVDs, 99-title DVDs, and more. WinX DVD Ripper is the fastest DVD ripper available in the market with 47x real-time speed, 1-to-1 quality ratio, and up to 80% smaller output size than the original. The secret behind the impressive backup speeds is consuming minimal CPU usage and having a superlative GPU-based acceleration with support for multi-core processor and Hyper-threading.
How to Backup DVD using WinX DVD Ripper
Here is a short guide on how easy it is to back up a DVD using WinX DVD Ripper:
Put the DVD in your computer's DVD drive.

Open the WinX DVD Ripper application on your computer.

In the top bar, click on the DVD icon that says Disc.

Now you have to select the source DVD from a drop-down and make sure the disc file system type is automatic (If you don't know the disc file system type) and then press OK.

This will load all the files on your DVD and you'll be able to see all them in the Application.

Now you've to select the output format profile.

There are multiple output options available but to take a complete backup, select DVD Backup.

Now select "Clone DVD to ISO Image" in the side menu. This will create a 1:1 copy of your DVD.

In the bottom, you will the Destination folder location you can change it by clicking on the browse button.

Just hit Run in the bottom right corner.
Now just wait for the process to complete and now you can mount the ISO file or burn it on another DVD to use it.
Activate WinX DVD Ripper for Free
Instead of creating a backup ISO file, you can even directly convert the DVD to MP4 for playback on other devices. There are around 350+ different profiles to convert your DVDs into your desired format without compromising on quality and you don't have to wait for hours(Ripping a 2-hour DVD takes around 8min 45s at averagely 387 fps). WinX DVD Ripper is available for both Windows and Mac. There is a free version available but it is limited to rip 5 minutes DVD, you can get WinX DVD Ripper Platinum(Full Licensed Version) for $29.95 for 1 PC and $39.95 for 2-5 PCs. Plus, there are a 30 days money-back guarantee and you will get technical and software support without any extra charge.