Making a video is no child's play. It involves many elements and stages, the final one being editing before it is put to public viewing. Like any other professional work, editing, too, needs to follow certain steps judiciously to ensure its successful execution and excellent results.
Edit Like a Pro – Here's How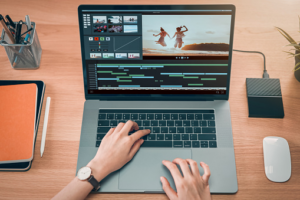 When you are editing a video on a professional level, you require proper planning and attention to every detail. Even though every production is different, and there are separate sets of requirements for each, there are certain basic steps that every professional editing work needs to be focused on.
Planning and maintaining a project directory
When beginning with your editing work for your video, you need to plan out and create a separate project folder. under this, you need to create sub-divisions of other folders and name them with separate headers, like Footage, Music, Sound, Graphics, and so on. Segregate the material as per their type in their respective folders.
You can even label them with a brief description of their contents. This would lay down the first step towards easy accessibility to things, and it would pave way for a speedy workflow.
Tell a story
Remember, every video reveals a story, and has a beginning, a middle, and an end to it. This needs to be planned and scripted properly before even shooting the video. But, if you have skipped this at the initial stage of shooting, you can still do it at the editing stage.
To begin planning, you need to focus on the consistent use of transitions, colors, musical cues, fonts and formats, sound effects, and every other element that forms part of video creation. The basic idea of doing this is you should have a clear picture of what the final video would look like before you start the editing process.
Import media
Professional editing requires media management as a core. Here, you need to keep your media organized in a manner that is easy to find during the import process. You can make use of shot logs and pick on those marked as good and usable during production. Import what you need from the media folders/bind that you had created and leave out the rest.
Create double copies
Two is the secret number when it comes to editing. This means hard drives and memory cards may ditch you when you least expect it, hence having a second standby copy of these in a separate location is a must. it is best to have a copy of your project directory on your computer or an external hard drive.
Also Read: Fix: Adobe Premiere Pro Not Responding When Exporting
Rough edit
Organize your footage by using non-linear editors with storyboard functions to make rough cuts easy and fast. This way, you do not need to edit your project in sequence. Instead, you can do it scene-wise or section-wise separately. NLEs offer nested timelines. Using these can keep your work tidy and efficient. You can even place your scenes on the primary timeline under single media events and yet go back to individual scenes to edit them if need be.
Choose your video editor wisely
Video editor is all about making use of the right controls. Depending upon your requirement, choose an online video editor that falls perfectly into your required space. For example, if you just need to adjust a few clips, and add a few titles, you can fall back on online video editors like Windows video maker, YouTube video editor, InVideo, and so on.
Alternatively, if you require a more complex video editor that lets you layer videos and make use of keyboard shortcuts, then Abode PremiumPro may be the call for you. InVideo is another online video editor that can help you edit your clips and create the video you dream for.
Trim clips to keep them clean
To get right to the action, you need to trim the beginnings and ends of your clips instead of throwing them in the timeline. This way you would be able to get rid of unwanted frames and highlight only the best and most effective parts of the clips. For this, you need to first browse through the raw footage and find the action before adding it to the timeline.
Use a separate audio recorder
For higher-quality audio, you cannot rely on your camera's built-in microphone. You need to have a separate audio recorder that would impart better and clearer sound quality, and would also permit you to import audio files separately. This way, you would be able to edit your video and audio individually and provide you with more control over both.
Remember coloring
By coloring we mean focusing on two elements viz; color-grading and color-correction. No matter how well-edited your footage may be, coloring constitutes an important aspect of editing.
Where color correction adjusts the standard editing tools like brightness, saturation, and contrast to maintain a uniform coloring across all clips, color addition is an add-on to color correction as it adds filters and effects to the story to enhance the mood.
Export
Once the editing work is done, you need to export your video as per your requirement, be it web streaming, broadcasting, or whatever use you want to put it to. White exporting, remember to do it at as high a bit rate as you possibly can.
Final Take
Make use of your video creation and editing skills with potential and professionalism. For this, you can rely on InVideo's excellent media management tools and powerful storyboards. Also, the editing steps mentioned above would serve as a lighthouse for your editing project and would embark you on your next new endeavor.
Remember, not everyone can do justice to a creative thing like editing a video, but with proper guidance, enhanced expertise, and a committed zeal, you can surely cross the bridge and come out with flying colors.