Samsung phones with OneUI are never short on features, especially the flagship ones. Just recently, Samsung launched two phones under the Note lineup, the Note 20 and the Note 20 ultra. Both these come with a ton of new features, including a new addition, the Nearby Share.
It has been a long time since the inception of the file-sharing applications happened. And now, we have a bunch of file sharing apps from several developers. But there was nothing from Android itself. But things are now changing. Recently, a few Samsung devices and Pixel devices received the nearby feature. This resembles Apple's Airdrop and was a long way coming. It will probably be widespread following the Android 11 update, and any android smartphone from any manufacturer will then be able to share things seamlessly. As of now, it is only available for a bunch of Samsung and Pixel devices. So let's take a look at how you can use this feature, that is how you can share things seamlessly with other Android systems.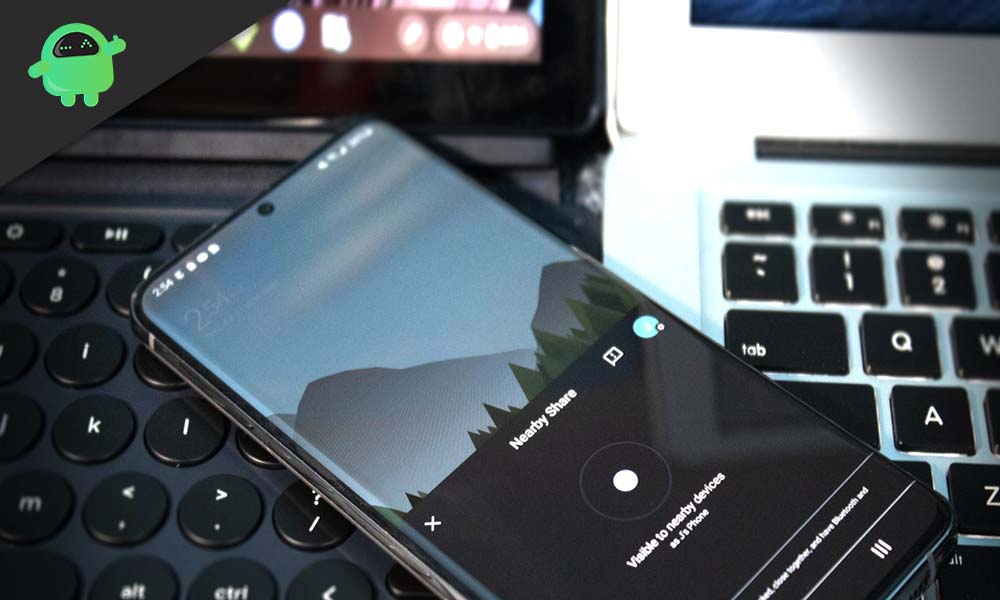 How to enable and use Nearby Share on Samsung Phones?
The list of Samsung phones that currently support Nearby Share is relatively small. Only the latest note 20 series phones, S20 series phones, and the S10 lite support this new feature. But if you own any of these devices and you are wondering how you can use this feature, then this guide will help you. We have provided you step by step guide on how to enable and use this new feature below.
This is a very convenient feature that any Android user would highly appreciate mainly due to the high number of smartphone manufacturers. Some smartphone manufacturers do allow file sharing seamlessly, but it is only limited to their phones and not the others. And there are some additional applications that you can download and use to do this, but having this feature built into the system will mean that there is no need to download any third-party application now.
Now you can share files, links, map locations, documents, photos from one Android phone to another using Bluetooth, Bluetooth Low Energy, WebRTC, or peer-to-peer Wi-Fi connection. So how do you set it up? Let's find out.
Pull down the notification shade and open up your Quick Settings menu. Here you will find the button for Nearby Share. Tap and hold for a while.
Now you will be in the Nearby Share menu. Here turn on the toggle to enable this new feature.
The device will ask for permission to turn on Wi-Fi or Bluetooth. Grant those permissions to the device.
Now you will see the option of setting up the device name. By default, it uses the name of the Google account registered on that Android device.
Now choose any file from your file manager or gallery that you want to share. Tap on the share option after selecting the file, and it will open up the Share menu. Here, in the list of options for sharing, you will find Nearby Share. Tap on it.
On the device where you want to send the file, enable the Nearby Share, just like how we mentioned in the previous steps.
When both the devices are close, the recipient's phone will show a pop-up for Nearby Share, indicating that it is ready to connect to the sender's phone.
On the recipient device, tap on the pop-up. The sender will then see the Google avatar of the recipient on their phone.
Now the sender needs to tap on the avatar of the recipient following which the recipient or receiver needs to accept the transfer. As soon as the receiver accepts it, the transfer process will initiate, and the file will be transferred over rapidly.
It is a bit complicated than standard Bluetooth transfer, but the transfer rate is unbelievable. So it is worth the extra effort.
Privacy:
This new feature is quite similar to what we have seen with Bluetooth over the years. If you keep Nearby Share turned on in your device, and anybody nearby looks for a device to share, then they will see your device. But whether or not you choose to accept the transfer that is entirely up to you. However, if you don't want others even to find your device then you can set up your privacy using the device's visibility options in the Nearby Share settings menu. Here you can choose which of your contacts can discover your phone and which cannot. That is, you can set sit up for everyone to find your device, or you can only choose a few selected contacts.
Nearby Share is something that Android uses have been eagerly waiting for a long time now. It is only available in selected devices now, but we can expect other devices to join in on it soon after Android 11 becomes official. This will rival Apple's Airdrop. However, it would be better if we could use this feature with Windows systems too. That way, we can share files between our phones and PCs also. Maybe we will see an App in the Windows Store soon. We will have to wait and see.
So now you know all about this new Nearby Share feature that is currently available in the latest Samsung Galaxy Note 20 and Samsung Galaxy Note 20 Ultra. If you have any questions or queries about this guide on Nearby Share, then comment down below, and we will get back to you. Also, be sure to check out our other articles on iPhone tips and tricks, Android tips and tricks, PC tips and tricks, and much more for more useful information.