Panasonic is a trusted smartphone brand with many smartphones on the display of which, many are resistant to water but not all. This creates the problem that we could call 'Panasonic water damaged smartphone' problem and to be honest, water causes a lot more damage to an electronic device like a smartphone than any physical damage unless you are dropping the phone from few floors. Also, most of the water damaged smartphone isn't even repairable no matter if you use DIY tricks or get help from service centers. But let's assume that there is a chance that your Panasonic smartphone could beat the odds and escape the clutches of water damage, you need to follow this often recommended although with somewhat average results method that you can employ in case if you got your phone water damaged.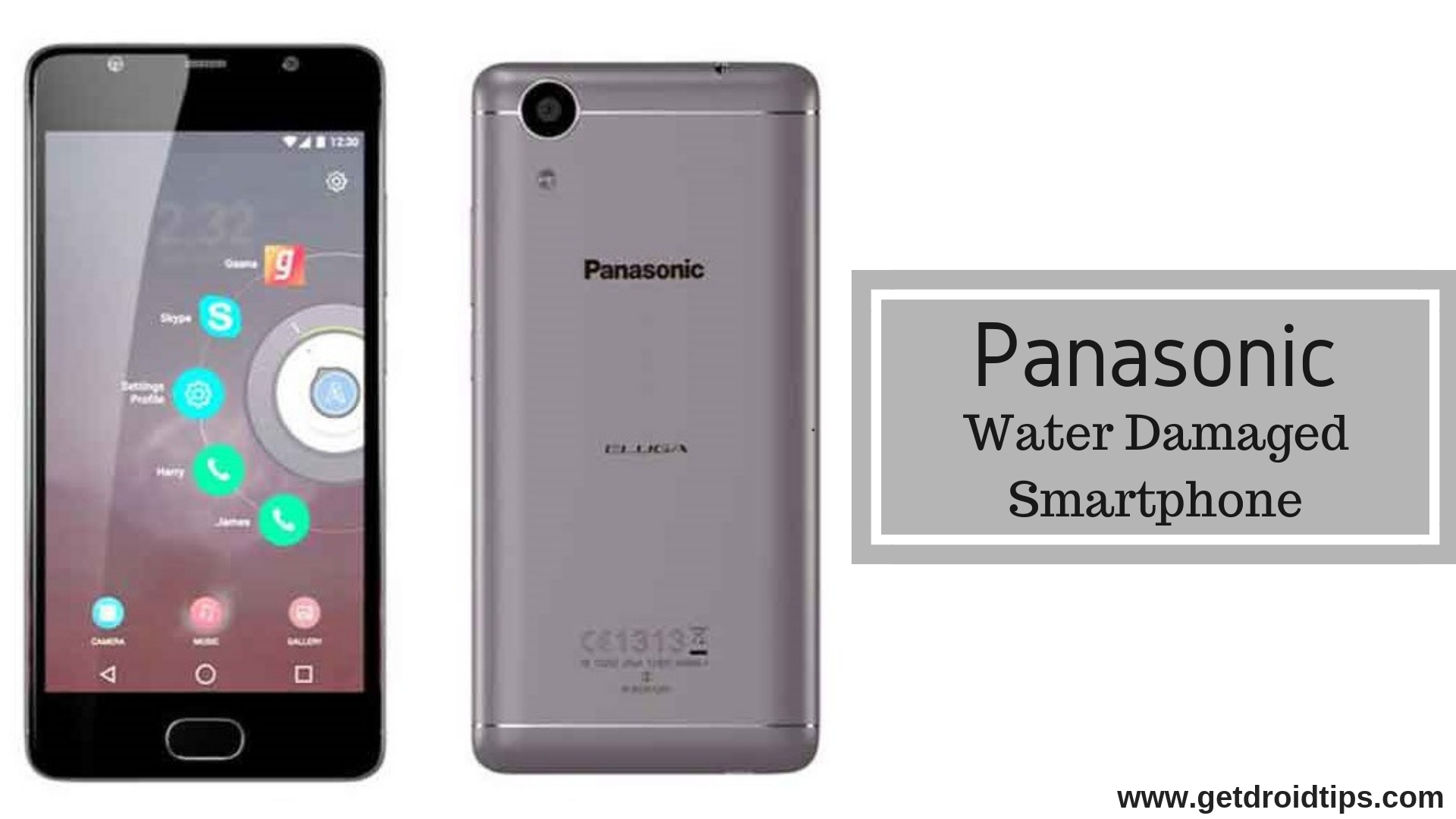 How to fix a Panasonic water damaged smartphone?
GetDroidTips has curated a procedure that could help prevent progressive liquid damage but since water is unpredictable, the procedure could or couldn't work depending upon how it works and how severe it is. So, let's check out a list of 'don't' before proceeding further.
Do not panic
That's the first thing you should know. No doubt the moment when the phone dips in water at poolside or toilet or beachside, people panic and therefore, it must be avoided. You need not panic since it can delay your response for removing the phone out of the water to avoid it.
Do not charge the phone
I don't know why but people do connect their phone with the charger to charge the phone. There's a simple thing, water and electricity do not go hand in hand and therefore, you must avoid it at any cost.
Again, if you panic, you would resort to pressing buttons trying to jumpstart the phone but the thing is if the phone is turned off, keep it idle. Also, pressing the buttons could force the water to escape inside the panels and towards the internal assembly where it can cause more damage than you can think. Also, avoid pressing and dabbing on the display and elsewhere to avoid further damage.
Do not move or shake the phone
Similar to how pressing buttons would push the water inside, shaking and moving or wobbling can have the same impact on the already water damaged smartphone and therefore, you must skip doing it.
How to fix a Panasonic water damaged smartphone?
After referring the list of things you shouldn't do, here's what you need to do actually.
Take the phone out
Isn't it obvious that the first step will be to take the phone out of the water and keep it on a dry surface? Note that the longer the phone stays there, the further damage it ensues and thus, must be avoided.
Wipe off the exterior
Ensuring that the phone is out of contact with water, you need to take a clean cloth to simply gently dab on the screen, around the edges, ports, back panel and remove the latter if it is removable to clean-up the adjoining region to soak excess water so that you can proceed further. It is, however, a good advice to use a cloth to clean areas where water can escape into the internal assembly such as SIM card slots, memory card slots, and ports.
Use a vacuum cleaner for the rest
You cannot reach all corners and orifices and components on a phone if it is a water damaged smartphone. Since you have already cleaned up excess water from the exterior, now you can use a vacuum cleaner to suck in water that has escaped beneath the panels where all the components including camera system, memory, storage, SoC are located. Turn on the vacuum cleaner, set it on a light setting and that's all.
For those who know stuff about dismantling
This particular method is strictly limited to those who know how to unscrew the various types of screws and disassemble a phone to reveal the main board and yes, reassemble it. If you aren't one of 'em, it is recommended not to even attempt it.
This particular method requires cotton or a cloth and isopropyl alcohol which is better known as rubbing alcohol so that you can use it to dab across the motherboard and other components to wipe off residues, corrosion, dirt, and anything else the water has brought in with it. Since it is alcohol, it will quickly evaporate leaving no traces of water and you can hope that the phone restarts right away but if not, the last method is to report the issue to a service center.
Take uncooked rice and a bag
This is a well-tested method that you can utilize even if you just bought the phone and don't know a thing about it. In this method, you need a ziplock bag in which, you put the phone and fill it to its capacity with uncooked rice or silica gel which are two of the best water absorbent. This process will remove the moisture trapped and also any traces of water which is great if you are insisting on performing 'How to fix Panasonic water damaged smartphone' by your own although you'd need to keep the phone in the bag for 2 to 3 days depending upon the severity.
Unzip the bag after 2 to 3 days
Now it is the time where you take the phone out of the bag and check if it has done any improvements or not. You can press the power button and try to turn it out but there is a possibility that it won't turn on at the first go. So, wait for a few seconds and attempt again. Now, if it starts, you are good to go but if it doesn't, you need to juice up the battery and try it again. But to be honest, only a handful of water damaged smartphone could power up again using this method and thus, if your phone doesn't start up, you'll have to report the issue to the manufacturer.
But what if it turns on?
In case it turns on, you need to keep a tap on how it works and check if it is acting weirdly or abnormally. If so, then you need help from a technician.
What else can you do to prevent water damaged?
In the first place, you can prevent water damaged by buying a phone which is water-resistant. An IP57/58 rating is splash and dust proof while IP67/68 rating is water-resistant which is something you can look for in a smartphone before buying it. But since this is an expensive choice, you can stick to cheaper options like a water-proof phone case or cover that prevents water from penetrating inside the phone at least in some conditions. The handiest tip is to avoid taking the phone near water and that must solve the problem once and for all.